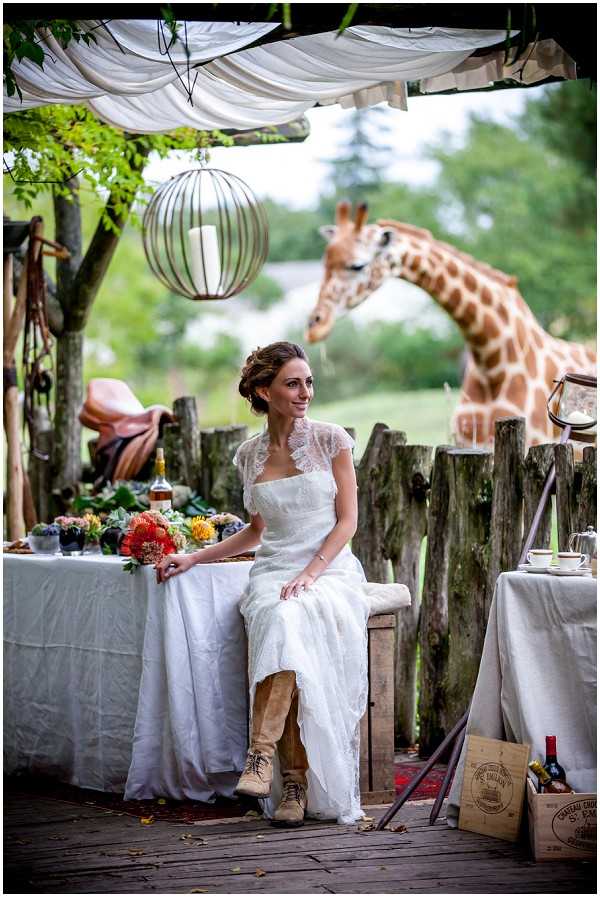 Magnifique!  Welcome to an amazing week on French Wedding Style, starting with an Out of Africa Wedding Styled Shoot that is quite simply magnifique!!  Shot at Pessac Zoo in Bordeaux, this photo shoot really is such a feast of wedding inspiration, the result of when inventive and fabulous wedding suppliers join forces to create something awe-inspiring.
I am not going to discuss anymore as the letter below is enough to cast the spell:
"Dearest Catherine,
After many long days and nights of arduous traveling, I have arrived safely, although quite dizzy/'confused' in Africa.  The landscapes, the smells, the people, this heat … the animals, everything is so different here.
My darling Alexander will be here soon, I'm waiting for him in my wedding dress and my boots, like a romantic explorer! The table is set, the wine is served, the flowers beautifully arranged in pots and vases …. the scene is set.
To pass the time I whisper in french to the giraffes, they seem charmed by these new sounds  … I sit by them and listen to Bach or Mozart on the grammar phone, i try on my jewellery and drink tea, its such a peaceful day.
From my window I can see two white lions come up close to play and spy on us. Part wild and part tame, they have grown up close to man and were bottle fed. I need not worry about closing the door as I laze across my bed, reading the books i carried from France.
Alexander has arrived, I am going to get married now, wish me good luck for my new life!
I hope that this letter finds you well, write me soon.
Kind regards
Aurelia "
French Wedding Style – Photography © Ludivine B
Laura Dova from Wedays takes us through the shoot: "Monkeys screaming in the background, zebra hooves stomping close by, the beating of an eagle's wings overhead … I open my eyes and find myself at Pessac Zoo. Theatre of today's 'Out of Africa' Safari-chic photo-shoot.
The adventure opens on the African plains. As Elisabeth Delsol, decorator, sets about her work, we buzz around her like little bees helping prepare this safari decor: Dry wood, white curtains, an old grammar phone player, a compass and a few bottle of chateau Croque Michotte and Le Chabrier on the bride and groom's table, carefully arranged for the occasion… each and every detail is cleverly captured by the lens of Ludivine B's camera.
The giraffes are chewing on leafless branches, gazelle's are grazing in the distance, close by Emu's are staring at us confused. Meanwhile our model, Aurelia from L.A is trying on an Atelier du Serti ring whilst Johan Yvon (makeup) and Anthony B(hair) add their final touches under Laura Dova's watchful eye.
Everything is in place. Our  model is beautifully sublimed by her previous pampering at the hands of Johan and Anthony, now she is trying on a Stéphanie Wolff dress and a first bolero by Les Petites Echarpes of Mariana Artigues. She will wear a selection of different accessories throughout the photo shoot. Now the shooting may begin.
The commotion has attracted the giraffes' attention. their long painted necks blend in perfectly with the decor, who would have thought that such timid creatures could be so brave/curious.
 After the the plains of Africa we move forth deeper into the wild for a new take in more ferocious surroundings … Meet Mawi and her sister, two white lions with blue eyes.
After a change of make up and a new hairstyle, with Atelier du Serti ear rings Aurelia looks very sophisticated.  Our charming American model chooses a new dress and a selection of boleros. The two lions walk by and out of sight, come back in view to play before laying down to snuggle up …  Ludivine's camera doesn't miss a second of the spectacle.
They are beautiful to watch, although it is comforting to be safely the other side of the glass, having had a good look at their generous fangs after a roaring yawn."
What a way to start the week!  Be sure to check out below the vendors that collaborated on this wonderful shoot.
Wedding Suppliers:
Planner: Wedays,
Photographer: Ludivine B,
Dresses: Stéphanie Wolff,
Design/decorator and Flowers: Elisabeth Delsol,
Make Up: Johan Yvon,
Hair Stylist: Anthony B,
Jewellery: Atelier du Serti,
Boléros: Les Petites Echarpes
Wine: Château Le Chabrier Château Croque Michotte