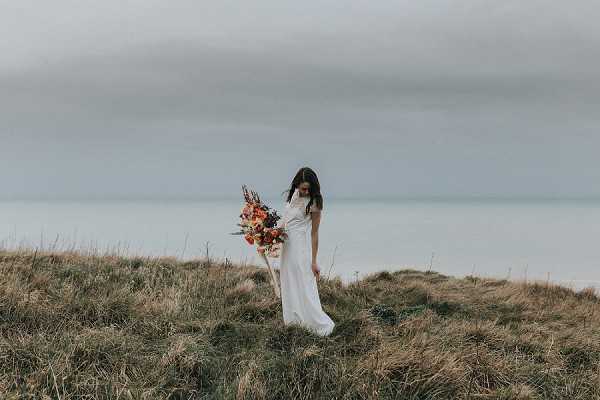 Kicking off this brand new week here on FWS we have for you today a north of France wedding inspiration shoot.
Today's styled shoot takes us from the steps of Montmartre in Paris all the way up to the white cliffs and the Abbaye Saint Victor in Normandy. Featuring two beautiful wedding dresses from Série Blanche, two different bouquets by the talented Project Floral and also two different hair and make up looks from Angélique Gasnier. Everything was expertly captured by Virginie Hamon. This north of France wedding certainly has an option to inspire any bride for their French destination wedding.
We shall now leave you in the capable hands of florist Lauren Evans from Project Floral to take us through this north of France wedding inspiration shoot…
"Does your love story include a baguette, the metro, and "Bonjour"? This quest for the perfect French adventure begins with a first look in Paris and ends with a bridal shoot in Normandy."
"This true French touch permeates every detail holding you spellbound – you might even smell a croissant as you look through these stunning photos!"
"Notice the crisp French bridal gown at the Parisian café, the dainty jewelry, with the fashionable headband along with the dainty floral half-crown."
"Throughout these photos of details and big ideas, each bride-to-be has room to breathe and imagine herself holding the bouquet on the steps at Montmartre in Paris to the Abbaye Saint Victor in Normandy and then finally to the white cliffs of the Normandy beaches."
"This shoot is carefully curated not only for the outward bound bride, but also the bride looking for inspirational images of a fashion-forward wedding with a French twist. Overall, you'll find this shoot rich with opportunities of ideas for brides. Here are a few of them. The Abbaye Saint Victor provides a room with a view and a cozy pre-ceremony space for preparation."
"The boudoir-like getting ready photos show the personal shots you can get during one's wedding day that aren't only ceremony – but will show the behind the scenes beauty. At the cliffs, our bride realises that it is possible to get the photos they imagined in one of the most beautiful places on earth – a bucket list item for sure!"
"Fun fashion ideas are plentiful from a few hair options including the monumental flower crown, dress options from short to long, as well different bouquets for separate phases of the wedding adventure – a dense purple bouquet to start with a light and airy bouquet to end. This post will be enthralling for anyone looking for inspiring details and especially your brides dreaming up their French wedding."
For even more Normandy wedding inspiration check out this Normandy Villa Strassburger wedding inspiration, a beautiful collaboration of talented suppliers have brought to you the secrets of this historic villa.
North of France Wedding Inspiration Shoot Snapshot
Wedding Vendors
Venue: Abbaye Saint Victor | Photographer: Virginie Hamon | Wedding Dress: Série Blanche | Hair and Make Up: Angélique Gasnier | Florist: Project Floral | Stationery: Oak and Pen Co | Accessories: White Bird Jewellery | Accessories: Asos | Accessories: Céleste Paris | Model: Andréa Forté | Paris Cafe: Le Relais