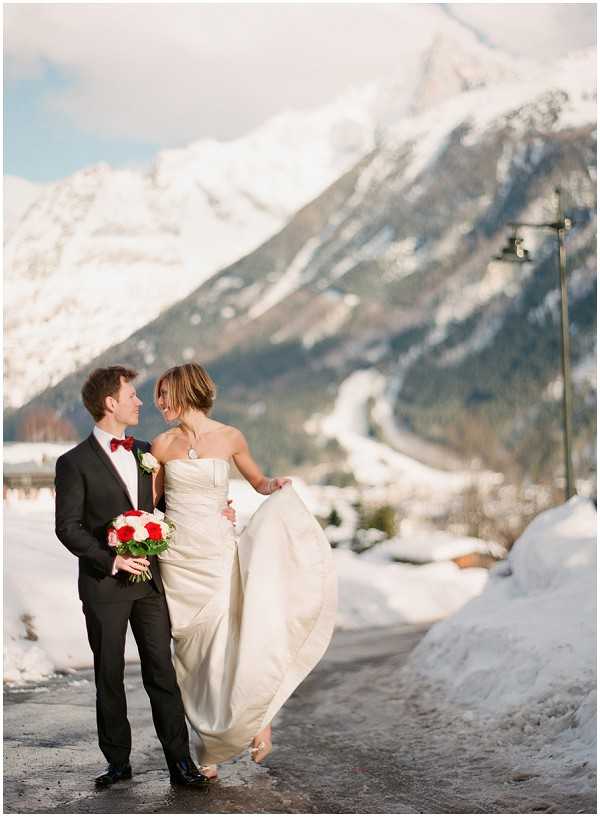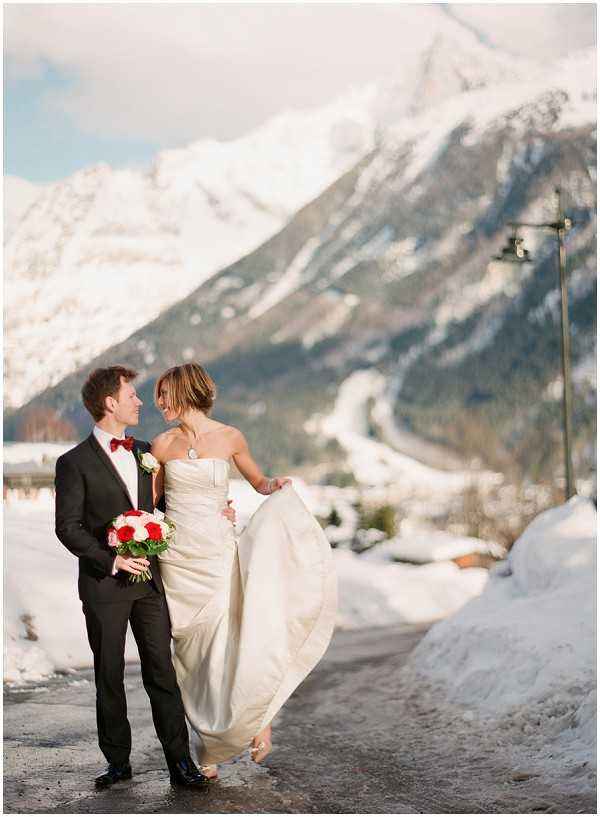 Happy Monday and welcome to another wonderful week on French Wedding Style!  I am starting the week off in snowy retreat as we head off to Rhone Alpes for the Michelin-star Chamonix winter wedding of Anya and Matt captured by Aneta MAK Photography.
Anya & Matt grew up in the U.S. with Russian and Polish backgrounds and chose to have a winter wedding in the French Alps. The outdoor ceremony took place just before sunset as the sky-scratching peaks turned from glistening white to a soft shade of alpenglow pink.
The couple take us through their love story and their big day:"Anya and I met while on a ski trip to Colorado. She and I both worked for the same company in NYC  (although in different jobs and we had never met) where I had planned a group ski trip with some coworkers. I had an extra spot in our condo so I posted a message on the company bulletin board. She replied, came with us on the trip and we spent a week bonding over our love of skiing.  
French Wedding Style – Photography ©  – Aneta MAK Photography
Travel is an incredibly important part of our lives. Since we met we've taken literally hundreds of flights together all over the world. Although NYC is home and it's where our friends and family are, we knew we wanted to share one of our favorite places with the people most important to us. 
We also have always wanted a very small and intimate wedding, something a destination both affords and ensures. 
When it came to the location of the wedding, our first big trip together was a ski trip to Chamonix, France along with a visit to Paris. We both fell in love with Chamonix, the slopes and the energy there. We had gone back so many times – it felt right. 
Also, we agreed that great food and drinks were the most important things we wanted for our wedding guests. – we wanted them to have a wonderful and special time. France is simply the first place to come to mind. 
Our wedding style was inspired by the sleepy mountain Savoyard style, which was something we both loved. The warm wooden chalets, the roaring fireplace, the snow, the mountains, the crispness in the air, the icicles, the mulled wine, the rich warm food. We tried to incorporate as much of the alps in winter as we could. 
Chamonix is a small town, but we were lucky in that it had everything we wanted for our wedding: a Michelin star restaurant for the reception, a cozy wooden chalet with a terrace allowing for a magical view of Mont Blanc for the ceremony and amazing hors d'oeuvres for the cocktail hour. The  reception and wedding were in town, our cake was made by a local pastry shop, the flowers were designed by the best in-town florist, and everything was arranged by our local wedding planner Haute Wedding.
On our wedding day, many of our guests took to the slopes, went cross country skiing and snow shoeing or just slept in and enjoyed the other activities the town had to offer. Our wedding was held in a beautiful chalet on the slopes of the mountain just as the sun was going down around 5pm. The hotel had a sprawling outdoor balcony and had set up heat lamps to keep everyone toasty. Hot chocolate and vin chaud were also on hand. 
Immediately following the wedding was a champagne reception with light canapés. Guests were whisked away to the reception where Valerie and his team at Le Bistrot amazed us with a fantastic meal, cheese course, and  dessert followed by speeches and dancing into the night. 
Following the dinner we were lifted on chairs and Hava Nagila was one of the many songs played that kept our friends and family dancing until the wee hours of the morning!
Aside from the wedding night we really wanted to plan some activities we could enjoy as a group on the days leading up to the big event.  One of the nights we chartered a bus and drove everyone through the Mont Blanc tunnel to Italy where we spent an evening at the hot springs spa. 
Another day we had a group trip on the rack and pinion Mer De Glace train up to the top of the glacier. The night before the wedding we had a semi-formal cocktail mixer where everyone could meet each other at L'Impossible. 
Planning a destination wedding poses extra challenges, as one would expect. Helping to make sure your guests have a stress free vacation around your wedding, helping with their hotels and transfers, planning a variety of activities to keep people entertained and enjoying themselves for several days instead of just an evening all add a bit more work. Also, throwing in a slight language and cultural barrier makes it more interesting. 
Our advice – having someone on the ground is key – there will be things that need to be arranged and discussed in person. Not everything and not everyone communicates over email or phone call. Also, if you don't speak the language of your destination country, make sure to use a trusted friend or translator; it goes a long way for describing creative ideas or concerns. 
Give yourself one or two days before your guests arrive. You'll want to get any on-the-ground planning out of the way and check on all your venues and activities so you're less stressed when everyone arrives. Also, the few days after your wedding will be some of the best. The stress is over, your closest friends are still in town, everyone is reminiscing about the great time they had."
If you are planning a wedding in Chamonix or the surrounding area, be sure to view other weddings in the French Alps for inspiration.


Wedding Suppliers:
Ceremony Location & Cocktail hour: Auberge du Bois Prin, Chamonix
Dinner: Le Bistrot, Chamonix
Ceremony Music: Mark Hussey
Florist: Anabel Fluers
Decor for ceremony and dinner venue: the bride
Bride's jewlery: Family heirlooms
Wedding Planning: Haute Wedding
Photography: Aneta MAK
Dress: Oscar de la Renta
Shoes: Christian Louboutin (customized with ivory bows)
Jewellery: Mom's silver and mother of pearl pendant, David Yurman Bracelet and earrings
Groom Suit: Dolce and Gabbana
Groom shoes: Prada 
Groom tie: Dolce and Gabbana
Groom cufflinks: Louis Vuitton
Stationery: KVS Letterpress by Krista Stout
Wedding Rings: Marisa Perry