Did we all have a nice Easter?  Day 2 of the newly evolved French Wedding Style and for those who have enjoyed the break and stayed away from technology, it will be the first time you have seen the new blog, so what do you think?
Kicking off today with the next in our Meet the Experts series and  I am a little giddy as I have a photographic crush on our next expert (but don't tell her).  I am delighted to introduce Anneli Marinovich Photography!
Anneli: "Thank you for inviting me have a chat with French Wedding Style readers Monique, it's a real honour!
The best place to probably start is to tell you how I got into wedding photography! I've always enjoyed photography, especially travel & street photography and after hubby and I tied the knot in Cape Town in 2009, having had a wonderful experience with our own wedding photographer (Andre van Niekerk), I decided to look into wedding photography.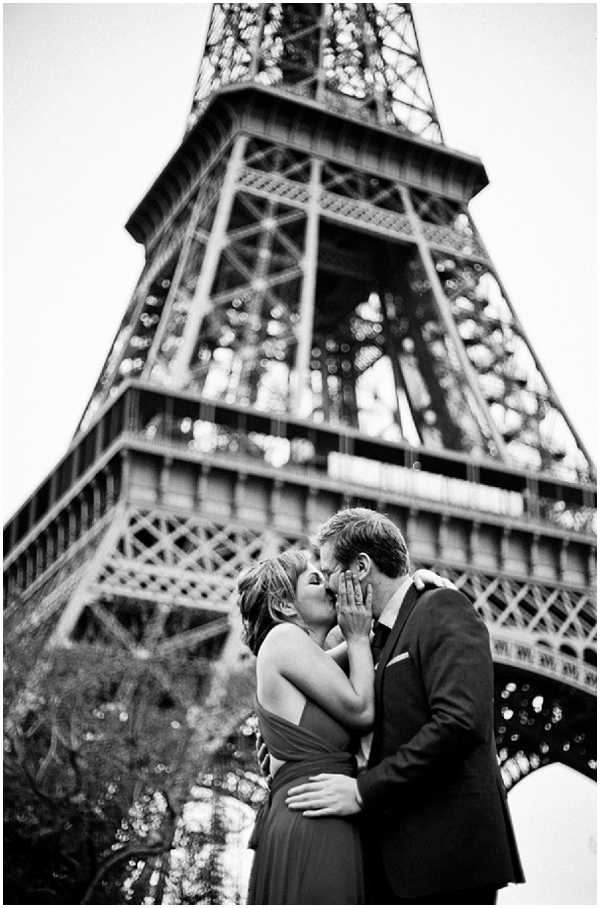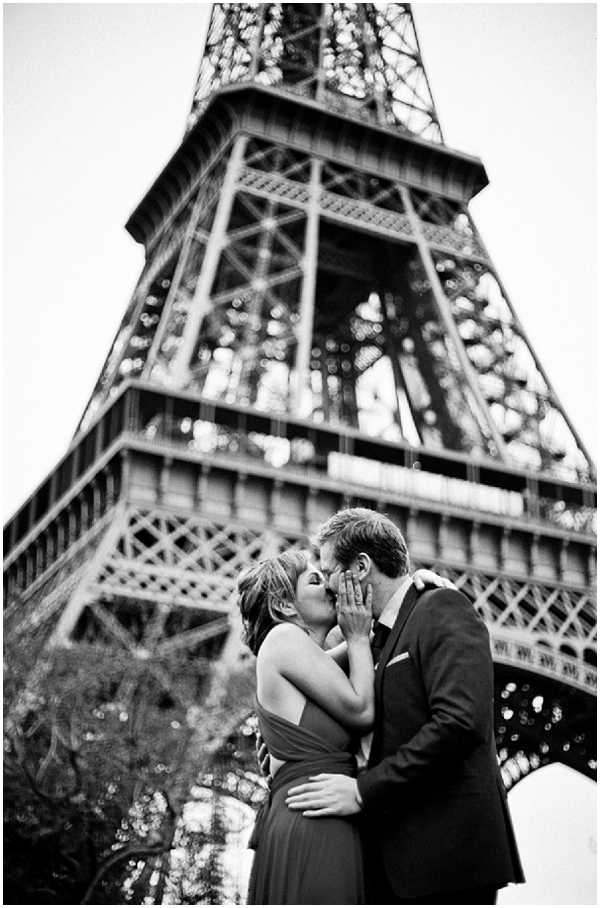 I took an intensive course focusing on building a successful wedding photography business when we returned to the UK and realised that this was what I wanted to do…full time. I shot my first solo wedding in London in May 2010 and left my full time job in London in July 2011 after having shot weddings part-time for just over a year as well as second shooting with established wedding photographers.
Very often I am asked what it takes to be a good wedding photographer. Personally I think it's important to be skilled in various genres of photography. This means being a great still life photographer (capturing the details on the wedding day), landscape photographer (taking setting the scene with location images – especially in France) and portrait photographer (capturing emotions & creating great portraits of your couple). You also definitely have to be a "people's person" and you really have to love weddings!
I work very hard to make sure I provide my couples with wonderful photography & a great experience they can tell their friends about! I love pointing new clients to my "happy clients" page so they can read about what I have done for past clients for themselves: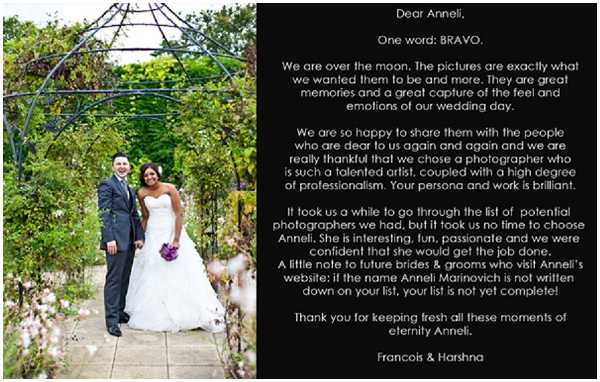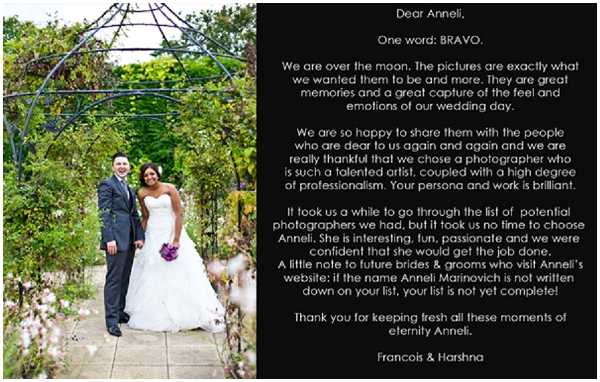 I have to admit, I love all things French. The first time I went to Paris was in 2006 and I fell head over heels in love with the city. I've since been back numerous times and in 2012 I did a 3 day styled couple shoot (featured on FWS here) in Paris – which was epic! Earlier this year I did a bridal shoot near Dordogne and it was spectacular. Having fallen in love with the French Countryside, I'm very excited to be shooting a wedding just outside of Vendee, France in July.
One of the most wonderful elements of being a Destination Wedding Photographer is that I have the opportunity to shoot weddings of various styles & in very interesting locations. Some of my favourite weddings have taken place in South Africa – last March I shot a wedding on a farm 2 hours outside of Cape Town. This year, I will be shooting a wedding with a friend of mine in Prague in May and in Summer I have a wedding in Vendee, France to look forward to. My UK weddings tend to be relaxed with an outdoor, country feel to the day – a pleasure to capture!
My favourite part of the photography process for a couple getting married in France has to be the couple portraits. Working with the couple on the schedule for the day, I try to make sure the couple portraits take place right before sunset, outdoors where we can incorporate the beautiful location they have chosen in France. The light is beautiful, my couples relax – savouring the little bit of time they have to themselves before returning to their guests and I let things unfold naturally with a little bit of light direction to make the most of the light & location.
Over the last 3 years I have reflected a lot on how lucky I am to be a professional wedding photographer. Yes it's hard work and long days, but I love a good wedding and being able to tell a couple's wedding story through my interpretation of the day with my camera. It's a wonderful career and one that is hugely satisfying! I also make sure I keep myself inspired & up to date with wedding trends by using tools such as Pinterest, and have a few brides following my boards, which is lovely!
In terms of my services for couples getting married in France: firstly we'll meet up in person / over Skype to discuss the details & make sure we're on the same page. I then arrive in France the day before the wedding to have a look around & select beautiful locations for the couple portraits. On the day, I'll start by covering the bridal preparations and then photograph the entire day all the way through to the first dance. I prefer to keep the coverage natural, so my clients can expect to see lots of relaxed photos of their guests, mixed in with detail photos and other images to set the scene.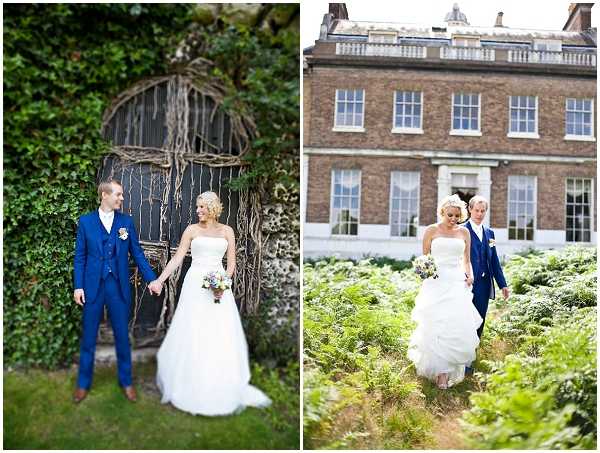 If I had to choose 6 words to describe my wedding photography I would say: relaxed, natural, light, colourful, editorial & timeless. Perfect for a destination wedding in France!"
If you would like to find out more about Anneli's photography services for  your wedding in France, please visit her website www.annelimarinovich.com and find more contact details below.


Contact Details:
Website:  www.annelimarinovich.com
Facebook: www.facebook.com/AnneliMarinovichPhotography
Twitter: www.twitter.com/AnneliMPhoto
Pinterest: http://www.pinterest.com/annelimphoto