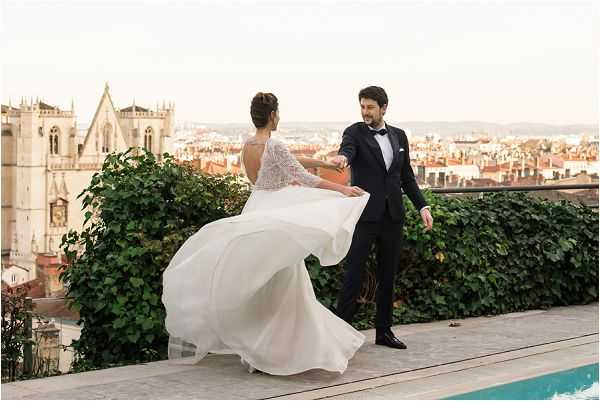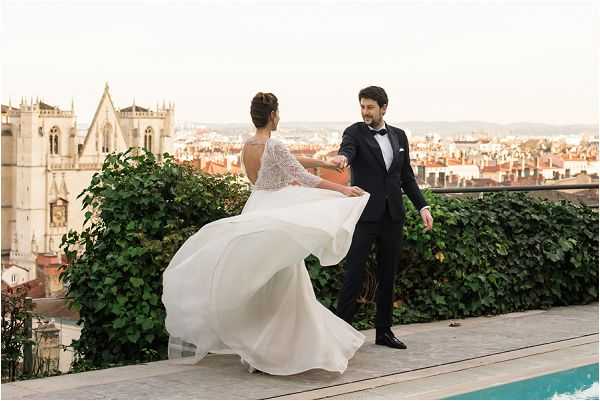 Happy hump day everyone, and today we open the doors of The Study to FWS vendor and French Wedding Planner Magali Juban, from Celebrate Agency
Based in Lyon, and travelling between France and Switzerland, Magali has worked with couples from all around the world and helping with their big day.
So without further ado I am delighted to welcome into The Study, Magali:
How did you become involved in wedding planning?
Back 3 years ago I came back to France after 4 years abroad and I was looking for a job. But somewhere deeply in my heart I knew I didn't want to be employed anymore. I wanted to build my own company.
As I had been working for 8 years in event planning and there was nothing else I could imagine myself to do, I've decided to become a wedding planner. My wish was to provide couples-to-be with the same level of service I used to provide my clients when I worked on exclusive events in Paris.
What skills do you think that it takes to be a fabulous planner?
What I feel is the most important is to be a good listener. Actually listening to my clients tells me all the secrets and insights I need to know in order to meet their needs and fulfil their desires. Understanding the vision they have for their wedding is key and essential. Their wedding must be unique and reflect their own personality and story.
Where has your planning services taken you across the globe/ France and for what type of weddings?
I mainly plan weddings in Provence and near Lyon, but as a wanderer and globetrotter I love a wedding outside of France. So far, I've had the chance to travel to Switzerland and Portugal. I love combining my two passions : travelling and event planning. Next year I'll be in Marrakesh and Corsica for two very lovely and cool couples. One of them from New-York. I can't wait!
How does working with a destination couple differ from a domestic couple planning a wedding in France?
The language barrier! Though I'm fluent in English I sometimes find myself frustrated when talking with foreign couples as I'm usually a very talkative and enthusiast person.
Apart from this it's a matter of cultural differences I'd say. Understanding that people think and act differently whether they are from France or the UK or the States is very important. The expectations and needs are definitely not the same.
What is your favourite part of planning a weddings?
When everything comes together so perfectly and my couples discover everything that has been put into their wedding to make it the one they dreamt about. Some brides even cry tears of joy. It makes me so happy I cry as well. I'm very sensitive!
What is the funniest story about being a wedding planner?
What is really fun about being a wedding planner is when you have clients who love going off the beaten path. I had this very cool couple two years ago who were so willing to break the traditions it was refreshing! Together with their bridal party we have imagined a unique procession for their ceremony. The bride walked down the aisle first, while a singer performed "I will follow him" from Sister Act. She walked during the slow part of the song and then  – you know when the tempo gets groovier! – the groom arrived with the bridal party (they were a lot of friends!) and they were all dancing and setting the assembly on fire. Now that was a cheerful ceremony.
Just thinking about it puts a big bright smile on my face!
What is the best thing about being a planner
Making people happy. Seeing them all relaxed and joyful on such an important day as their wedding fuels me up.
What 5 things are little know facts about you?
As a child I wanted to be a florist, then an illustrator, then a couture designer and later a travel agent…I have the feeling I do a bit of all that now. I love my job for this! It requires so many different skills. You never get bored! Never.
I'm not married…yet! (Think J-Lo's movie!) Back to my first weddings I wore a ring on my left-hand, because I feared about what people could think. After the second or maybe the third wedding I stopped it though. It was ridiculous. Luckily I'm getting married to the love of my life and best friend at the end of September.
I've been screwed…like literally screwed. One year ago I've been severely injured in a car accident and two of my cervical vertebrae needed to be consolidated. (This can only be done with the usage of screws.) Unfortunately, this was two days prior to a wedding. So I've been managing my team and giving instructions from the E.R. Though I was suffering it was nothing compared to the frustration of not being able to attend my clients' wedding. Everything went well in the end. I'm lucky to have such great people to count on!
Life has offered me a lot of very nice opportunities and I'm grateful for all the experiences I've had, all the beautiful people I've met, all the places I've been taken to… Really, it feels like I've had many lives already. All these different jobs I've done have taught me so much and make for such nice memories. I could actually tell quite a few stories with celebrities if you pour me some drinks!
I'm 100% French ("half brie half camembert" as I say) BUT…I don't drink coffee, I don't smoke, I don't like stinky cheeses, I'm allergic to mustard seeds and I even boycott foie-gras! I'm far from a living cliché! I don't even moan nor have a strong French accent!!
Tell me about your services and packages
"From the project's birth to the guests' bursts of joy" as I used to say, we ensure the organization and the smooth running of each stage : planning, styling and coordination. Nothing is ever overlooked!
We provide bespoke destination wedding planning services. Everything is tailored to our clients needs, tastes and personality. We don't do packages.
The two main services of Celebrate – Weddings & Events are:
PLANNING (full service or final phase planning) which covers venue finding, selection of vendors, contract reviewing, budget management, assistance for accommodation and transport arrangements, complete day-of coordination, guest management and logistics, and much more!
DESIGN (which I love!) : we discuss our clients' inspirations, dreams, vision and wishes with them. Then we create a tailored design proposal to make their wedding a truly unique day! These styling services include : detailed design proposal, selection and management of the design team (florist, rentals, invitation designer…), set up and breakdown of decor.
VIEW MORE ABOUT MAGALI AND EMAIL HER TO FIND OUT ABOUT AVAILABILITY AND PRICES FOR YOUR BIG DAY.
CONTACT DETAILS
Website: www.celebrateagency.com
Tel : +33 (0)6 52 12 91 16