Marilyn Monroe inspired bride Sarah got married to Tobby  in a family wedding in Dordogne region of France, famed for its spectacular chateaux and wonderful cuisine. It was one of the hottest days of the year and their wedding was a real family celebration. Sarah and Toby hired local wedding planner Joanna Burgess from A Dream French Wedding to help them plan their wedding and she takes us through their big day.
Joanna: "Sarah and Toby first approached me to help them plan their wedding back in the dark, cold winter months and when we first met at their chosen Chateau in the picturesque Dordogne region of France, temperatures were around -10 degrees! It was hard to imagine that 6 months later to the exact day, the Chateau grounds would be full of colour; trees abundant with fruits, the wild flower meadows in bloom and the sun sizzling down on the proceedings.
Sarah says: We had been engaged for over 5 years when we got married – it was a long time in the planning with our baby being the first priority. As our family is already fully formed (our baby is now a 3 year old and I have a 14 year old from a previous marriage) plus lots of our friends are having children, I really wanted the wedding day to be about the family . So the Chateau had to be child friendly, and not "delicate" – I wanted the rustic look rather than polished.  The ivy-covered Chateau we found in the Dordogne fulfilled our brief completely; stunningly beautiful but not manicured and obvious. I found the Chateau while looking in the UK for large country houses and it was a lot cheaper than the UK!

Sarah had a clear vision for her wedding day; family and friends enjoying time together and sharing both a relaxing holiday and an inclusive, informal wedding: most of the guests stayed on site and enjoyed the swimming pools, yoga, golf and canoeing the Dordogne river. They prepared treasure hunts and rounders matches and for the wedding evening, guests were each asked to choose 2 favourite tracks to form the disco and everyone helped to pitch in to prepare for the big day! Sarah was given away at the church ceremony by both her father and her son Jack, which was a particularly nice touch to the day. Sarah and Toby's daughter, Olivia was a delightful bridesmaid alongside Gracie and Jo.
Sarah says: I have always been into the 50s and 60s;  the music, the hair styles, the dresses and the full on hollywood glamour from that era, with Audrey Hepburn and Marilyn Monroe being my icons. I knew that I  would never go for a traditional wedding dress –  which was a good job in the end with the heat! So eventually, after endless searching without really seeing what I wanted, I  found Courtesan Boutique  in Worthing, who will design a dress specifically for you. The girls there were amazing and helped me every step of the way to design my dream dress.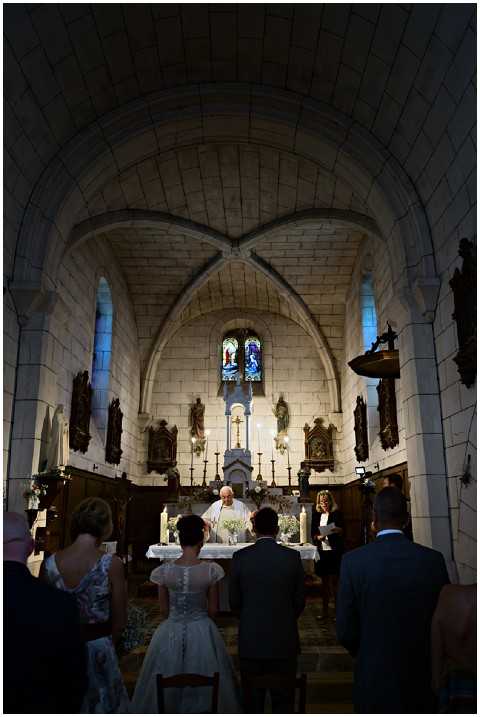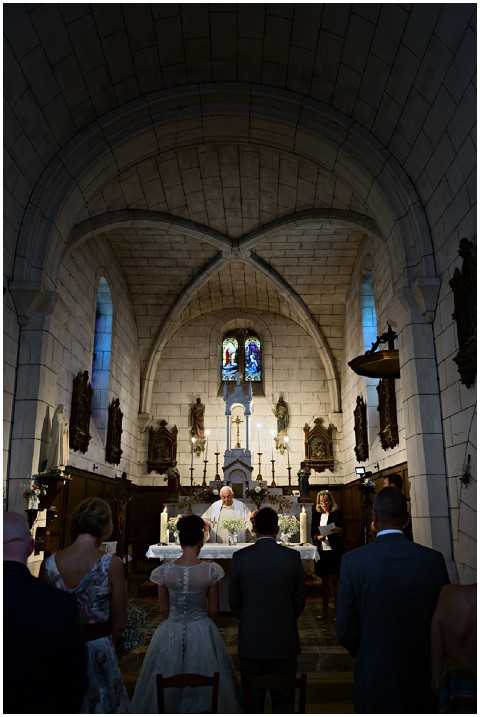 Sarah's wedding colours were deep red, grey and white. She had a beloved pair of oxblood-red Louboutin shoes to wear and chose 'black baccara' roses to match for both the buttonholes and her bridal bouquet . Her main flower choice was gypsophelia and big, bold bunches were used to decorate both the church and the reception tables. They also formed the bridesmaids bouquets and flower girls' headdresses.  The men's suits were grey and Sarah chose a grey toile de jouy fabric for her table runners-  with me sewing late into the night to get them ready  in time! Her hair and make-up also kept to the retro styling of the day.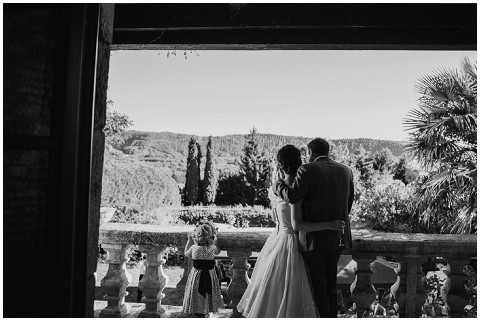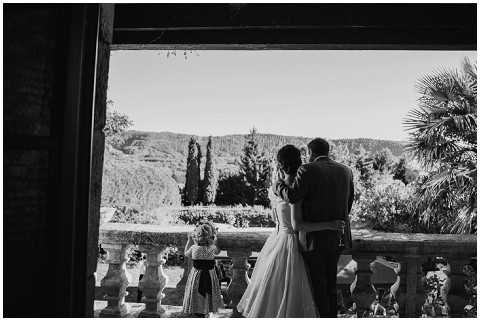 But the real triumph was the lighting of the courtyard area they used for the wedding meal: metres and metres of fairy lights, white paper lanterns of all sizes and a mélange of Moroccan and tealight lanterns on the table set the scene for a romantic, summer's night. Sarah drove Toby to distraction with the amount of  decorative things she bought to style her wedding! They soon realised that they wouldn't all fit in the car and had to start farming them out to other guests who were to be driving down to France!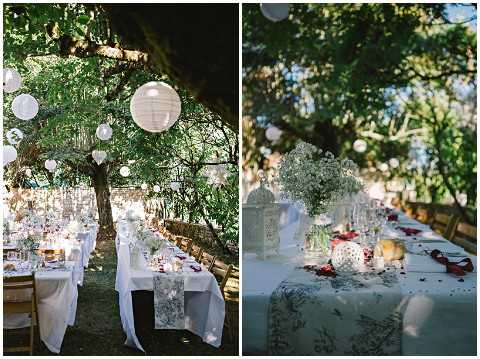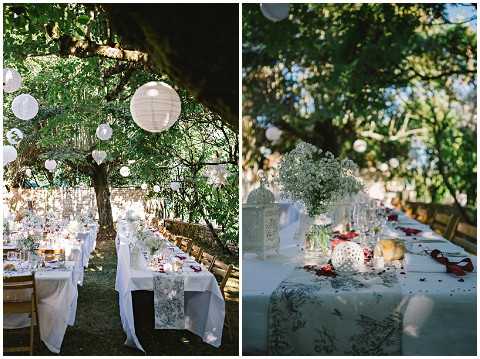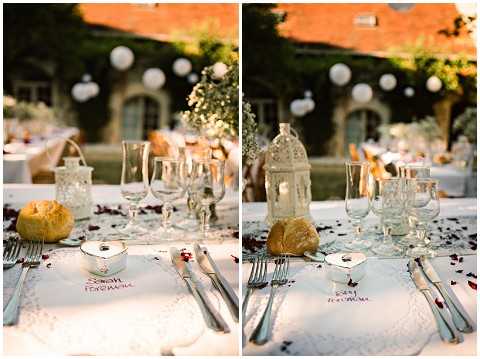 Sarah and Toby instantly fell in love with Christophe Mortier's style of photography and his ability to capture those intimate and sometimes amusing moments from a wedding day . Christophe is French and based in France, but is used to working with clients from all over the world and he enjoyed the English details of this wedding.   That's not to say that Sarah and Toby didn't embrace the French flavour of their wedding; frog's legs and a traditional  pièce montée cake were served, the menu board was in French and they bravely said their vows in French to a packed church!"
Sarah says: Overall our experience from the day was amazing – it was so much more than we could have ever imagined we kept wandering around hand in hand when everyone was dancing saying "we smashed it out of the park!". My biggest pieces of advice to a bride would be:
a) don't hold your bouquet too high or you don't see your dress (and sometimes your face) in the photos.
 b) get ready first – no matter what else needs doing – that way the photographer will have lots of nice photos of YOU getting ready – rather than just all the bridesmaids
c) when you walk into the church – wait and let the bridesmaids get to the front before you set off – with little bridesmaids they cause traffic jams getting into aisles…
d) get someone to hold a hanky for you
e) remember this is about you and your H2B, enjoy the day with him and don't worry about the little things!"
If you have read my recent dream wedding article over on The Good Life France, you know that Sarah's bridal style is exactly the hollywood glamour look that I adore!
Congratulations Sarah and Toby
Monique xx
Credits:
Photographer: Christophe Mortier Photography
Wedding Planner: A Dream French Wedding
Wedding Dress: Courtesan Boutique