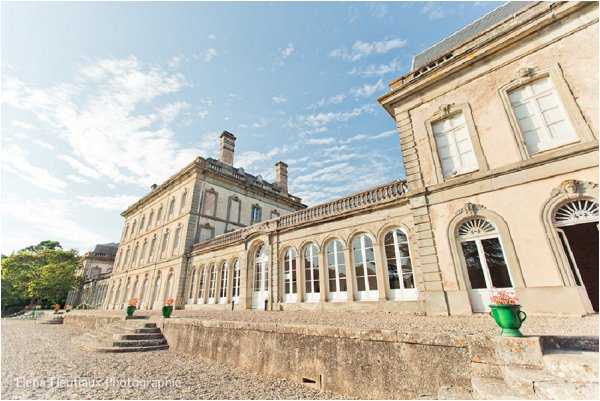 One of my favourite posts today on the blog, when I get to share the real wedding of one of our belle bride – Mademoiselle Slimalicious!  In case you missed any of Mademoiselle Slimalicious aka Cyndie's wedding planning journey, you can catch up here.
The last time that we caught up with Cyndie was in August just before her wedding day, and so without further ado, here is Cyndie's beautiful day captured by Elena Fleutiaux.
Cyndie:  "Already 2 months have passed since our wedding in the south of France.
I'm excited to share with you a little bit of our day, I couldn't wait to share some of our beautiful photos with you all. Everything went very well on our big day. The weather was absolutely gorgeous, very sunny and warm (around 30 degrees), a beautiful summer day.
We stayed at my sister's domaine in Carcassonne the day before the wedding; it was a lovely place to wake up to on the morning of our wedding. While I got ready there, Chris met with his family who travelled all the way from Australia and spent the morning of the wedding with them.
My day started with getting my wedding make up done at You & Beauty in Carcassonne. I'm thinking now I may have gone a little too 'heavy' on makeup. I can only blame myself for it as the make-up artist initially proposed a more natural "maquillage de mariage journee" but instead I insisted to get the "maquillage de soiree". Then a family friend looked after my hair and I was very pleased with the way it looked, especially given that I had changed my mind between the trial and the D-Day!
After an exciting morning, Chris and I finally met at the Mairie around 3 pm (we ran about 30 min late) where the legal ceremony was held. Once legally married, we had a catholic blessing at a nearby village church.
Our guests loved our choice of reception venue and the excitement in their eyes when we first arrived there was visible. My best friend helped me decorate the chateau reception room the day prior to the wedding. We kept it simple because the room had a lot of character already and I didn't want to 'over-do it'. We used the pompoms I had made especially for the occasion.
The florist Fleurs et Nuances in Carcassonne, prepared some beautiful wreaths made of ivy and roses for our table centre as we used white lanterns to decorate the tables. All of our wedding stationery (menu, table numbers, name cards, thank you cards etc.) was designed by Fi Fy Fo Fum. I was very happy with it all – a stylish and sleek look, simple yet elegant. We also displayed the guests' favours directly on the tables. I went for the traditional dragees for the guests' favours, but not the (boring) almond ones. Instead I picked the delicious Pecou Liquicroc salted caramel dragees. Yummy!
The chateau reception room was a good size for our party of 55. The 'Vin d'Honneur' was held in the park of the Chateau, where our guests enjoyed some homemade 'Sangria Blanche' (my sister made it) and delightful canapés prepared by the most renowned caterer in Carcassonne, Hille Traiteur. The 'Opera de Foie Gras' were to die for! Sadly we didn't get to enjoy it as much as I would have liked because we were running around talking to our guests, posing for photos and trying to manage the various vendors.
The things I'm most happy about are our choice of outfits (my e-Bay dress was especially perfect! Loved it!) and with our wedding photographer Elena Fleutiaux who was with us all day long (from 10 am to 1 am) and took over 1000 beautiful shots of our day. Elena speaks both English and French which was especially helpful for us given that our wedding was bilingual. The only disappointing experience was our DJ. I guess we knew we were taking a risk there given that we hadn't met him and didn't choose him based on recommendation.
We are now back to our normal life in Sydney, juggling between work and the renovation our home. Everyone is asking us 'how is married life?'. The truth is nothing has changed. After 8 years of being in a relationship, things remain pretty much the same, perhaps the only difference is we no longer have the stress of planning a destination wedding!
Thank you all for following my Belle Bride wedding journey on French Wedding Style Blog, it has been a long and exciting journey and a pleasure sharing it with you all. Please keep in touch, follow me on my blog www.mslimalicious.com, Twitter or Facebook."
Wedding Suppliers:
Photographer: Elena Fleutiaux  | Florist: Fleurs et Nuances | Catering: Hille Traiteur | Make up:  You & Beauty | Accommodation: Le Couvent Carcassonne | Stationery: Fi Fy Fo Fum | Dragrees: Pecou Liquicroc |