Bonjour, this week's wedding inspiration just keeps on getting better and better. We have something really special for you today… a luxury Cannes yacht wedding inspiration shoot.
Wedding planner and FWS vendor Nadia Fry Events developed a new concept: A wedding ceremony on a luxury yacht…
We absolutely love this idea, perfect for an intimate wedding celebration. We can just imagine it now, setting off from the chic resort with your one and only and a handful of guests for an unforgettable moment out on the Mediterranean sea, doesn't it sound perfect!
You can discover a little more of Cannes with Christina Sarah Photography in our wanderlust series post 'Exploring The French Riviera' where Christina talks about this famous resort town (it sounds like the perfect resort to set sail from)…
"Now Cannes has to be our favourite discovery. Famed for its international film festival this has to be the most chic resort I've ever visited. Its coastline is lined with sandy beaches, upmarket boutiques and palatial hotels. From the stunning beach to the famous boutiques Cannes misses nothing off its list. People-watching was a very interesting activity and the hotel-lined La Croisette provides a fine promenade."
I think you'll agree these images will do the job of selling you on this clever idea…

"For the most special day in the life of a couple, the wedding planners will propose a breathtaking setting, perhaps a luxury villa, castle, vineyard or boutique hotel. Taking it a step further on the luxury ladder, Nadia Fry Events has developed a new concept: A wedding ceremony on a luxury yacht, surrounded by close family and friends."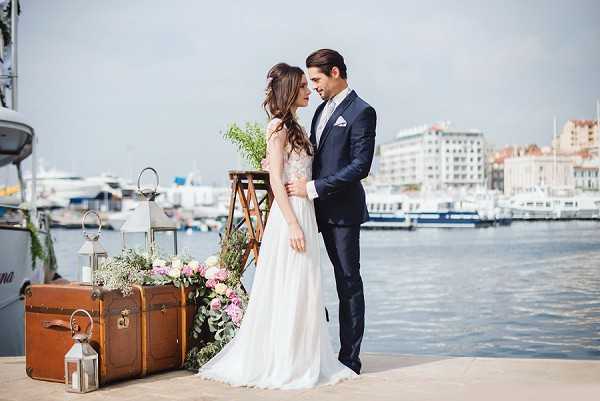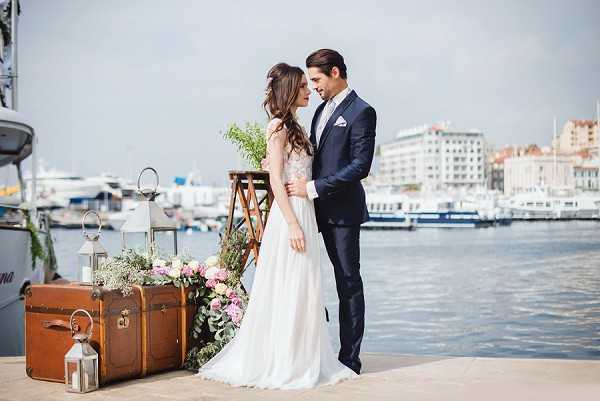 "To showcase the concept, the team organised a wedding photoshoot on board the M/Y Sultana in Cannes. For couples looking for an unforgettable ceremony, nothing beats a glamorous wedding on a classic yacht on the French Riviera."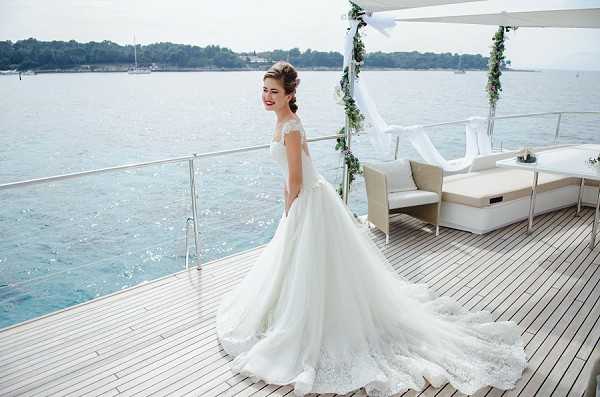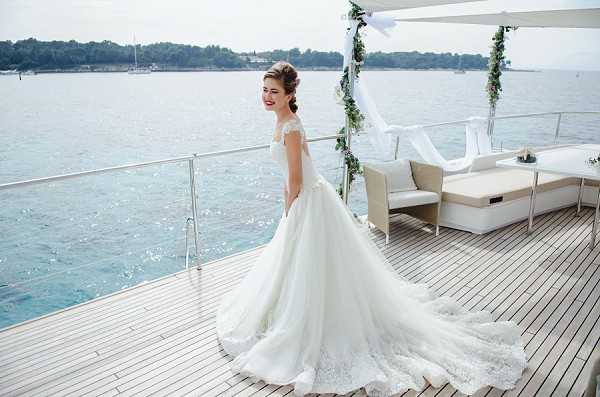 "Built by Feadship in 1969, the M/Y Sultana was entirely refitted and modernized in 2012, while preserving the charm of her classic beauty. Based in San Remo, she is available for charter in the west Mediterranean through Camper & Nicholsons International. Captain Fehmi and his crew have welcomed guests from around the world and made sure the wedding ceremony was unforgettable."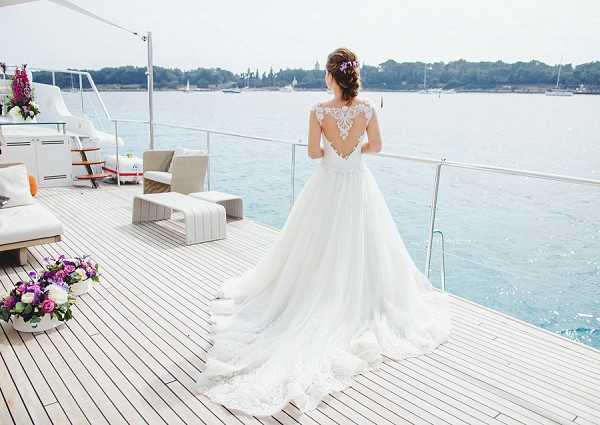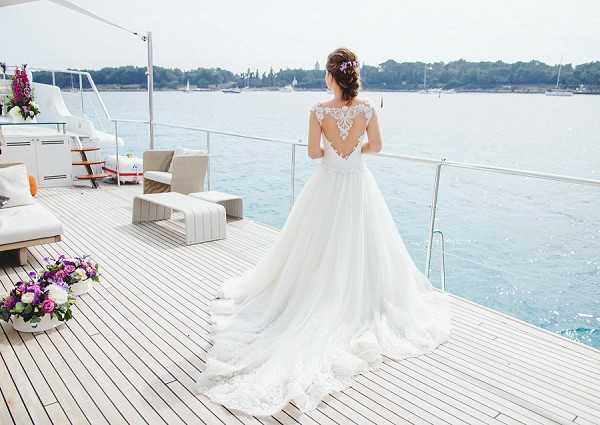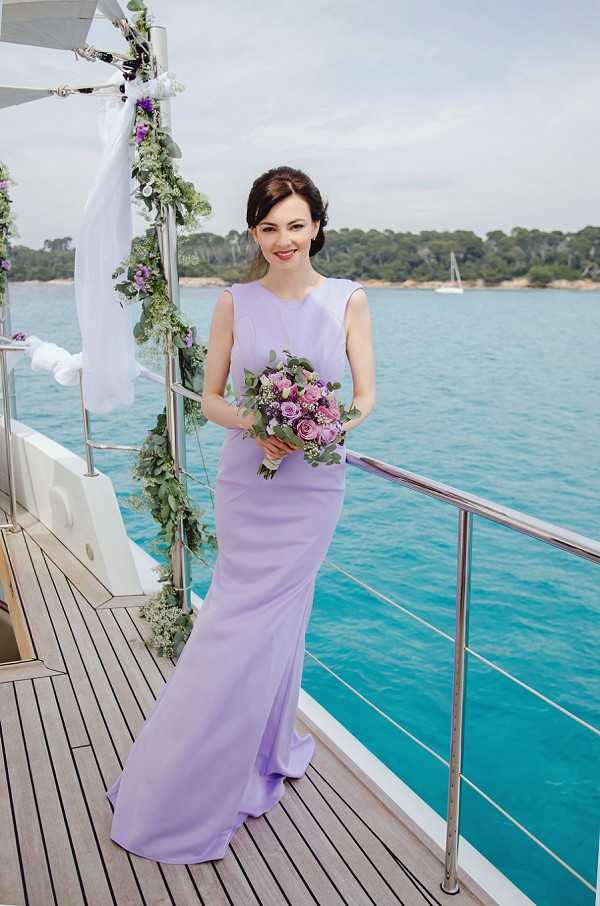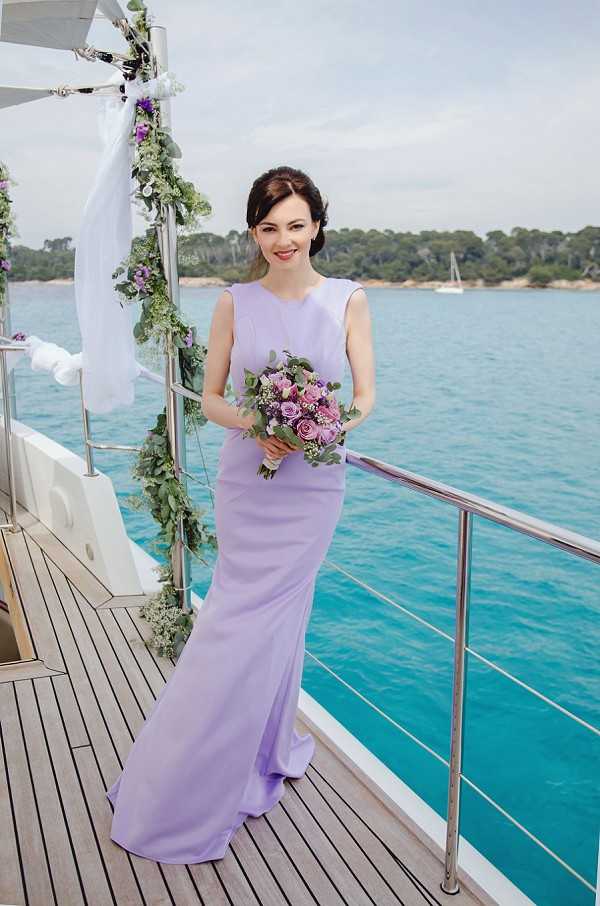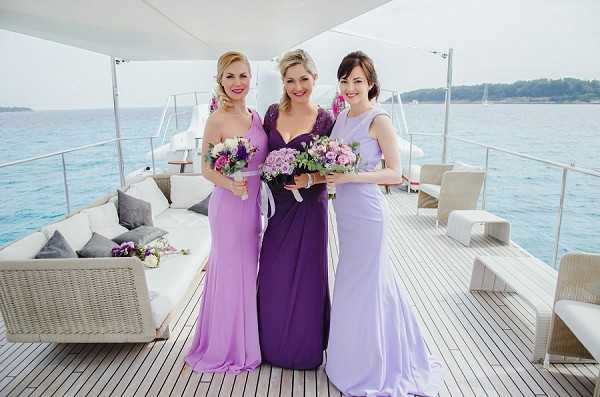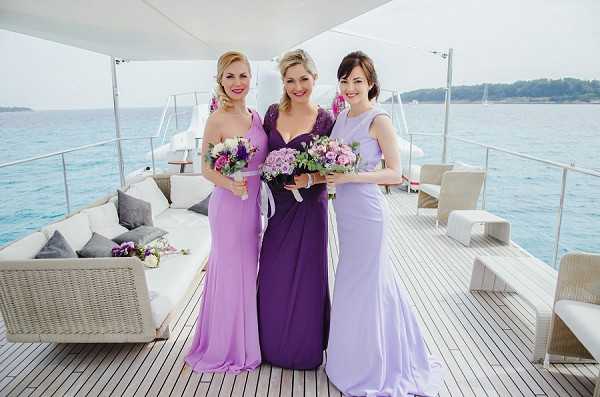 "Starting at 8am the supplies arrive on board, along with the professionals who will curate every aspect of the wedding: food & champagne prepared by Clémentine & Julien from La fabrique Gourmande, caviar from Rodrigo, Barnabas the hairdresser, Margot the make-up artist, Christophe the videographer, Salim, Gregory and Katia photographers, Daniel the pastor, Lucia and her unique dress, Steffen with his amazing flowers."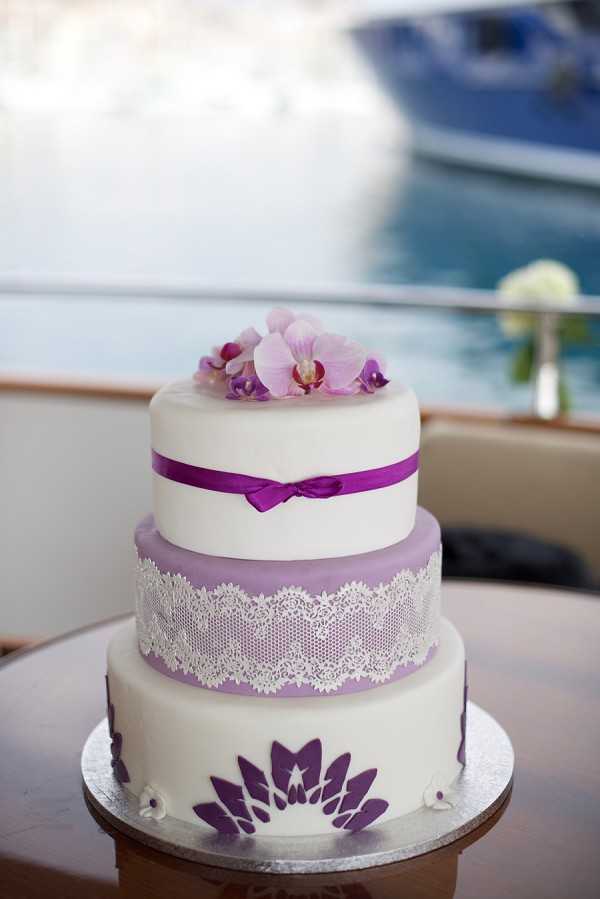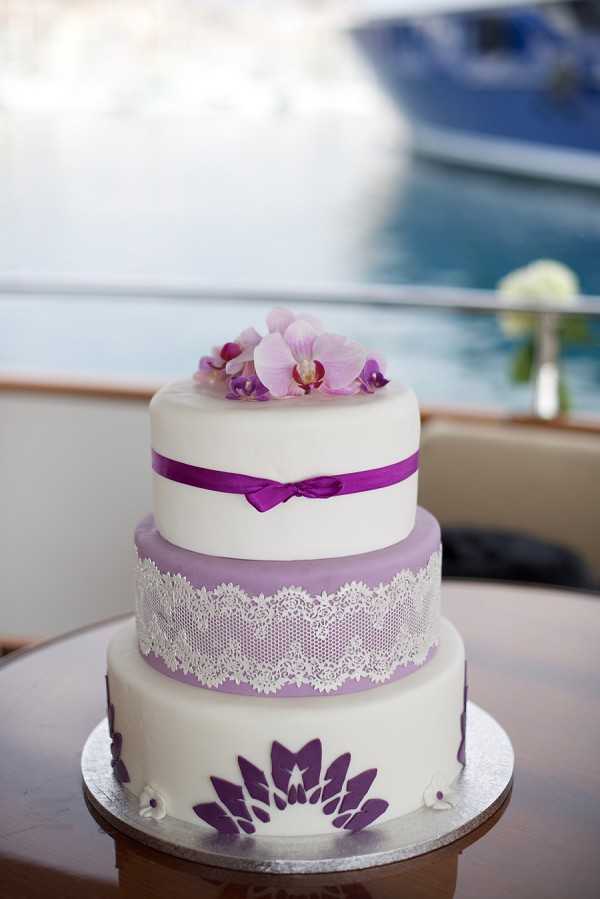 "Within moments the Champagne and cake are served in celebration and the Captain steers the Sultana towards the Lerins Islands for an unforgettable afternoon celebration."
Are you running off to plan your Yacht Wedding I know we are (well maybe a wedding anniversary celebration 😉 for us).
Luxury Cannes Yacht Wedding Inspiration Shoot Snapshot
Wedding Vendors
Wedding Planner: Nadia Fry Events | Charter Manager: Nicolas Fry – Camper & Nicholsons International | Captain/Crew: Fehmi Acil – Yacht Charter Sultana | Photographer: Grégory Maingret Photographe | Photographer: Ekaterina Kurilovich | Photographer: Salim Boubakri Photographe | Videographer: Christophe Paitrault | Wedding Dress: Lucia – Accord Parfait | Makeup Artist: Malgorzata Soczewka | Hair Stylist: Barnabas Boros | Florist: Jardin d'Alice | Catering: Clementine & Julien – Lou Bus d'Aqui | Caviar: Hibšfelds Rodrigo – Noble Caviar | Pastor: Daniel Orozco | Model/Bridegroom: David Lebreton | Model/Bride: Manon Bellone | Model/Bride: Oceane Riera
Save
Save