Hello FWS readers we have a love filled weekend wedding at Chateau de Vallery for you this autumnal Thursday. We'll be travelling an hour south of Paris for this gem!
Chateau de Vallery is a Renaissance gem, just one hour south of Paris that offers you 4 big halls and 28 bedrooms for your wedding needs. The Chateau also boasts a heated pool, tennis court, sound system until dawn, the caterer of your choice and exclusive chateau hire for 2 or 3 days with no time restrictions. So why not celebrate in the elegant footsteps of the Princes and Princesses of Condé who are now at rest in their onsite chapel.
We couldn't think of anywhere better to celebrate your wedding than in a romantic French historical monument located between Greater Paris and Burgundy, making it perfectly accessible to all your destination guests.
We'll now pass you over to our gorgeous bride who will be walking us through her fabulous weekend wedding full of fun and unusual activities which made their day utterly unique and memorable…
"Leaving a finance job in New York City to study in the south would be the last place I would imagine meeting my handsome Scandinavian husband! I grew up in Greenwich, Connecticut and Felix in Stockholm, Sweden. But as fate would have it, we met in Charlottesville while we were pursuing our MBAs at Darden School of Business at the University of Virginia, when he asked me to coffee under the guise of a networking "coffee chat"."
"Fast forward, and our wedding was designed to bring together friends and families' cultures for a four-day extravaganza in France. France is a special place for my family as we traveled there often and summered in St. Jean Cap Ferrat when I was a child. I continued my love for everything French, when I became a French major at Georgetown University and volunteered at the French Embassy in Washington, DC. Choosing the festive Swedish Midsummer holiday weekend (June 24, 2017) was an obvious choice for us and our families, and a mutually (in)convenient place for everyone to travel to for the celebrations."
"To entertain the 100 guests who traveled far and wide for the wedding, each one of the 3 nights had a different theme. The white party kicked off the celebrations on Thursday where we sat on low leather poufs in the Moroccan-styled riad and ate tagine. To celebrate Midsummer on Friday, the guests participated in traditional Swedish lawn games, organized by Felix's Swedish groomsmen. Johan, father of the groom, regaled the guests in the history of the holiday during the champagne toast by the pool that evening; and later, served as toastmaster for speeches while guests dined on foie gras and chateaubriand, catered by Abeille Royale in the Salon de Teintures. Friday we also enjoyed a wine tasting in the Chateau's 13th century wine cellar – including 1987 and 1990 bottles of Burgundy wine to commemorate my and Felix's birth years, a gift from Patrice and Ariane, the owners of the Chateau."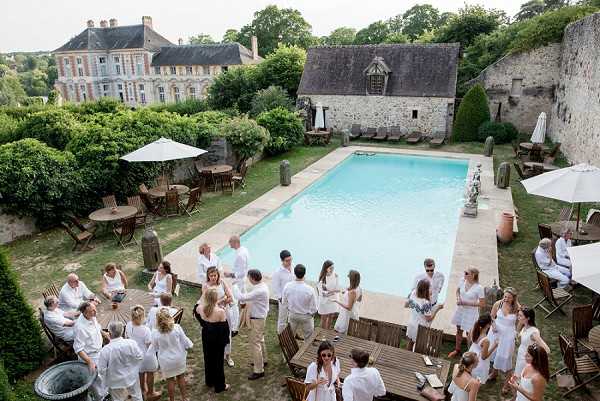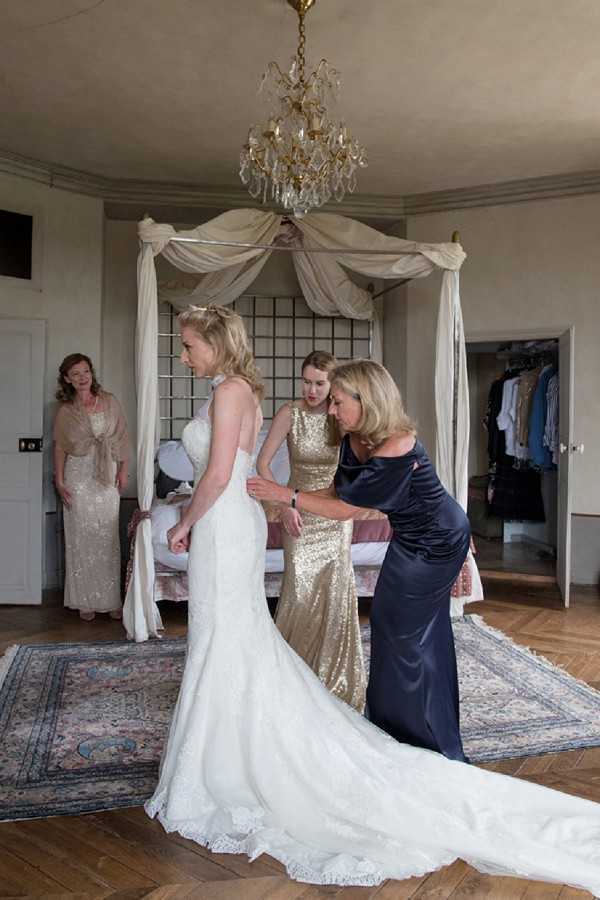 "Saturday, in the 15th century church at the corner of the property, Saint-Thomas de Cantorbéry, the ceremony was intimate; Felix and I recited our own vows. One of my favorite moments was leading the procession back to the courtyard of the Chateau where champagne and a jazz duo awaited us. My brother sang Elvis Presley's "Can't Help Falling in Love" for our first dance, just before we sat to dinner catered by Les Prémices. Before moving into the Grande Gallerie to dance the night away, surprise fireworks exploded over the property of the Chateau, set to the theme song of Star Wars, Felix's favorite movie. Concluding the show was the arrival of the wedding cake amidst sparklers, constructed of traditional French croquembouche in the shape of Chateau de Vallery. We stayed up dancing until dawn! Sunday concluded the festivities with a bon voyage brunch poolside before friends and family said their goodbyes."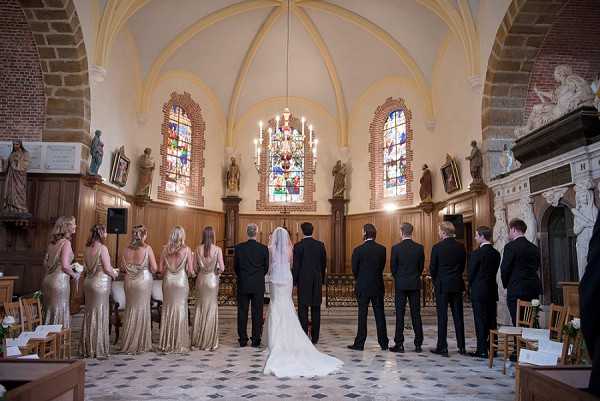 "I wore a Pronovias gown with a cathedral train that I found with my mother in New York City. Felix wore white tie and tails and his groomsmen donned tuxedos with cuff links that Felix gifted to them before the ceremony with their initials engraved. I wore my mother's veil that we updated with lace from her wedding gown. Of my and Felix's eight grandparents, only two were able to travel to France for the wedding, so to honor them, I wore pieces of my grandmothers' jewelry throughout the wedding weekend."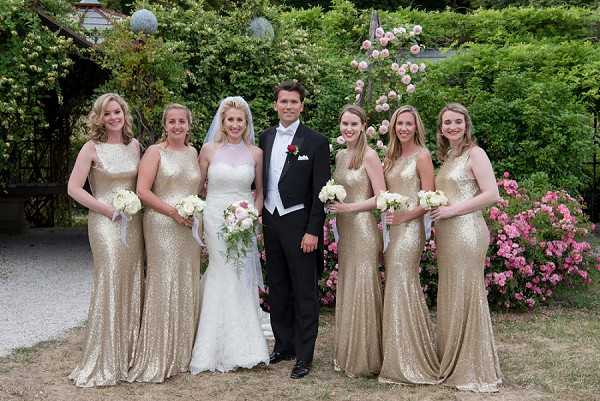 "It was such a special weekend for us – we will remember it all so fondly for the rest of our lives!"
Congratulations Morgan and Felix from everyone here at French Wedding Style.
For even more Chateau wedding inspiration check out this Chateau de La Caniere for some destination wedding inspiration.
Love Filled Weekend Wedding Chateau de Vallery Snapshot
Wedding Vendors
Reception Venue: Chateau de Vallery | Lead Photographer: Encre Noire Photography | Brides Dress: Pronovias | Bridesmaids Dress: Vow to be Chic | Hair and Make Up: Lili Briand | Catering: Abeille Royale | Catering: Les Prémices | Entertainment: Ben Paradise | Table Decoration: Wedding Centerpeace