Good morning! To help you feel the sand between your toes and imagine the sea gently lapping against the shore on one of France's many majestic beaches, we have for you a Loire Atlantique beachside wedding inspiration shoot to share with you.
From the backless lace Fabryka gown to the succulent inspired bridal bouquet created by Nuances Florales, we love the gorgeous beach inspired details seen throughout this relaxed shoot. It has us dreaming of evenings watching the sunset by the sea (not forgetting that glass of fizz of course).
Are you considering a beach wedding for your big day? If so you'll love what Agathe F. Photographie has to share with us…
"I have had this photoshoot in mind for a long time. The beach and the ocean have been part of my life forever and this particular beach is the one on which I have spent all my summers during my childhood. Organising a photoshoot at the beach was a long-time dream and I have long thought about how I could make it happen."
"Then I met Morgane, the wedding planner who accompanied me for this adventure. Suddenly everything seemed obvious. She could understand what I had in mind and stage my ideas while bringing her personal touch. So, we set up this photoshoot together, carefully selecting the providers and mindfully taking care of all the details that were important for us, for me especially!"
"I wanted the real winter as the light is magic in winter at the beach. We had to see the ocean in our scenery and the fisheries too as they are very present in the region and have always fascinated me. I really wanted a coloured dress and Pauline Rançon from Fabryka created this wonder."
"I also wanted succulents for this shoot because succulents are marvellous. We also found in-love models brave enough to face the cold. It was very important to have a real couple."
"Obviously, there's a weather risk when you choose to do a winter photoshoot at the beach in Loire Atlantique. We understand that even better now! There was a thick mist when we woke up, a typical Breton drizzle almost all day and the tide was getting higher and higher giving us a little fright at the end of the day. Despite this environment being a little hostile, the photoshoot took place in a great atmosphere, and everyone contributed to make it a lovely day."
"This photoshoot is the culmination of several months of reflection and work for me. But above all it is a beautiful human adventure, working with an amazing team of providers. Nothing would have been possible without them all!"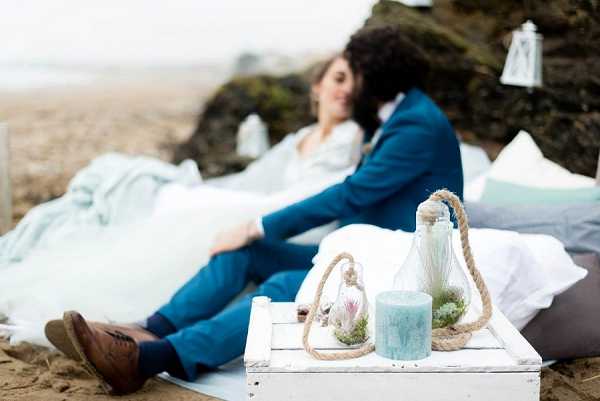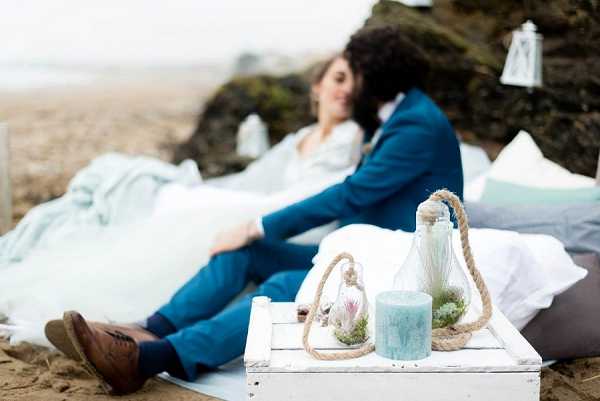 For even more beach wedding inspiration why not check out our blush beach wedding inspiration board.
Loire Atlantique Beachside Wedding Inspiration Snapshot
Wedding Vendors
Photographer: Agathe F. Photographie | Planner: Morgane – Positive Events | Wedding Dress: Fabryka | Shoes: Dessine-Moi Un Soulier | Hair and Makeup: Cocooning Chez Vous | Florist: Nuances Florales | Grooms Outfit: Coup de Ciseaux | Accessories: L'Atelier de Sylvie | Accessories: Coquerico | Accessories: Madame Seguin | Decoration:  Morgane – Positive Events