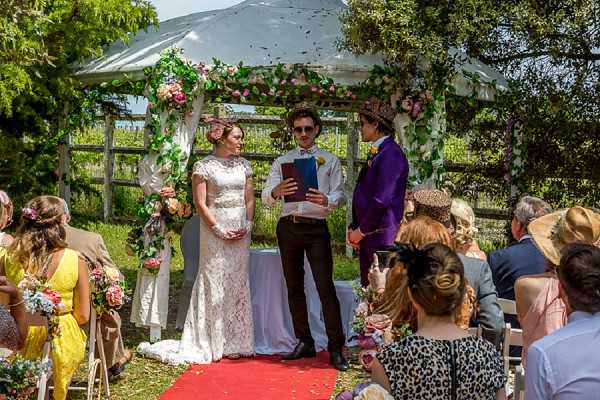 Hi lovelies, we hope your week is going well, we have a leopard print inspired Bellevue real wedding for you today that will be sure to spice things up with your wedding plans! It also includes lovely creations by our very own FWS hair and make-up stylist Carey Hawkins.
Our bride Amy, a Wardrobe Manager in London's West End married Sam, a Construction Manager on May 21st 2016 at Bellevue near Birac in the Charente.
Here's a little insight into today's wedding from FWS vendor Neil Cooling Photography:
"I knew when I met Amy & Sam and they told me about their plans for a Leopard print wedding theme this was going to be a different type of wedding. I was of course correct. It was filled with colour and laughter and lots of Leopard print; hats, ties, shirts, dresses, socks and more. Sam & Amy clearly had put a lot of thought into this wedding and it showed in all the details. Flowers, chandeliers, crystals, decorated skulls were everywhere. They had issued each guest a guest bag full of goodies and one item was a bubble gun so as you can imagine bubbles were everywhere. Also included were colourful sunglasses and they also brightened up the day. The Luxury French Wedding team at Bellevue did a great job as did all the suppliers. It was a pleasure to be involved and the day was great fun. My only regret; not having chance to play on the space hoppers!"

Amy will now walk us through her fun-filled day…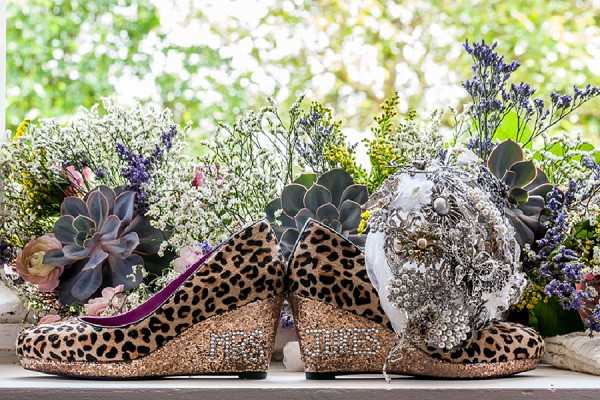 "We met in April 2014 in London and Sam proposed at the Venice carnival on Valentine's Day in 2015. We chose to get married in France as we wanted a small wedding and great wine!
Bellevue was one of the first places we came across and quickly arranged to go and view it, Bellevue is run by husband and wife Clare and Andrew who made us feel very welcome on our first visit."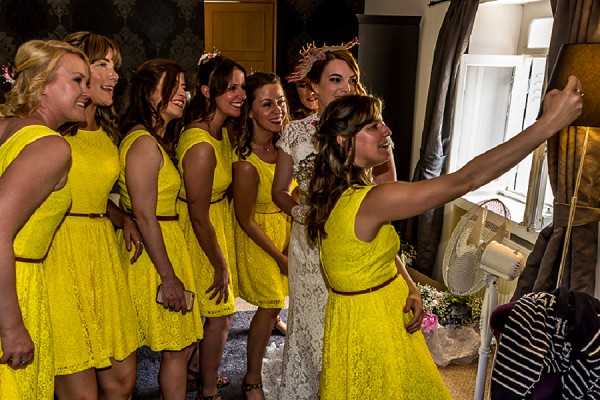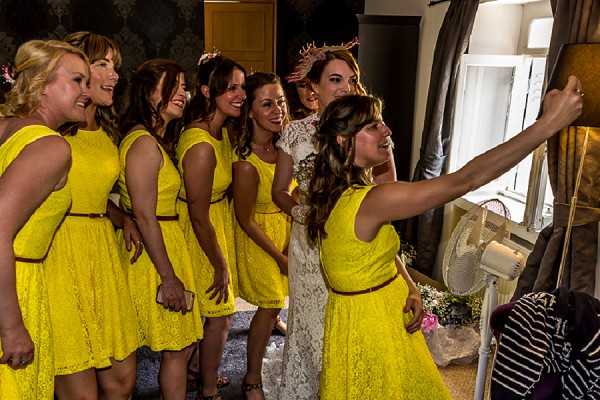 "We loved the rustic feel of the place and that it was set in the countryside so complete privacy for our wedding party, all the guests could stay on site and it became a 3 day affair perfect for the celebration. We were also looking for a venue we could decorate. We wanted people to feel like they were at our wedding and it couldn't have been anyone else's."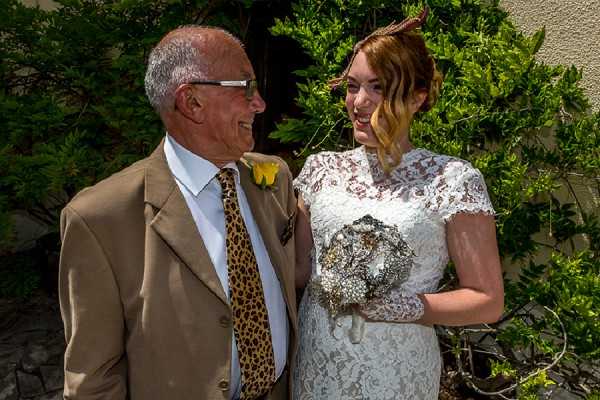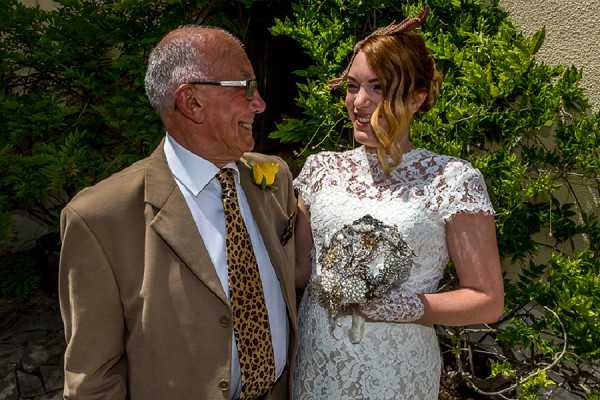 "We made a list of things we loved and could incorporate into our day for example we both love leopard print, playing cards and skulls so of course they had to be involved, as we got engaged in Venice we had to have the Venetian masks!"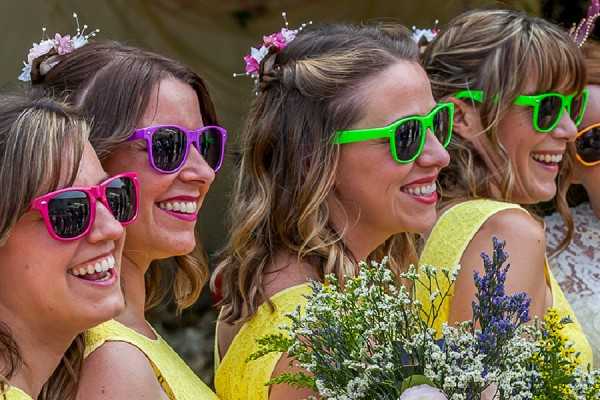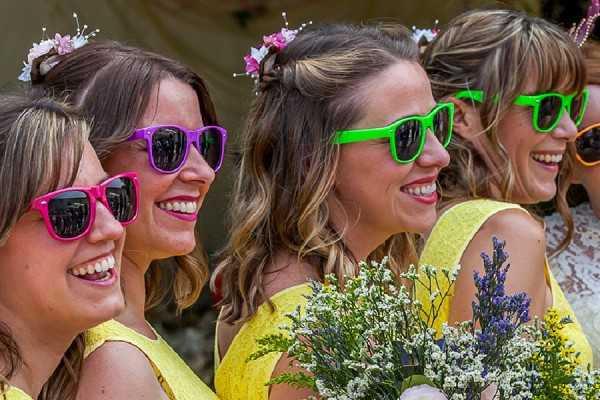 "Each guest had to wear something leopard print be it a hankie, tie or sunglasses we even had one guest with a leopard print walking stick. The groom and the groomsman wore leopard print top hats and the bride and bridesmaids wore leopard print shoes."
"For the flowers the bridesmaids bouquets and the hot air balloon centre pieces used real flowers and the remaining flowers were all silk. The girls bouquets were made up of a succulent center surrounded by peonies my favourite flower, we had a 27-year-old flower girl scattering yellow petals down the red carpet. We had the florist provide 8 little wicker baskets for the base of the hot air balloon design back in the December when we went to meet our suppliers, Mary filled these with wild purple and yellow flowers and on the day we filled balloons with helium to complete the look."
"The pergola where we said our vows was decorated in silk flowers and vines with a glass chandelier hanging in the centre. We decorated the surrounding trees with gold glitter butterflies.
The chairs on the aisle side had flowers and pearls attached and each guest had a bubble gun instead of confetti."
"Our wedding cake was two tiers the bottom one lemon and the top carrot cake we had one guest who couldn't eat this so the lovely Davinia Davies made us separate dairy free cupcakes."
"I decided a long time ago I wouldn't have a floral bouquet and liked the idea of a brooch one, both our mums gave us some beautiful pieces from our grandmas that I incorporated Into it."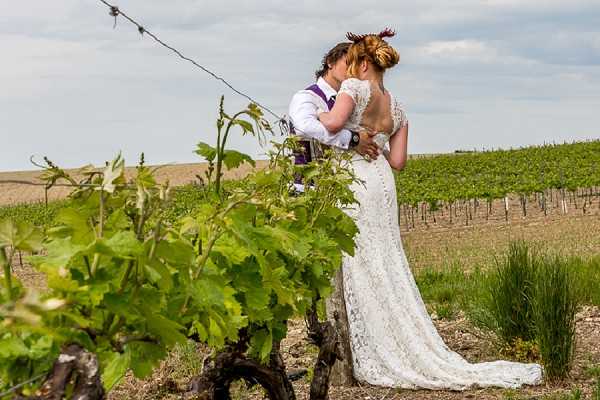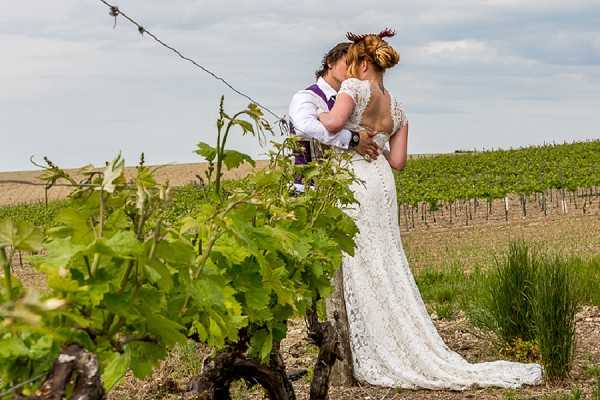 I think Amy and Sam certainly injected their personalities into their Bellevue wedding. For even more Bellevue wedding inspiration click here.
Leopard Print Inspired Bellevue Real Wedding Snapshot:
Wedding Vendors
Photographer: Neil Cooling Photography | Venue: Bellevue | Dress: Lucy from Jdezire | Shoes: Shoes of Prey | Hair and Make Up: Carey Hawkins | Headdress: Isla Campbell | Florist: Mary Devereaux | Cake: Davinia Davies | Bouquet: Hand made by the bride with vintage brooches | Decorations: Designed and made by the bride
Save
Save
Save