Good Monday Morning!  I trust that everyone had a lovely weekend? We are talking flowers today and specifically the latest flower trends from France, as brought to us by Hayley Sutherland, resident wedding florist and stylist at Chateau Rigaud, a wedding venue amidst the Bordeaux vineyards.
"Hello, my name is Hayley, I wasn't always a florist, in fact just over two years ago I was sat in an architect's office in Glasgow drawing technical details for various sports stadia. Fast forward to 2011 and I was given the opportunity to learn from the best at the fantastic McQueen's Flower School in London. Two days with my brilliant tutor Duncan and I was winging my way back to sunny France full of excitement, ideas and knowledge for the challenge that lay ahead. Here I am eighteen months on, flowers arranged for twenty five weddings and a diary pretty full to the end of the season.
© S Carss
One aspect of my job that I really love is getting to spend time researching current and spotting future trends in wedding flowers. As with fashion certain colours or flower varieties come into and go out of popularity. This year it's all about ranunculus, peonies and vintage roses, arranged in a loose blousy fashion, not too structured and just on the edge of being overblown.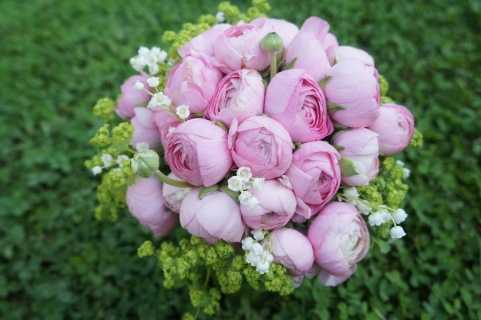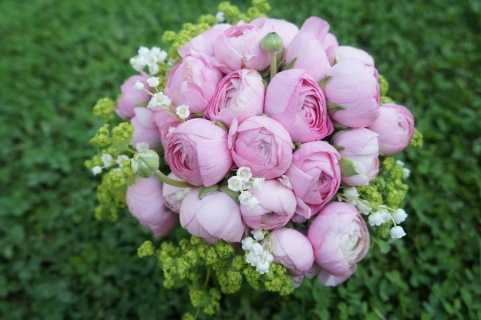 Succulents are massively popular and are fantastic to use in buttonholes as they will not wilt, even on a hot Bordeaux afternoon.
In addition they make brilliant table centrepieces when displayed alongside cut flowers, I for one am really championing the use of living plants where possible. Last year we used pots of living lavender on the tables for a wedding, the bride took one plant home with her to plant back in her garden in Ireland and the rest went into the chateau garden. This year we have beautiful healthy plants which we have already taken cuttings from and have used on place settings for a wedding this year, I guess it could be called the flower version of swishing…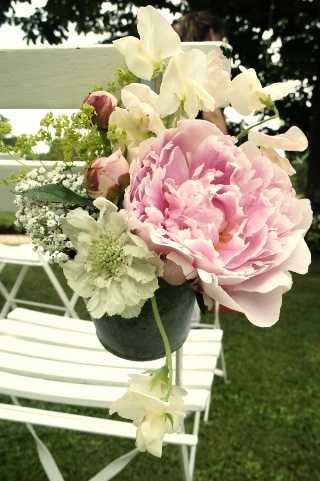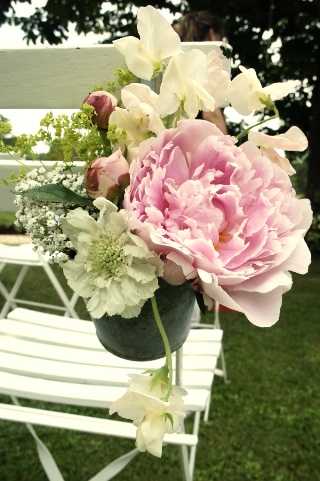 Nude is a big trend too this year, think sophisticated re-invention of 80's peach. Also blasting straight into fashion from days gone by are pomanders and hair circlets; though I wouldn't necessarily recommend teaming with big hair and meringue dresses – some things are best left in the past! Coral is another colour that I am often asked for and my favourite flower for this is the 'Coral Dream' variety of peony which starts life in a deep hue and as the bud opens it fades to a much softer shade.
© S Carss
One important consideration when thinking about style of flowers is the venue. All the work that I do is for wedding receptions held in a rustic rural barn therefore my approach is very natural, 'just picked from the meadow' understated, miss-matched jam jars and not too arranged.  This works perfectly well in this environment but would look a bit out of place at either a beach wedding or in a glamorous design hotel. Have faith in your own taste, whatever key aspect of your venue appealed to you should help define the look you want to achieve throughout all elements of styling."