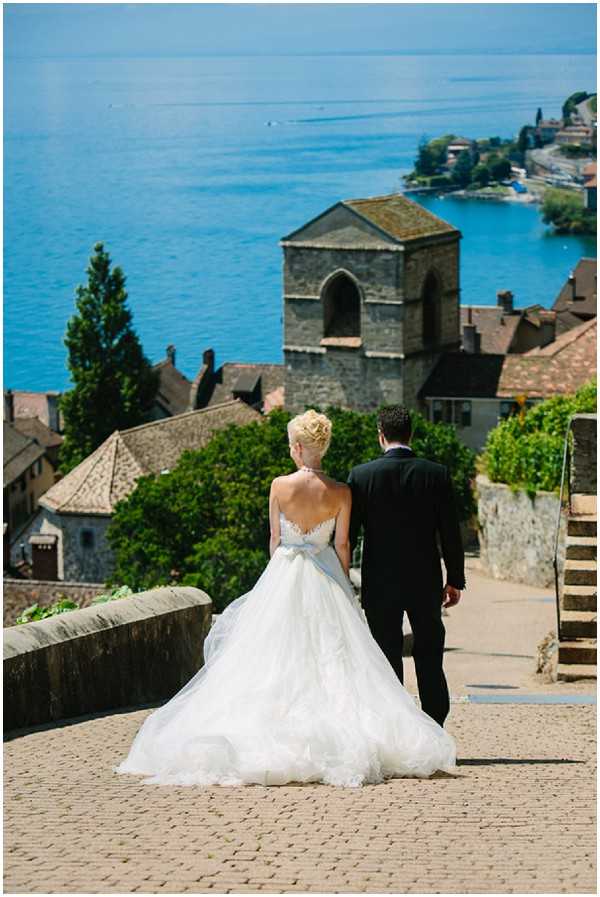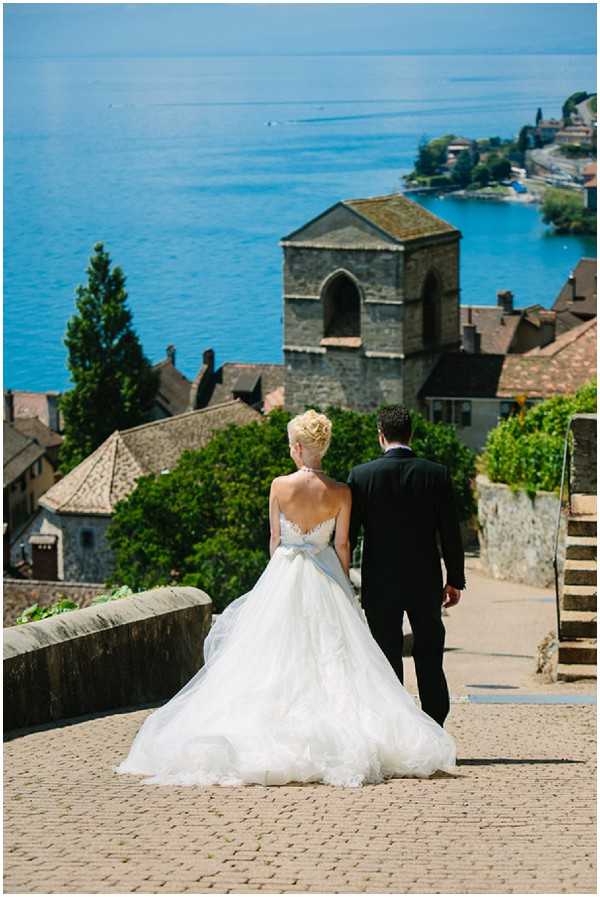 As I look to provide inspiration for French style weddings worldwide, today's real wedding is a first, the first time that we are off to Switzerland for a Lake Geneva wedding.  For Vilde and Matthieu love story, sometimes things just come together in perfect harmony and resulted in a perfect dram French romantic wedding day.
Photographer Emma Godfrey takes us through the planning and wedding day: "When I first met Vilde, she had a super-organised binder with everything she wanted for her special day, including her dress which inspired everything else. It was an exceptional Pronovia's design with a feather bodice (Manuel Mota for Pronovias, Primor), transforming Vilde into a swan princess! And it warranted some special photos with her very own James Bond.
French Wedding Style – Photography © Emma Godfrey Photography
Vilde and Matthieu met in Norway but decided to wed in Matthieu's home country of Switzerland. They chose the stunning town of Vevey by Lake Geneva for a scorching July wedding.
We took extra time on the wedding day to shoot Vilde and Matthieu's couple photos before the ceremony – when they were still fresh – the result was some really special images of the two of them in the little town of Saint Saphorin overlooking Lake Geneva.
Free to relax into the rest of the day, Vilde and Matthieu were married in the magnificent Nôtre Dame de Vevey and then enjoyed an apéro at the Grand Hôtel du Lac, who provided a truly individual service as always.
Although the heartfelt speeches were in Norwegian, it was impossible not to become involved in the emotion of the day, everyone was swept away by a couple who were so much in love. I dock my hat to Matthieu who serenaded his new wife with Nat King Cole as the party got started!"
Thank you to Emma for submitting this beautiful wedding, I look forward to bringing you many more French style real weddings soon.


Wedding Suppliers:
Floral Designer: Marion
DJ: Nicolas Beaud
Makeup Artist: Maquillage Dessange
Shoes: Tamaris