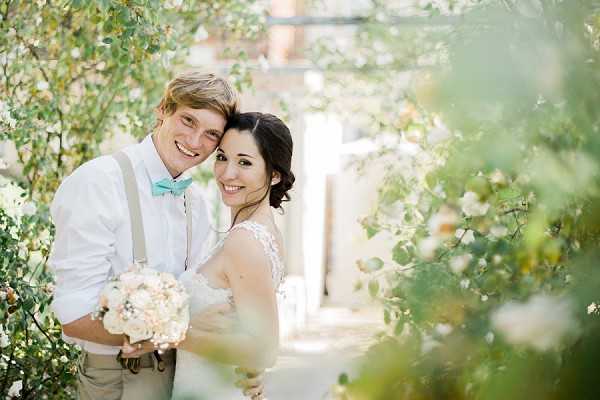 Welcome to October gorgeous french wedding style readers, the year is zooming by but we are never short of gorgeous wedding inspiration keeping these cooler wedding planning evenings that bit more interesting. To start the week off we have for you a gorgeous Tiffany blue inspired La Chartreuse de Pomier wedding full of love!
Today's sun-drenched chateau wedding includes a gorgeous lace strap wedding gown by Eglantine for our stunning bride teamed with a pair of Tommy Hilfiger wedges perfectly complimenting her dapper H&M groom. If you are planning a DIY rustic themed wedding day then get your Pinterest boards at the ready and don't forget to PIN that super fun tandem bicycle… cute right!?
Photographer Joice Kelly Photography who captured Raquel and Regan's french wedding will take us through their gorgeous day…
"Raquel and Regan got married on July 10th 2016. Raquel and Regan both love rock climbing! They actually discovered this sport together and it keeps them close because they spend quality time challenging each other with new climbs."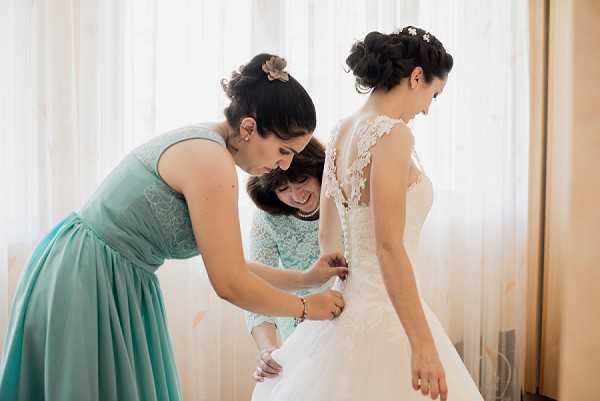 "For these two, sharing fun activities is an essential way to show their love for each other. They are a christian couple and said that they've learned with experience to center their relationship on God and he has never disappointed them. Raquel and Regan met each other in Collonges-sous-Salève with a youth group through mutual friends they had."
"For the proposal Regan did an amazing "jeux de piste" (when you find things along the way and have to follow directions, until you get to the final destination) I don't know how that is called in English, it's like a fun game, he did that all around the city of Geneva Switzerland, for her and then he proposed on the Salève (Mountain in Notre-Dame-de-Commiers, France) with a poem he wrote for her."
"Raquel and Regan chose to get married at La Chartreuse de Pomier an amazing venue for people who love mountains! It has a great view! Their wedding was so unique and special. Everything was so natural, they are genuine and fun to work with."
"The coolest moments of the day, included when they tied a knot in front of everybody with the rope/cord you use for mountain climbing – they chose to say their vows in each other's language (she said them in English for him, and he said them in Spanish her language)."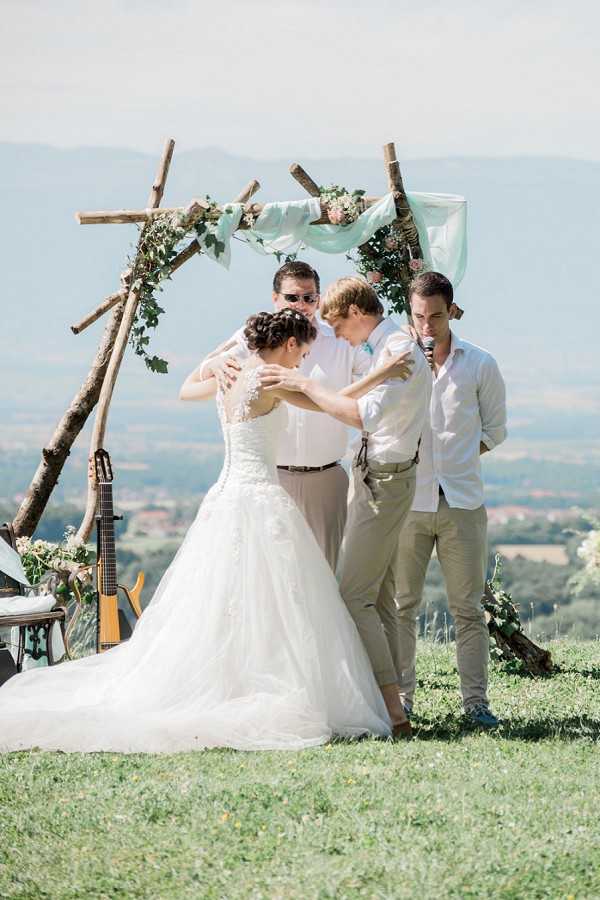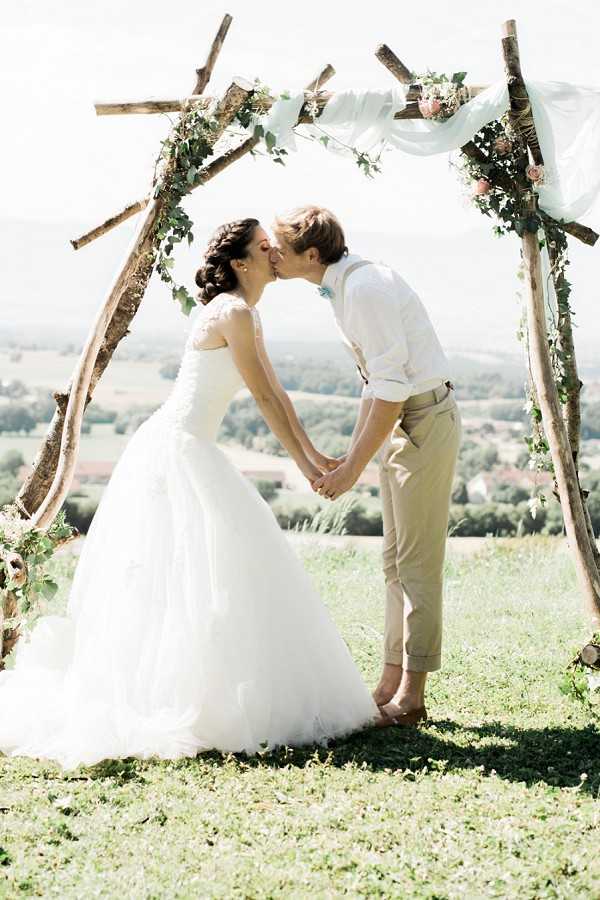 "The exit was priceless, on a bicycle with the help of the groomsmen."
"Raquel said the things she loves the most about Regan are: His good humor and creativity and that he is so adventurous, spontaneous, and treats her with so much love."
"What Regan loves about Raquel is: her energy, excitement, adventurousness, Spanishness, (she is from Spain and Switzerland and he is from Canada) the consistent attention she gives him, her relationship with God, family, and friends, her caresses, and humor."
For even more gorgeous wedding inspiration check out this rustic countryside wedding near La Rochelle is full of swoon worthy details!
La Chartreuse de Pomier Wedding Full Of Love Snapshot
Wedding Vendors
Venue: La Chartreuse de Pomier | Photography: Joice Kelly Photography | Planners: Noelia Delicado, Lauriane Hutmacher, Saray Vega | Brides Dress: Eglantine | Bride's Shoes: Tommy Hilfiger | Grooms Outfit: H&M and Amazon | Bow ties: Adatele | Groom's Shoes: Toms | Florist: Bouvard Fleurs | Hair and Make Up: Imag'in Hair, Lauriane Hutmacher | Celebrant: Leandro Lopez, translation from Mikhael Szylovec
Save
Save
Save