Hello and welcome to my first Belle Bride post!
My fiance and I got engaged on the 9th September 2011, yes, I know 9/11 a date we definitely will not forget. After this amazing moment it wasn't long before the search was on to find our perfect venue to hold our dream wedding.
Like most others I'm guessing, the search for a venue is quite daunting, how do you look? where to look? and especially for us getting married in the South of France, we knew there would be an array of gorgeous chateau's to stunning vineyards and the choice would be hard to make.  However, we had a slight advantage in narrowing down our short list as we needed accommodation on site, enough to put up our english friends and family, at a reasonable price.
For our English family and friends it was never a question that we would marry in UK, they all expected us to marry in the South of France.  The weather for one should be better, the food and the gorgeous scenery. Most have decided to link it into a holiday too.
So to begin our search we did what most do I'm guessing and turned to our faithful friend Mr Google.  Mr Google was quick and useful and straight away directed us to a website called www.ABCsalles.com and www.1001salles.com. Both can be translated into different languages including english and both have excellent resources. Both sites really are very easy to use and the searches are clear and simple.  We were able to select exactly what we were looking for and then save our favourites in order to compare.  Perfect.  Once we were happy with our short list we printed of the list and all the information was there to hand, simple and easy to read. I would definitely recommend these sites as they cover all venues possible.  We visited 5 venues in total before choosing our beautiful vineyard in Saint Maximim called Abbaye Saint Hilaire.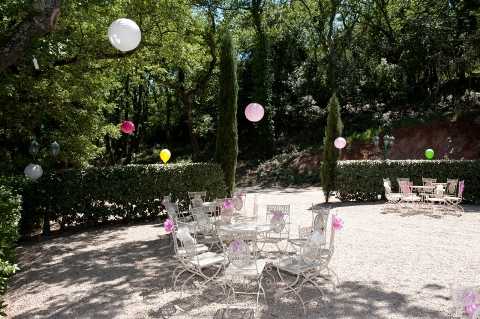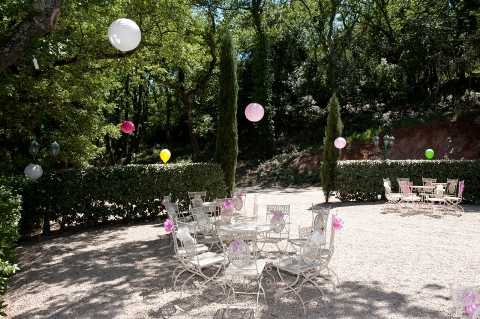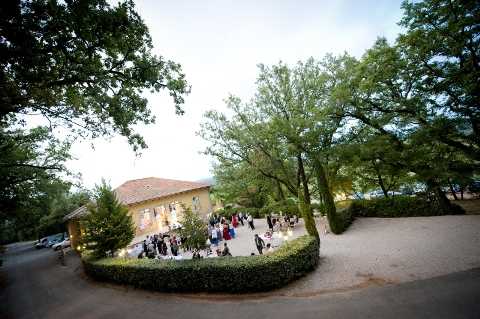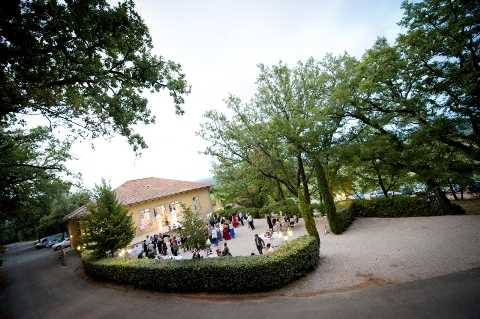 Photography Copyright (c) 2012, Robin Photographe, Magalie Tarasco Photographe, Bleu Citron Prod, Lorenzo Salemi Photo
We chose the Abbaye because it ticked all the boxes for us. It had accommodation on site, with a choice of gites, hotel rooms or budget stay rooms and it is in close proximity to other B&B's outside of the domaine. It boasts 250 hectares of fields, has beautiful scenery all around and to top it off an iconic view of Sainte-Victoire.  The venue is large and has everything from a garden terrace, large fireplace, separate room for cocktail etc, lift, cloakroom, toilets etc. It really is beautiful and well equipped. It is slightly more than what we had budgeted for but as it ticked all the boxes we increased our budget and signed on the dotted line. With the others there was always that little something we were just not sure on.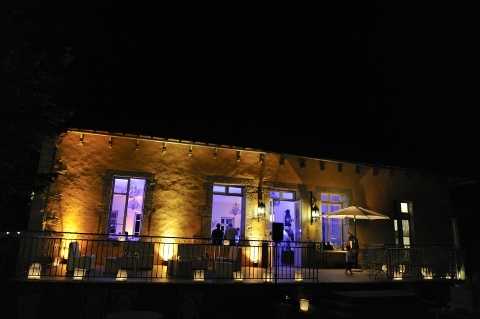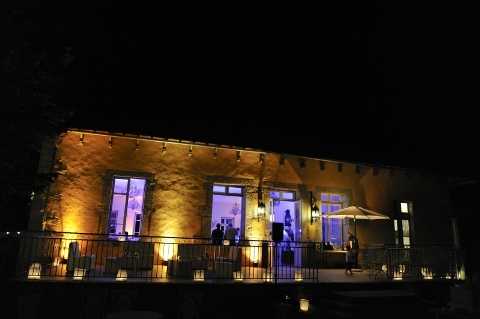 Photography Copyright (c) 2012, Robin Photographe, Magalie Tarasco Photographe, Bleu Citron Prod, Lorenzo Salemi Photo
Before starting our research we sat down and calculated our budget, we talked about things we were and weren't prepared to compromise on and the venue was one of those that we felt had to be right and we could not compromise on.  We believe we have a responsibility to look after our family and friends and especially those coming from England and want them to feel comfortable and have a fun time and that is why it is important to us hat we get the venue right.  So we booked the venue for the 15th September 2012.  Yeeeahh
With three months until our wedding we have also now secured our catering. This was fairly easy to chose from as the venue imposes a choice of 5 different traiteurs (caterers).  We made appointments with two and visited their offices to discuss what they do. Here in France, the traiteurs play a very big role in your wedding day, so again it is important we discussed with each what we would like and what they could do.  They decorate the table and supply a choice of colours and styles. If you want to add something they will place it there on the morning of your wedding. After some deliberation we choose a traiteur called Gaudefroy We do have a little surprise up our sleeve when it comes to the main course for our wedding, but if you want to find out more, you need to subscribe for your updates. Be the first to hear.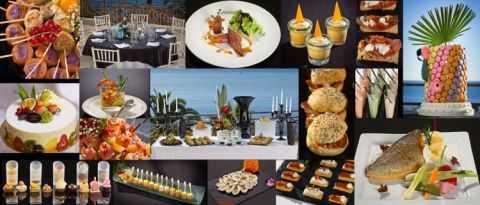 In Marseille every year they hold a Salon de Mariage (wedding exhibition) it is normally quite a large one held in Le Parc Chanot in Aix-en-Provence.  We were able to catch it this year and I went along with a friend and my future mother-in-law. The day after, I went back with my fiance and we were able to get lots of ideas and prices.  With neither of us being married before, it is kind of a daunting experience, the prices always seem to be more than what you think!! why is that? The salon are great as you have everything you need in one place, so you can talk to professionals, get a feel for things and most offer great discounts if you buy at the salon.
After viewing a photographer and videographer there, we were smitten.  The work that they do actually gave both my fiance and I an emotional reaction. There are called Lovestory and are based in Marseille.  We didn't jump to a decision and continued to look around but nothing was beating what we felt with LoveStory. One tip is to negotiate, we knew what we wanted Lovestory, and we had a budget, so we negotiated to see if the two could become a reality and voila we had our photographer/videographer.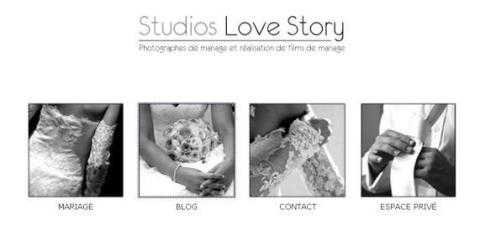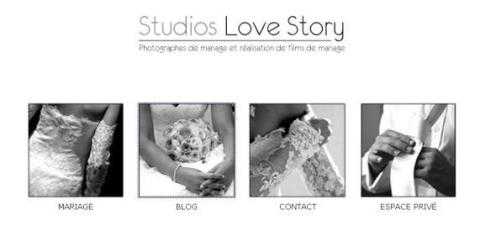 Photography Copyright (c) 2012, LoveStory
So being Latin American dancers and having close friends who also do the same, it is no surprise that we wanted a band to play at our wedding.  We were scared at the beginning as we had heard that this could be expensive, but my fiance had been to a previous wedding a couple years ago and vowed that when he got married he wanted this band, there were amazing! Unfortunately, after contacting them, they are not available for our wedding date BUT good news the lead singer has a family member who does the same and voila, we met him and that is now booked. We are absolutely thrilled.
My fiance and I met via dance.  Whilst my fiance was working an internship at Aston Martin in England, he was casually eating a pizza in Pizzahut when he noticed there was a dance school above, and of course I was attending the same school.  His english wasn't very good at this point (it is much better now of course..lol) but at the time it didn't really matter and we just wanted to dance.  After dancing together for 11 months I found my best friend, after it was my soul mate.  We lived together before moving further and further south ending up in the South of France, which is where my blog www.oohlalaenglishmadame.com was created.  My blog is  my outlet to talk, be creative, discover new things and generally all my French antics as well as my Belle Bride journey.
So keep posted as we have plenty more wedding stories coming soon.
Gros bisous (big kisses)
Claire xx
Save
Save