Today is the first post from new Belle Bride Hollydawn in her journey to planning a wedding in France and today she talks us through her unconventional way of choosing the wedding dress.  Now don't worry any friends and family of Hollydawn's, this isn't a spoiler alert but other dresses by the designer Claire La Faye.
Hollydawn: "Like most women, I have a shopping problem.  Unlike most women, the problem is I don't enjoy it.  Sure, with a good friend and coffee in hand you will catch me smiling, even laughing.  But when it comes to actually searching for a new outfit, I have a serious case of BHBG (body-hate, budget-guilt).  What's the most severe side effect?  I currently sit squeezed into a pair of jeans, borrowed from my best friend, at the age of 17.
Photographer: Jose Villa
Without dating myself, they've seen me through the freshman fifteen, the (regrettable) trend of holes, followed by patches, my short-lived stint as a painter (with long lasting stains), and most notably the lent when I gave up doing laundry (around the same time my friend stopped asking for her pants back!).  Unfortunately, my traveling pants can't see me through my wedding day.
And so I begin my story of finding 'the' dress.  Prior to planning my wedding, I imagined dress shopping as a champagne-clouded day of compliments from my closest girlfriends, as I effortlessly slipped in and out of obscenely expensive gowns.  Once engaged, this vision morphed into endless hours of contorting around frilly fluffy awful taffeta, while my roommates slathered my thighs in deodorant.
Enter Etsy:  A Mecca of handmade dresses, made to order, from the comfort of my bed, no deodorant required.  Much to the dismay of my family and friends, I abandoned the traditional dress shopping norm and branded myself as a new age woman who would buy a dress she has never seen, 1000000 miles away, made by a woman she has never met, in a State she's never been to.   I was confident in my choice seeing as my dress criteria were so basic:
Under €500
Not previously worn by a Disney Princess
White
Only requiring a single pair of Spanx
Photographer: BriAnne Wills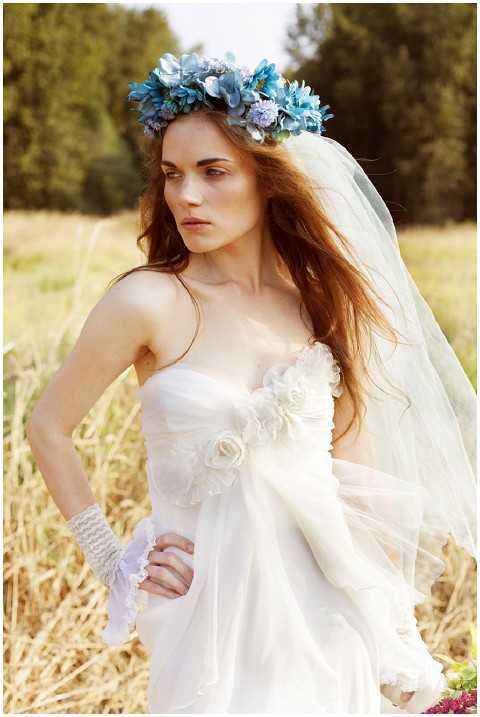 Photographer: BriAnne Wills
I literally stumbled upon Claire La Faye after seeking out a dress by another well-known Etsy designer (with beautiful gowns but an ugly customer service reputation).  It wasn't until 2 months later, however, I stumbled back upon the same dress by Claire.  At this point, I had given up on the other designer and was starting fresh.  The fact that I adored the same gown, 2 months on, was my 'decision maker'.  And as simple (or as insane) as that, I bought the dress.
Photographer: Megan Robinson
I excused the fact that I was over-budget by deeming it fate.  Feel free to use this excuse at will; it is a wonderful remedy for guilt.  In the following months, Claire worked with me on color choice, design details, and shipping.  She answered my ridiculous emails instantly and with poise.  She even suggested that I do not loose weight before the wedding.  You don't have to tell me not to diet twice!  And though I couldn't be happier with her, I started to wonder if I had missed out on one of life's moments by ordering my dress online.
Left Photographer: Megan Robinson , Right Photographer: Lavenda Memory
Then I was asked for my measurements.  I roamed the streets of Ireland for a seamstress willing to measure me, for a dress she would not make, for under €10.  Luckily, my tears of frustration were camouflaged by the torrential rain and, at the very least, I was reminded exactly why ordering my dress online was the right choice for me.  I eventually found a seamstress.  A lovely Irish Granny who thought €5 was 'plenty for a little fiddling'.
Don't get me wrong, the numbers didn't exactly come easy. I turned and stood tiptoe while she wrapped and snapped.  We even bickered about my choice of bra.  In the end, Victoria's Secret wasn't so hush-hush leading to the one thing I will always remember about shopping for my wedding dress: The fun-fact that my breasts are only 2 inches off of my chest.
As I write this, you may be surprised to learn, that I have yet to see my dress.  After discussing shipping options with Claire, I realized I could save 50% of the cost if I had the dress shipped to my parents' home in Canada rather than Europe. Enter fate, scene two.  I am flying home as a surprise for Mama Murray's 60th birthday on December 22nd.
Aside from the awesome present of me, I will also give her the gift of trying on my dress for the first time.  All kidding aside, the thought of it makes my heart melt.  I know how much it will mean to my mom, and I think I am about to find out how much more it means to me.  I plan on having Papa Murray on standby with the camera.  Assuming only one pair of Spanx is necessary, I hope to share a snapshot or 2 with you soon."
Hollydawn x