Bonjour French Wedding Style readers!
Well as of today there's now 93 days till I get married and become a Belle Bride. It feels like there's so much more to do and the time's flying by!
I first started planning my wedding back in June last year about 3 days after I got engaged! As I've previously said, we always knew we wanted to get married in France. We lived in Vendee for just over 2 years and our little boy was born there in 2009.
I'd always wanted an outdoor Vintage style wedding and some wonderful friends of ours suggested we could use their very large garden as the venue for our ceremony and reception, which was perfect and so I then started compiling a folder of images and ideas that I wanted to incorporate into our wedding.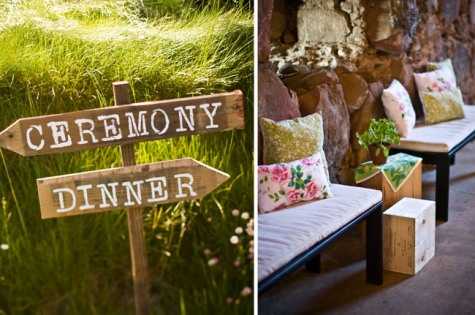 I've always been a creative person (I grew up with a very creative Mom!) and so I really liked the idea of making lots of different elements for the wedding myself. I knew I'd have my work cut out for me but I couldn't imagine handing the reins over to anyone else and I was determined that our wedding wasn't going to break the bank for us before we'd even begun married life!
Whilst sourcing images and ideas, I came across the website 'Pinterest' and have to say this was the perfect base to start from to source ideas and particularly great for sourcing DIY tutorials! I found ideas for handmade favours, invitations, jewellery, in fact I gained so many insightful ideas and found so many useful websites here that I had trouble keeping the ideas down to a manageable amount!
I also came across the website gettingmarried.co.uk which offers a FREE website service for you to keep everyone informed about all of the details to do with the wedding. This seemed perfect for us, as many of our guests attending our wedding will be travelling across from England and so having a website that could incorporate information about our venue, local accommodation, travel arrangements and what to expect from the area etc… (including details of our 'after party' back in England!) was ideal and saves us having to put all this information in with the invitations.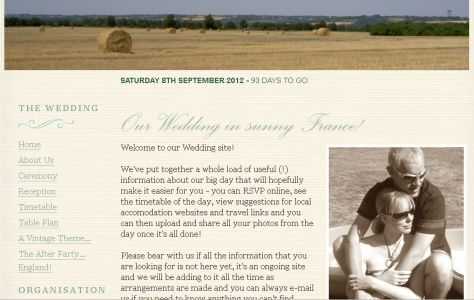 It also has an added bonus where guests can RSVP online, make suggestions for the music and see our gift list and best of all can upload all the unofficial photos they take on the day so that everyone can see the photos other people took too!
Deciding on a budget DIY wedding has actually been a really enjoyable experience so far. It's amazing what people suddenly start to offer you when you explain that you're organising the whole wedding yourselves! We found that we had friends and family that were willing to loan us large white marquees, PA systems, speakers, lighting for the dance floor and we've been inundated with metres of fairy lights after our request for them so that we can string them through the trees and one wonderful French friend who has offered to make us a 'Croquembouche' cake – the traditional French wedding cake!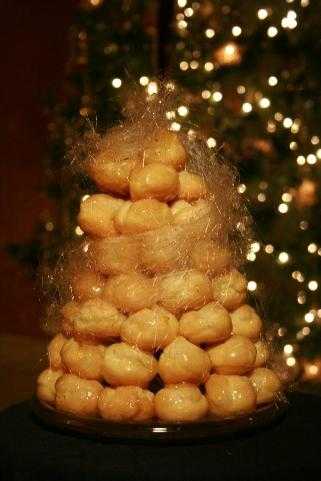 As for other details such as a focal point for the ceremony, I decided I wanted a rose arch that we could decorate and found a beautiful wrought iron decorative one not for from us on a well known auction site for just £20 and I've also found numerous items such as garlands and other decorative pieces for the tables that were left over or not used from other peoples weddings that were listed on the site at a much cheaper cost than they were originally.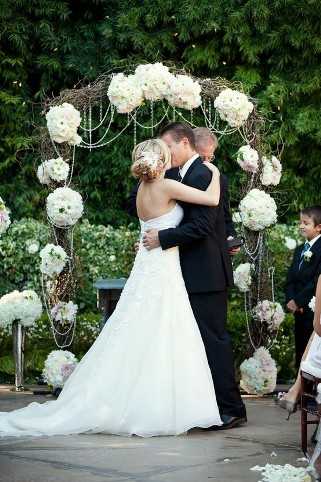 I bought my bridesmaids brand new dresses for just £40 each and I've also found beautiful white lace style lanterns, cream rose petals tinged with blush pink and packs of doilies for a pound each at a pound shop! My Mom has collected antique lace for years and had always intended to use it for something but had never got round to it so I have bags of it in all shapes and forms and have decided I'm going to sew several lace doilies together to make table runners.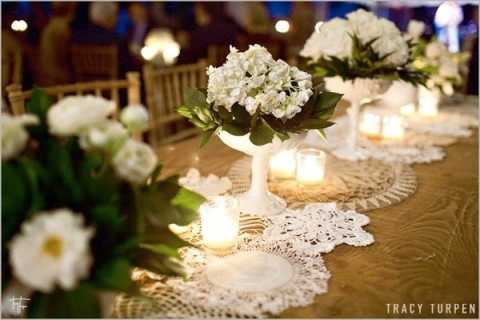 Tracy Turpen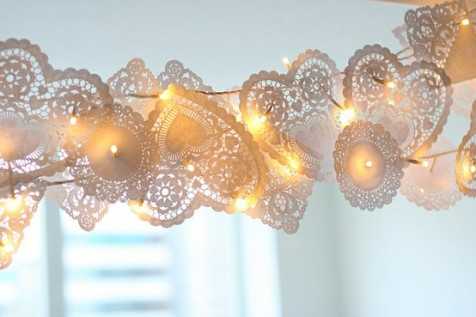 On deciding what jewellery I wanted to wear on the day I knew I wanted vintage pieces to fit in with my theme and so again I've bought vintage pearl necklaces for myself and my bridesmaids but I wanted something a bit different for myself as well. I already have an antique lace collar that my Great Great Grandma made that I'll be wearing as a bolero (just for the ceremony) and I came across some beautiful lace cuff bracelets that I adored but at around £120 each they were way out of my price range. Looking closely at them however, I decided it was definitely something that I could try to make and when I came across some vintage lace left over from when my Mom made her own wedding dress (I told you she was very creative!) I knew I wanted to use this to make my own lace cuff – DIY Lace Cuff Tutorial

Despite wanting to try to create almost everything ourselves, we both agreed that an official photographer would be needed to take the photos and so the task began of trying to find an English speaking one based near us in France. Not an easy task as it turns out – English speaking photographers do exist in France but mainly in and around Paris! However, I was extremely lucky to stumble across a local photographer who is actually American and married to a Frenchman and has plenty of experience covering weddings so as of next week we're off to France to meet up with her and hopefully finalise the photography package. I'll be filling you in with more details about our day on our return from France in a couple of weeks!
Best Wishes
Belle Bride – Angela