Bridal bouquets come in many different sizes and forms from the traditional rose posy to beautiful cascading floral sculptures.  They also don't have to be flowers!
Recent years have seen the rise in hand designed and crafted jewellery bouquets,  made from fabric, feathers, crystals, pearls and vintage pieces of jewellery.  The bouquets can be made using any material that you desire to tie in with your wedding theme or you can add some history to the bouquet such as grandmothers pearls or family heirloom.
Jewellery bouquets are also perfect for destination weddings as they can be designed and created in your domestic country and carefully packed and transported to your wedding destination.  They can also come back again, a particularly nice touch if you are planning a second reception or party once back home.
Award winning headdress and accessory designer Jo Barnes Vintage, did just that.  Jo designed and created her own jewellery bouquet for her destination wedding in Canada, carefully wrapping the precious piece in bubble wrap and tissue paper before packing delicately into her suitcase for the trip.
Jo Barnes Vintage has since created a stunning range of vintage inspired jewellery bouquets as well as being available to create bespoke made to order bouquets each bride.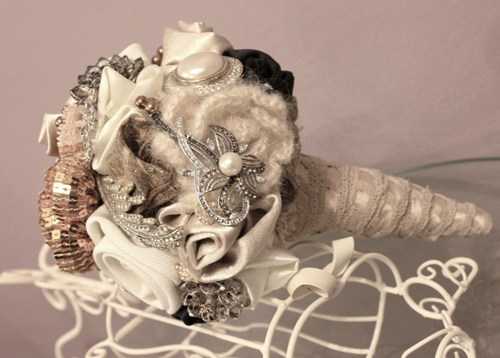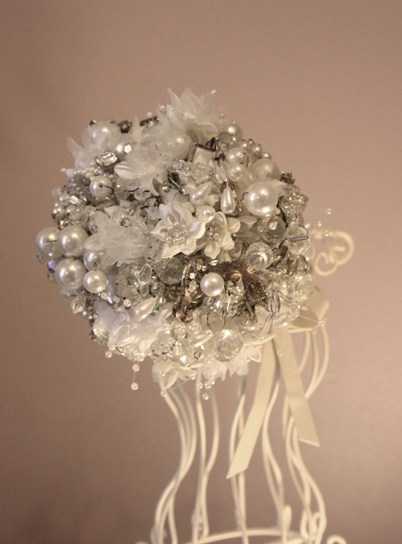 And unlike floral blooms a jewellery bouquet will not wilt and die, but a treasured memory forever.
To view more of Jo's beautiful bouquets and exquisite head pieces visit Jo Barnes Vintage.