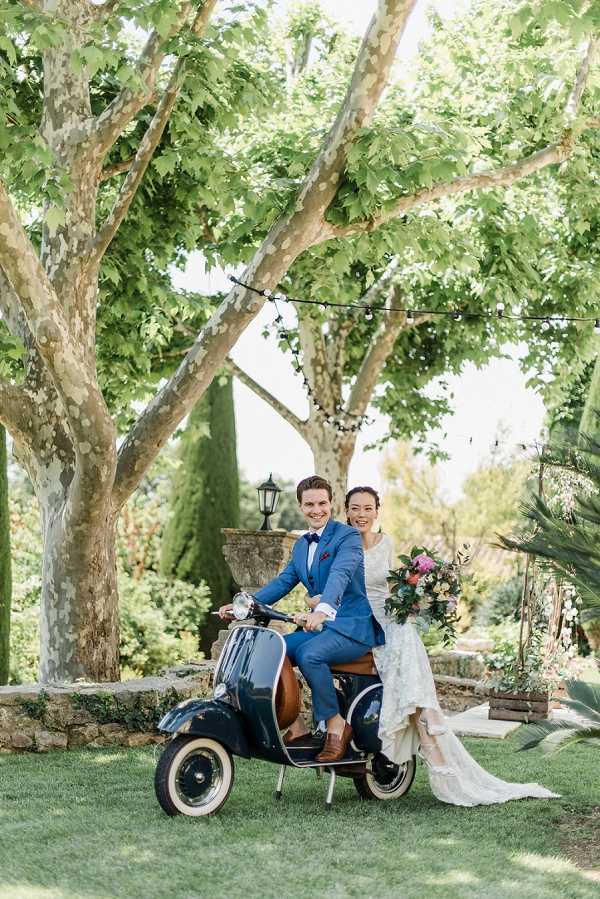 Good morning lovelies, today we are kicking the week off with a visit to the wonderful Cote D'Azur for a Japanese inspired South of France destination wedding brought to us by wedding planners and FWS vendors Rock My Love.
"Rock my Love is a wedding planner agency created by Angélique and Manon, mother and daughter, working together with full complicity and complementarity. We tailor made our service to your needs and budget. With this in mind and from our experience, we came up with different formulas to propose effective and relevant services. No matter whether you want to get married in a french Chateau, say "I do" on the french coast next to the sea or have a wedding reception on the amazing Corsica island, Angélique & Manon will introduce you with great wedding suppliers to build your special day."
This international affair brought together two different cultures in the South of France and we think it was wonderful how Reina, who looked stunning in her Wear Your Love wedding dress, incorporated some exquisite Japanese plates as wedding favours that looked perfect under the French Macaroons from Jacobs Creation. We also loved their use of Chinese vases to house the gorgeous floral creations of Deco et Harmonie.
With that said we don't want to keep you any longer from these gorgeous images by photographer Gaëtan Gaumy, so we shall pass you over to Manon Dumay from Rock My Love to take us through today's Japanese inspired South of France destination wedding…
"R&T are an international couple, she comes from Japan, he comes from the Czech Republic, they both live in Singapore and have chosen the south of France for their wedding."
"The venue is a small piece of heaven where you feel home, relaxed and in the mood for love. It is called Domaine des Fleurs which means literally flower domain and there are so many on site as well as olive trees. The perfect decor for a couple photo session with a feel of Provence."
"The ceremony was held by their friends and family to make it feel even more intimate and the confetti thrown were petals of different colours for a perfect effect when walking down the aisle."
"The bride had all details in mind and we helped her to get in touch with the right suppliers to make her dreams come true. Wood tables were very important to host this amazing table decoration made by Deco et Harmonie. She wanted lots of flowers, different colours and Chinese vases which totally made the difference."
"It was important for the bride to have some Japanese touches so she brought those typical and delicate porcelain plates from Japan which were gifts for each guests. What a beautiful wedding favour!"
"The wedding arch had flower curtains and this was a great idea as we could then use it as a photo background, all guests where in front of it using it as a photobooth after the ceremony. The food was also well thought out, opulent buffets, good friends and drinks are the recipe for a successful party, right? "Jérôme Ravel and his team served a great wedding dinner but the sweets where even more important for the bride who had in mind a specific design. She wanted the table dessert to look delicious mixing shapes, colours and decoration but also fitting everyone's food requirements. Jacobs Creation made a great job providing cakes that were good and beautiful and as long as possible gluten free."
"In terms of the wedding organisation it was quite challenging for Rock My Love as the bride and groom contacted us only 3 months before their wedding with only the venue secured… Well, looking at the result and the happiness shared that day the job has been well done!"
Congratulations R&T from everyone here at French Wedding Style!
Are you planning your French wedding in the South of France? If so check out our array of recommended wedding suppliers from our directory here.
Japanese Inspired South of France Destination Wedding Snapshot
Wedding Vendors
Venue: Domaine des Fleurs | Photographer: Gaëtan Gaumy | Planner: Rock My Love | Wedding Dress: Wear Your Love | Wedding Dress: Zimmermann | Shoes: Bella Belle Shoes | Hair and Make Up: Johanna Marcucci | Accessories: Jennifer Behr | Florist: Deco et Harmonie | Catering: Jérôme Ravel | Cakes: Jacobs Creation | Favours: Arita Episode 2 | Favours: Buly 1803