It is such an honour to share in the journey of brides planning their weddings in France, and today is super exciting day as we introduce to you our new Belle Bride Stephanie, who will be sharing her and fiancé Greg's wedding planning journey in 2018!
Thank you once again for all of the lovely applications, I loved personally reading each and every one and thank you for taking the time to email in. If you're planning your own wedding in France and have any questions or queries, then please feel free to email in, comment on the blog, post updates on the Facebook page with the nuances in your wedding planning journey.
Introducing Stephanie
Getting married Autumn 2018
Hello Friends!
My name is Stephanie, and I first met my fiancé, Greg, when we were both Cast Members at Disney's Animal Kingdom® Theme Park in Florida, USA.  He was a Custodian sweeping and cleaning up the area of the park called Africa, right outside the entrance to the Kilimanjaro Safaris® Expedition attraction.  I was a Merchandise Hostess who happened to be shaking a maraca at a shop nearby.  Since the attraction had already closed for the evening, he was pretty much the only audience to my musical performance and dance moves.  How's that for a "magical" meet cute?
After a laugh and introductions we were "rattling away" (Pun intended) in conversation about being Disney College Program participants, our Polish heritages, and about the French language (He is fluent; me, not so much).  When we found out we both lived in the same apartment complex, we exchanged numbers, and the communication has been flowing ever since!
When our Disney College Program concluded, we were blessed with years of friendship which eventually blossomed into a long-distance relationship.  It certainly hasn't always been easy (Especially when working around time differences), but we manage to talk daily and organize weekly Skype dates – our favorite being carving pumpkins together in the fall.  We've also arranged several long-haul trips back and forth, all for various lengths of time, ranging from one week to an entire summer.  Then, over Thanksgiving 2016, we got engaged in my hometown of Chicago, IL USA.  Now we have decided to have our "happily ever after" outside his current city of Toulouse, France this upcoming fall, 2018.
The "merging of two worlds" has always been a primary aspect of our relationship, so we imagine that this will be a focus throughout our wedding planning process as well.  All of my family lives in the USA and most of his family lives in Poland.  So, we decided early on to have everyone travel and to not accept any help with the wedding budget.  We both knew that we wanted a small, intimate, family-focused wedding.  In addition, we are both Catholics, so a religious ceremony at a small church is a necessity for us, too.
Evernote has been a huge tool for us to exchange information and ideas.  So far, our planning has included everything autumn! (See Pinterest inspiration board below)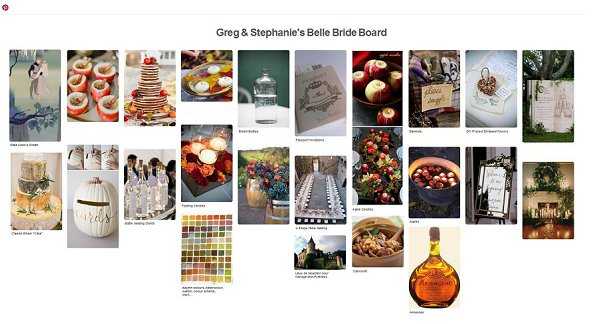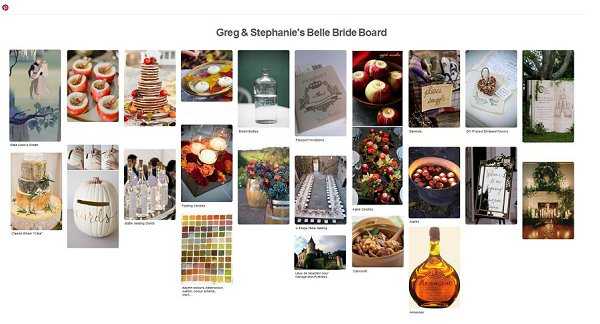 Colors mirroring the changing of the leaves, apples, and pumpkins (A nod to our favorite Skype dates); as well as plenty of candles, string lights, and warm fire-light.  We have always enjoyed trying new wines and visiting vineyards together, so we wouldn't be surprised if these interests are included in the experience we offer to our guests as well.
As strong advocates of "Guest Service" we want to provide a smooth and comfortable trip for all, especially since most will be traveling very long distances to get to us.  However, we also find it extremely important to stay within our budget.  Therefore DIY projects and the help of the wedding party will be essential.
Overall, we're just extremely excited to share our special day, and the culture we both love, with our close friends and family!
MY REACTION
My reaction to becoming a Belle Bride was fairly amusing, actually.  And we'll blame it on the fact that things are always a little fuzzy for me in the wee-morning hours.
My college roommate used to say, "Stephanie needs a full hour in the morning to become Stephanie."  Basically that's a nice way of saying, "Stephanie is a grumpy, half-asleep zombie in the morning, and in order to allow her to transform into her normal, happy self you best give her a full hour and a cup of tea."  (Greg requested I bold that second part)
So you can imagine me waking up to an email notification, looking at it, and then completely dismissing it in a "dream-like state" (See? I can make "morning me" sound super nice, too!).  Then sometime later, I re-read the same email and nearly choked on my morning tea.  "I wasn't dreaming?  This is actually real!?  We've been selected!?!"
I messaged Greg to confirm he saw the same email as me… He did.
Let's be honest, this was the moment where I may have panicked – just a little…
"Do we really want to do this? Do we really want an AUDIENCE as we attempt to plan a wedding … by ourselves … in France?"
<Pause> Breathe.
"Why, yes… Yes, we do."  And the calm set in, right there, in that moment.
Why? Because Greg and I decided way before our submission to FWS, that if our wedding planning experience could help another couple with their own wedding planning, then sharing our story was definitely worth it.
So without further ado, please know that we're super excited for this opportunity!  We're incredibly honored to share more of our pixie-dusted, down-to-earth, hand-in-hand wedding planning process with you!  This site and blog has already provided us with so much inspiration and assistance – thank you FWS and previous/current Belle Brides!  We're looking forward to doing the same.  And knowing us and our roots in Disney's Animal Kingdom® Theme Park, our journey to the altar is sure to continue being an "adventure!"  So thank YOU for joining US on it!
Top Image Credit – Lauren Davidson