Yes they went and did it, the first two Belle Brides on the blog Claire and Angela have gone and got married!  Leaving me with a big gap where my Belle Brides (sad fab) used to be, but soo happy for the two lovely ladies.  If you missed it take a look through Angela's DIY vintage wedding and Claire's will be on the blog soon.
But of course that means that I need someone new – so a little while ago I launched my search for the next bride to join the FWS Ensemble.  Thank you to everyone who applied, it was a very difficult decision but in the end my choice was based on the candid submission that left me smiling like the beginning of a novel, I can't wait to find out where it finishes.  So I am delighted to introduce our next Belle Bride Hollydawn Murray! Please do take the time to stop by and make Hollydawn feel welcome.
Here is Hollydawn's submission: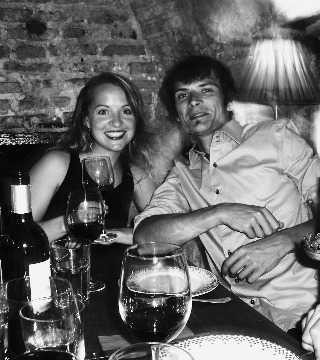 "I have never been to a wedding I didn't like.  Then again, I've only been to 2.  Yet somehow, miraculously, I know exactly what I want: smiles.  I met my fiancée 3 years ago after moving from Canada to Ireland to begin a PhD.  Inspired by PS: I Love You, I was desperately in search of a rugged Irish man.  Instead, I found Guillaume: a blasé French skater boy who shares my passion for coffee, reading, tequila, circus and soup.  And so, the smiles began. 
Fast forward 3 years and sore cheeks, to the end of smiles.  Complicated immigration issues, VISA restrictions, and a 2-month overseas work assignment forced us apart.  This sneak peak of our future as an international couple prompted our engagement.  While there was no romantic proposal atop the Eiffel tower, rather a lengthy conversation curled up in bed, the end result was the same: we will be happily married on June 1st 2013. 
"Our wedding goals are few: gather all of our family and friends (from France, Canada, Ireland, and farther afield!) on a small farm in Monein for 3 nights of smiles.  Our venue is rustic and the catering is simply French: charcuterie, foie gras, pate, bread, and cheese.   Our theme is shabby (yes, minus the chic).  Our budget is meager.  Old books, library cards, peonies, wine crates, burlap and jam jars will welcome our guests.  Homemade sangria, French wine, and an open-bar will keep them warm.  Some guests will be provided rooms, other tents, while Guillaume and I will be snug in a vintage VW camper.   We will forgo the traditional wedding cake, band and photographer in exchange for my pies, Guillaume's I-pod, and candid shots by our guests.  But rest assure, we will not forgo fun!" 
And Hollydawn's reaction to becoming part of the FWS Ensemble:
"I am a moment junkie.  I live for them, wait for them, crave them, revel in them, cling to them, and then repeat again.  So it's no surprise that I had to take 'one' when Monique selected me as a new Belle Bride.  To be honest, I was feeling a bit sorry for myself with wet feet at work (the Irish weather is really doing me no favors lately) but the opportunity to speak and be heard turned my morning around. 
I stewed in the news, daydreamed over multiple hot beverages, and probably made more planning progress in one day than I had in two months (this is where we all cross our fingers and hope my supervisor never stumbles upon this blog).  And while the moment has passed, and the weather continues to wreak havoc on my hair, I can genuinely say I am ecstatic.  I look forward to reading, writing, re-writing, and forming relationships with all of you.  Whoever said life's moments are few and far between obviously never hung out with me. "     Bisous, Hollydawn
I am super excited to welcome Hollydawn and I can only imagine that we will have great fun sharing her wedding planning journey!
BUT not to fear if you missed your chance to enter to become a Belle Bride as I will be looking for more real life brides to join Hollydawn shortly.
Monique xx