It is time for one of our favourite features here on FWS our wedding venues in France showcase, and today we have a beautiful intimate wedding venue to share with you Chateau de Bonnemare.
The Chateau is steeped in history from XVIth century and is listed as an historic monument, located in Normandy and 100km from Paris.  The Chateau de Bonnemare and its hamlet are situated in the forest of Radepont on the borders of Vexin region of Normandy, between the Valley of Andelley and the Valley of the Seine.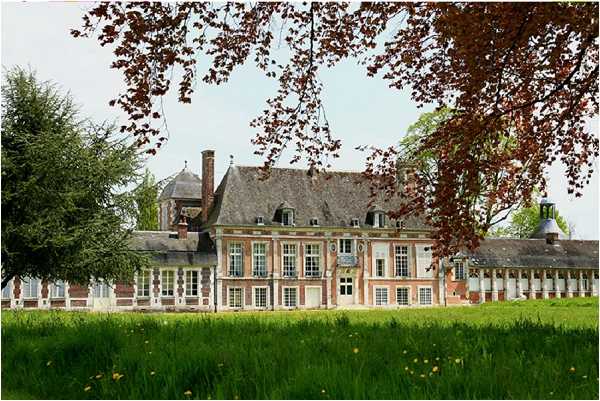 Chateau de Bonnemare is set within a 22 hectare park, and the garden and the park are separated by  a "Saut de Loup"  that is preceded by a large green area, at the bottom of which you can see the junction of the Seine and the Andelle rivers. On a clear day, the hillside that overlooks Rouen is visible making for a unique and beautiful backdrop for your wedding day.

Image Credit: Flora Chevalier
As you approach the Chateau de Bonnemare and to the left of the entrance, there is an old farmyard from 16th century with a forge, stables, and of course a cider house. Partially renovated in 1668, these buildings along with the cider house, ancient storeroom, vaulted brick cellar and old bakery complete with ovens, provide for many interesting settings for your wedding photography.
The current guardians of Chateau de Bonnemare Sylvie and Alain, have created a warm and magical space for weddings, completely exclusive and your own little piece of fairy tale France for your wedding day.
Within the Chateau de Bonnemare exclusive estate there is also a chapel where you can hold your wedding ceremony and The Charretterie reception room which is opening in 2018.
Image Credit: Flora Chevalier
The Charretterie can welcome up to 80 people seated for your wedding reception meal, and includes a catering area, dressing room and rest rooms for your guests.   And if you are planning on having more than 80 people, this isn't a problem as there is space outside for a marquee wedding up to 250 people.
If you think that Chateau de Bonnemare may be your dream wedding venue,  then visit their website to find out more information.
Instagram: /chateau_de_bonnemare/
Save
Save
Save