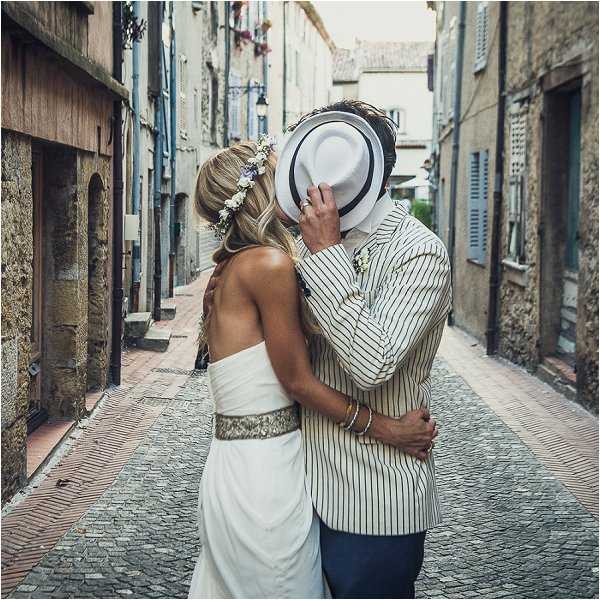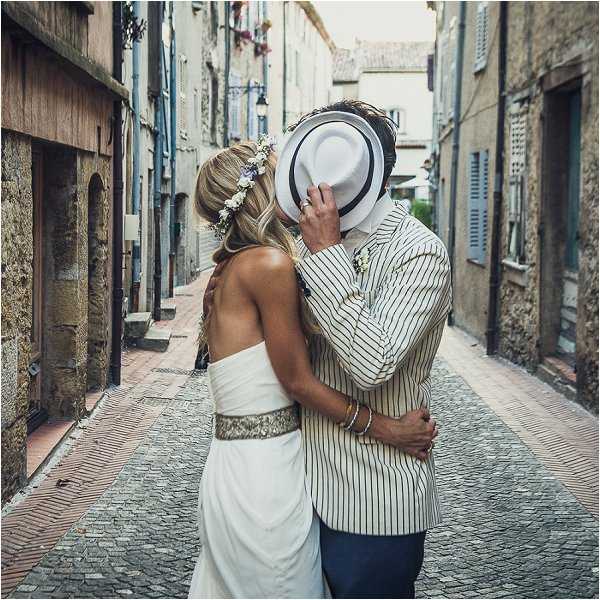 We are starting the week with the super romantic and intimate wedding in Provence of actress Sarah Scott and her husband Jean Michel Alperin.  Sarah's bridal style is effortlessly chic and huge applause to Sarah and her family for creating all of the wedding flowers themselves after visiting the local flower markets.
I think my favorite is Sarah's wildflower and yellow rose bouquet that is a triumph and a Pinterestable bouquet idea that you can certainly recreate yourself.
Bride Sarah takes us through their love story and big day:  "Jean Michel and I grew up in very different parts of the United States, but we had a lot in common. Jean Michel proposed on a trip we took down to Cabo San Lucas, Mexico – on what was our fifth year together as a 'couple'. . He proposed on Lover's Beach about an hour before the sunset. We lay alone on the sand savoring the moment for some time. Then we took a stroll, bought two Corona beers from a guy selling them out of his cooler on the sand, and then jumped aboard a water taxi  and celebrated the night away. We found ourselves spilling over with love and affection and telling anyone we had the chance to our good news!
We struggled a bit at the beginning of our engagement trying to imagine what 'the ideal' wedding, for us, would look like. Despite the many differences we have about how we say, 'organize our closets, or not' we have pretty similar aesthetics and styles, and throwing a party is serious business to us, even when it's just a couple friends coming over for dinner and a game night.We love hosting!
While Southern California is a stunning location and so many of our friends and family live close, with gross rise in cost for anything 'Wedding' here, and taking into consideration our large circle of close friends and family – we discovered that for a comparable budget we could actually host a much smaller, intimate, destination wedding in the South of France.
We would be putting more of our own money into the experience for a week, rather than focusing it all on just one day. The only caveat of course was determining if our nearest and dearest were able to afford the time and money it would take to be with us.
I had traveled to France when I had backpacked around Europe at 19 and Jean Michel spent much of his childhood and young adult life visiting his grandmother in Paris and his ton-ton in Cannes. Holding our wedding in Provence came about because Jean Michel's parents own a home in the small village of Montauroux. He took me there once while we were dating and it was a magical trip that brought us very close because he and his family really opened my eyes and shared a part of their culture and world, and I adored it! I mean, are you kidding me – fresh bread, fromage, strong café, rosé before sundown, the landscape, the language, the air? Delightful.
Having the wedding in Montauroux was one of those things we kinda just said flippantly, like, Hey, what if? and then as the days rolled on, we dreamt more and began entertaining more realities, and then it was like a steam engine taking off and we never looked back.
Planning our wedding from home in LA became a full time job at one point and wouldn't have been possible without the help of my in-laws who checked out locations and did a number of tastings. Flowers were one elements I was able to relinquish some control and even need. The setting is so picturesque, that I knew simple local flowers would be great.
The day before our wedding become "flower day" starting with a speedy drive to as many flower markets we could find in a 10km radius. By noon I was back at our villa surrounded by my mother, aunt, bridesmaids, and cousins and we rocked flower day. Bouquets, flower crowns, corsages, boutonnieres all done by hand. We sat aside extra flowers in buckets that would be used to decorate the tables and venue the following day.
The night before our wedding, we hosted a Rehearsal Dinner Party at the Villa we had rented, and the place got very messy (in a good way). Knowing that bright and early the whole bridal party would be over – lounging, doing hair and makeup, and having lunch and even photographed, my best friend Kara and I couldn't imagine the place not being clean! So rather than "getting a good night sleep" – I stayed up with her drinking wine, mopping, and dancing to Nicki Minaj till almost 3am. To her credit, she begged me to go to bed, but I guess it was how I processed my nerves.
The ceremony: Some of the most magical moments of my entire life happened in the Chapelle Saint Barthelemy. Every moment feels imprinted in my memory bank. So many precious hearts and faces gazing upon us as we made our vows to one another. It was spiritual. My father walked me down the aisle to a guitarist playing "Here Comes the Sun", by The Beatles. My aunt Julie sang during the procession and ceremony.
Champagne Toast & Photos: After the ceremony we were showered with loose lavender as we led our guests down on a 'marche' down this ancient stone path to where the champagne was starting to be served. The Alperin home is a mere two-minute walk, so it was short and sweet and made for some hilarious photos. I loved this hour and a half. The sun was slowly making its way into the valley. The light was divine and the village setting was out of a fairytale.
Our photographer Olivia captured some of the best group photos my family has to date. Jean Michel and I also really enjoyed the 30 minutes we spent doing a the Bride & Groom photos, which we did while our guests drove down to where the reception was to be held. Olivia's style was so natural, easy, and comfortable, that even though we were doing 'a photo shoot' – that time together gave us some playful, quiet, intimate time together before the big party started.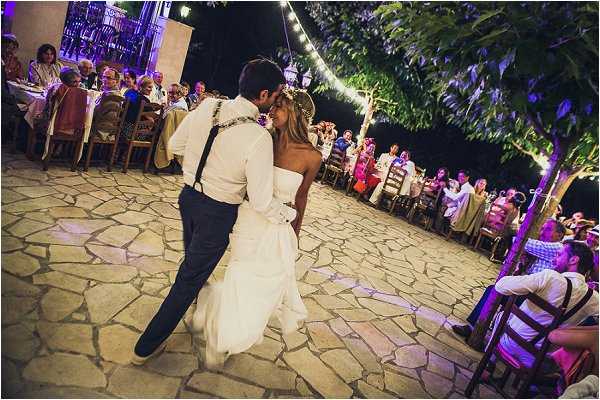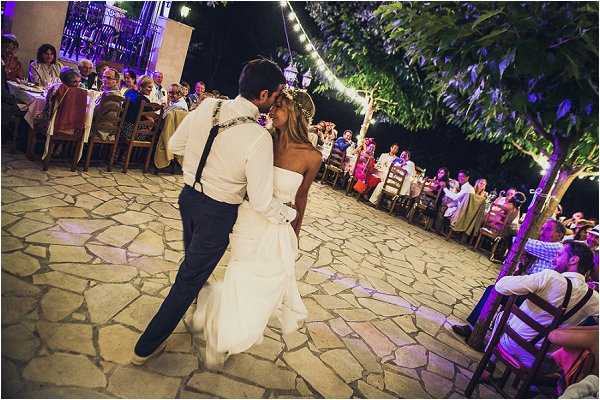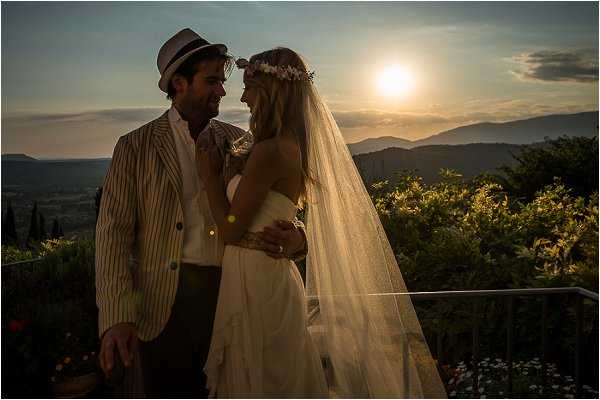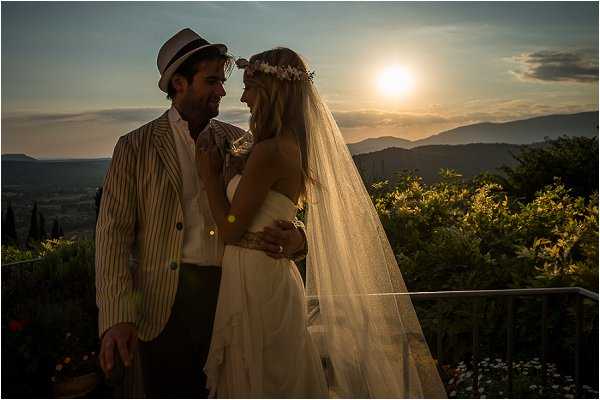 The reception/party: We feel very blessed to have worked with the Rocco family for our reception. They helped make the party so fluid, memorable, and delicious! They run a beautiful indoor/outdoor restaurant called la Bécassière. The food was incredibly thoughtful and the timing for all six courses really worked out well for our timeline of toasts, dances, and celebrating. The dessert was la pièce montée traditionnelle made fresh that night and was served around 2am – if that tells you anything."
Intimate wedding in Provence Snapshot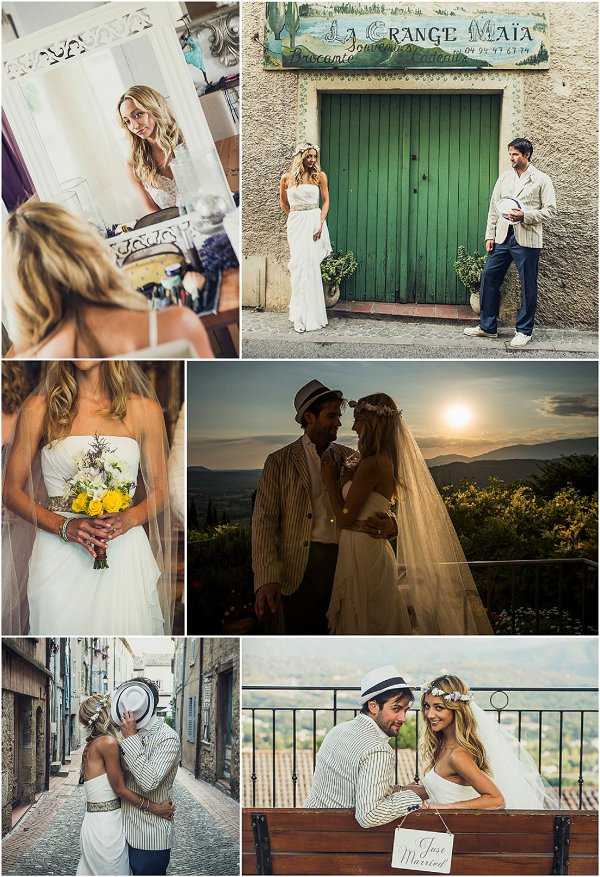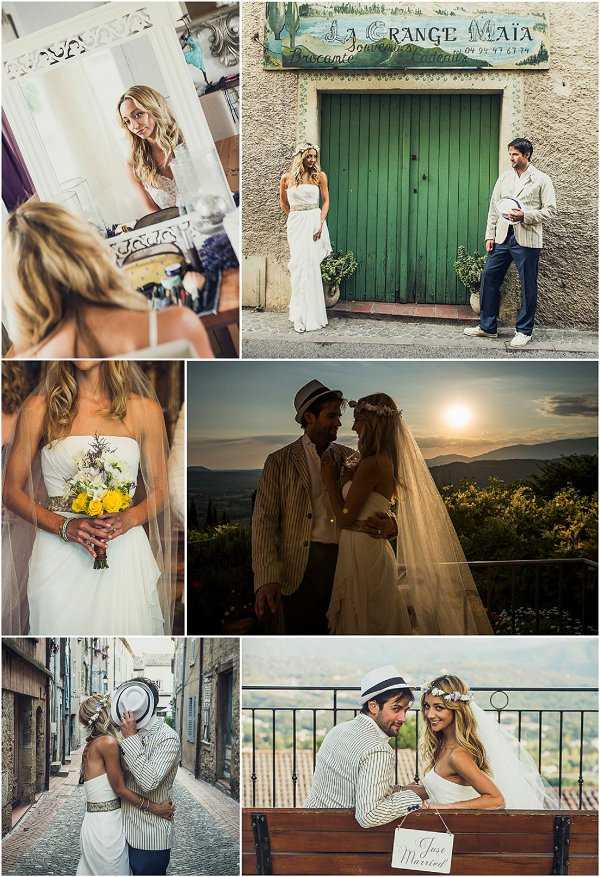 Wedding Vendors
Photography: Olivia Marocco |  Venue: Auberge de la Bécassière – full service family run restaurant that provided the location, food, and service for our reception | The Dress: "White by Vera Wang" collection and reconstructed with vintage trim by Daniela Kurrle Couture | Flowers: Local DIY | DJ: Ryan Bailey via Riviera Organisation | Stationery: Aardvark Typographers | Accommodations: VRBO & HomeAway | Bride: Sarah Scott |