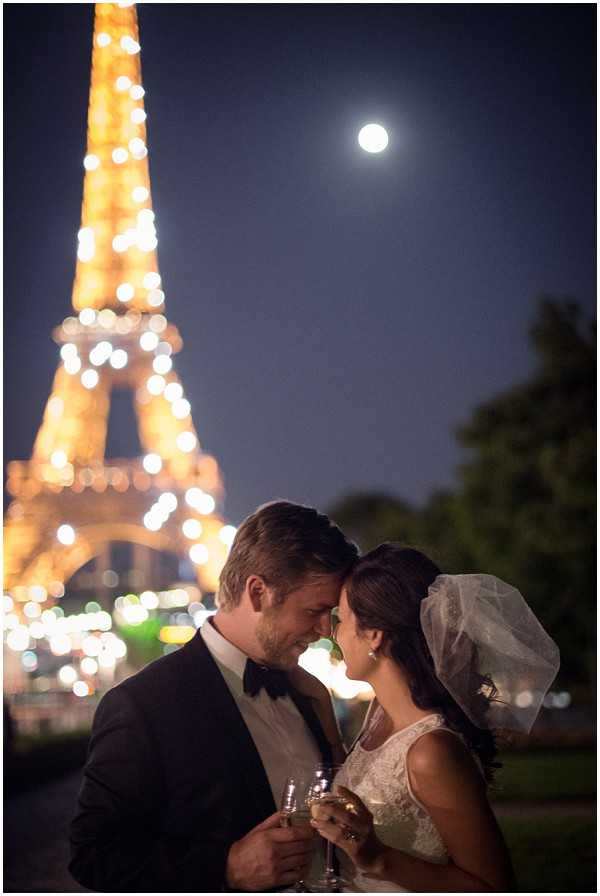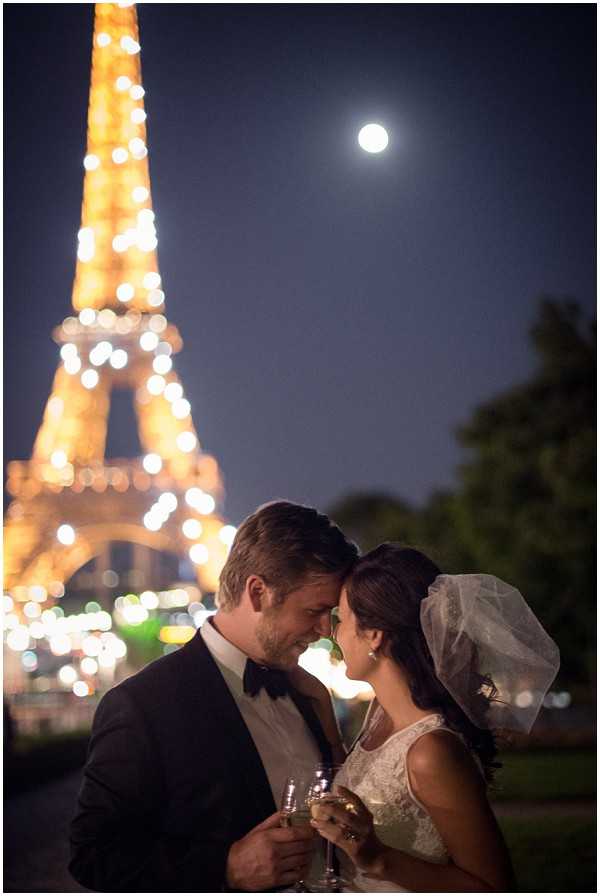 Are you a romantic? As the original Trulover I certainly am!  But fear not as today I have a real intimate wedding in Paris by Pictours Paris, that will stir even the most hardened romantic cynic. There's is a story of age, distance and growing together as Amanda and Adam met when they were in high school and college respectively, whilst working at a retirement home.
For the wedding Amanda wore a vintage dress, tailored from a long formal dress with huge train, to a chic a vintage gown ready for Paris.  Amanda accessorised her bridal outfit with Michael Antonio platform sandals, Forever 21 earrings and a family heirloom bracelet.  Adam wore a skinny fit black suit from Men's Warehouse, Calvin Klein shoes.
Amanda says: "Adam was returning to the retirement home following studying abroad and before he returned other people I worked with would talk about him and how charming he could be.  As soon as I met him, I definitely saw first hand how charming and handsome he was once we met. He had (and still has) the best and most genuine smile."
French Wedding Style – Photography © Pictours Paris
Amanda: "Adam and I have always been tethered together. Through times of not keeping in contact or dating other people, we would always come back to each other. Then in December of 2011, I knew how I felt but I didn't really know if it was going anywhere since we lived so far away. I was going to be spending New Years Eve in NYC with some friends and Adam told me he was going to come spend new years eve with me!
It was the craziest thing I had heard of, that someone would fly across the country just to be with me, but that's when I knew that there was nothing that could keep us apart anymore.
When it came to our wedding plans, we both love to travel and have these big dreams and goals for ourselves and for us as a couple and our future. We were starting the greatest and most important adventure of our lives! What better way to celebrate our love and start this journey together than in the most romantic city in the world?!"
From the the grooms perspective, Adam: "My last three days abroad in Europe were spent with my brother and two classmates in Paris.  I knew from that time, my next to Paris would be with the person I wanted to spend the rest of my life with.  I didn't know who that person was yet, but I realized very quickly that Paris wasn't a city you traveled to with your college buddies.  So I bought a postcard that had a picture of a couple kissing in the middle of Champ Elysees with the Arc de Triomphe in the background to remind me of the romance of Paris. 
Fast forward a couple of months after meeting Amanda and I'm drawing her pictures on the guest check pads at BTV to impress her.  She loves everything my hand produces (knowing her I'm sure she kept everyone too) so for Christmas or some other holiday, I did a graphite drawing of that postcard and gave it to her.  
To me, It was very symbolic, but there was no way I was going to tell Amanda what crazy thoughts I had going on in my head.  Over time we talked about taking trips abroad together and because of that drawing, Paris has always represented a special place for the two of us.  Over the years, as things got more serious, it became pretty apparent there was really only one way the two of us would get married… and that would be in Paris."
Amanda: "Our wedding was intimate and so special, just the 2 of us. The vows we made to each other on our wedding day are promises we' made to each other and no one else. It was so sacred and beautiful and it's just for us to know and share in. I love him so much and I just can't wait for this next big adventure that we get to go on together!"


Wedding Suppliers:
Photography: Pictours Paris who is a member of the French Wedding Directory
Wedding Dress: Vintage
Shoes: Michael Antonio
Earrings: Forever 21
Bracelet: Family Heirloom
Bouquet: Paris Fleuri
Grooms attire: Men's Warehouse
Shoes: Calvin Klein