Talented photographer and sponsor of French Wedding Style, Victoria Amrose, gives us a gorgeous glimpse into this beautiful day spent shooting an intimate wedding breakfast in a light and airy Parisian apartment. It truly is the perfect inspiration for brides who can begin travelling to France again for their weddings.
Offering a timeless & feminine aesthetic
Paris, the undisputed city of romance, was the location for this classical elopement editorial, offering a timeless & feminine aesthetic.
With warm tones of beige, ivory and blush, photographer Victoria Amrose wanted to produce a light-infused, dreamy elopement portfolio that would appeal to a romantic & elegant couple.
Real-life (& recently married!) couple Valeriia & Daewoong were the bride & groom models for the shoot, bringing genuine love and authenticity.
Make-up was kept natural with nude eye shadow, mascara, and pink lips.
Shooting took place in a stunning Haussmannian-style apartment close to the Arc de Triomphe, and around the infamous sights of the city.
The bride's hair was styled down with soft relaxed waves. Make-up was kept natural with nude eye shadow, mascara, and pink lips.
Photographer Victoria Amrose wanted the dress to compliment the timeless feel of the shoot, so spent some time searching for the right gown. She says, "As we were going to be shooting in one of, if not 'the' most amazing fashion capital' of the world, it was imperative that we had the perfect dress for the shoot. As an artist, it's important for me to capture imagery that reflects a contemporary editorial style but also doesn't age, transcending through time. A dress that could be passed down through generations.
After much searching, I found a vintage demi-couture Dior dress online, and I immediately knew it was the ONE! It was a floor-length, light beige, silk gown, with a gathered waist and pleated hem. The fit was perfect and it looked simply amazing against the warm tones of the Parisian architecture.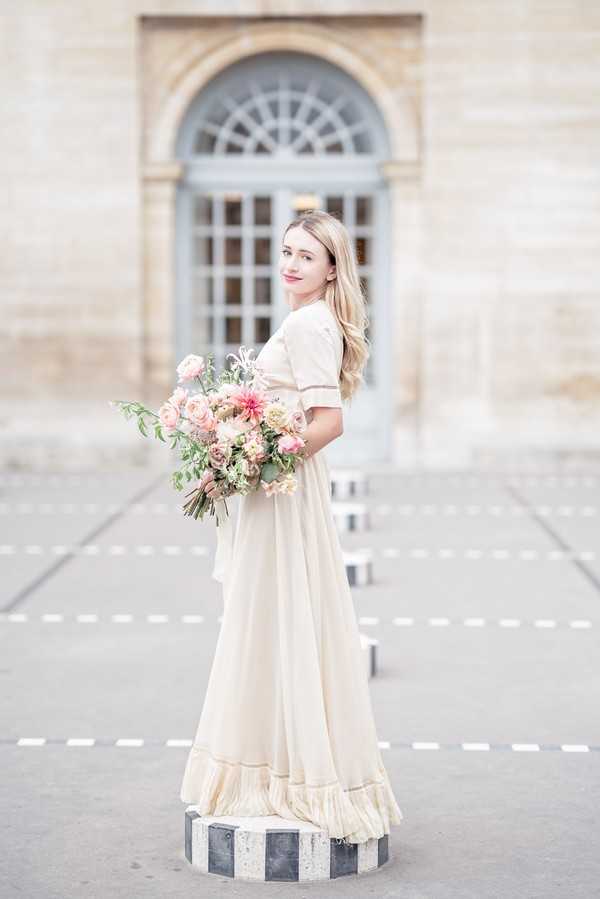 Peep-toe nude Jimmy Choo pumps outside
We styled the gown with a pair of light beige satin bow Oscar de la Renta heels for the indoor shots, and peep-toe nude Jimmy Choo pumps outside."
The groom wore a chic, black tie look, with a crisp white dress shirt, black dinner trousers, and velvet navy jacket (groom's own).
In keeping with the understated, elegant feel of the shoot. Victoria opted for a simple iced, 2 tier square cake by Huntington House Kitchen. This was decorated with a hand-dyed silk grey ribbon from Lancaster & Cornish.
Soft tones, complementary fonts, and pearl shimmer envelopes
The stationery suite was designed by Anna from Evelyn & Elliott, and included a wedding invite, save the date/reply card, and menu/name cards for the table. Anna says: "The stationery suite was printed on luxury handmade rag paper to create a timeless, elegant design. Soft tones, complementary fonts, and pearl shimmer envelopes were used to reflect a soft romantic feel. The set was finished with a wax seal and delicate, soft silk ribbon."
A beige cream bridal bouquet comprised of roses
Fresh florals were supplied by Parisian florist, Maison Vertumne. Included a hand-tied pink & beige cream bridal bouquet comprised of roses, dahlia, and a variety of complimentary green foliage.
An intimate wedding breakfast table-scape was set up in the light and airy apartment. Set for six, the table was decorated with a beautiful fresh floral centerpiece featuring sumptuous pink peonies.
The floor-to-ceiling windows in the apartment, let in the most beautiful soft light which was perfect for the getting ready photos.
Around Paris, Victoria was keen to include many of the city's landmarks. She says: "We started at the impressive Louvre museum, where the striking glass pyramid and spectacular buildings provided the most amazing backdrop. There was a sweet moment between the couple. With the exchange of a simple fresh rose, on the ornate steps outside the museum.
The incredible Palais-Royal
Then we headed over to the incredible Palais-Royal for portraits. Alongside the artistic black-and-white columns, and incredible arch walkway, before stopping for coffee at a quaint Parisian café.
We finished the shoot at the Eiffel Tower, with romantic portraits taken on the steps. Down by the fountains, ending with a stroll along the Trocadéro square.
We absolutely loved this shoot, Paris really does offer limitless locations for portraits, and is just perfect for elopements."
Intimate Wedding Breakfast In Light & Airy Parisian Apartment Snapshot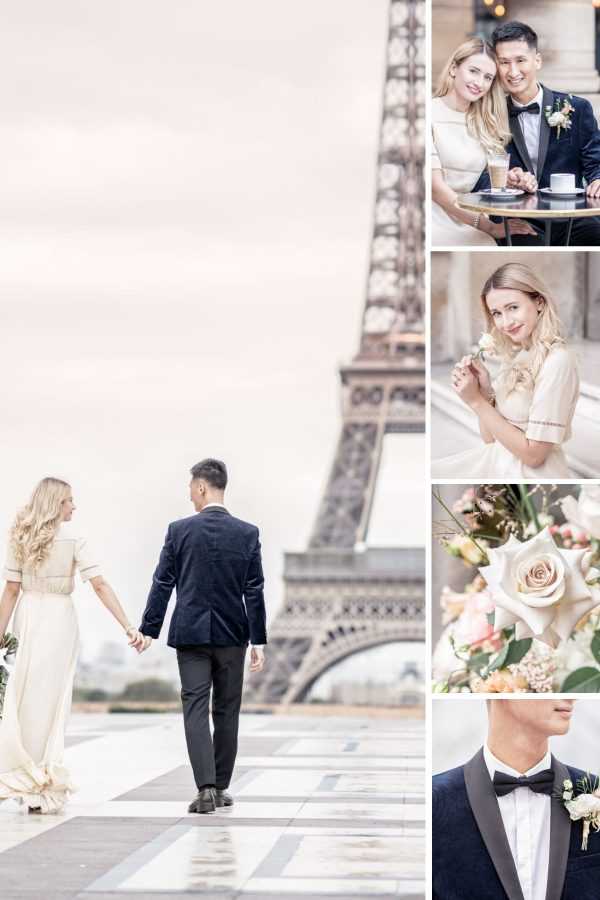 Intimate Wedding Breakfast In Light & Airy Parisian Apartment Vendors
Photographer Victoria Amrose Photography | Brides Dress Dior | Shoes Jimmy Choo | Shoes Oscar De La Renta | Cakes Hunkington House Kitchen | Florist Maison Vertumne | Stationery Evelyn and Elliot | Accessories Lancaster and Cornish | Accessories Vintage Adornments