Happy Monday folks, can you believe we are mid way through December, we are getting more and more excited by the day here at FWS. Just for a moment though, lets grab a cup of something warm and take a moment to remind ourselves of glorious summer days with today's intimate Château de Bagnols vow renewal.
Edna and Miguel planned their dream wedding for their vow renewal after six wonderful years together as man and wife. They called upon our wonderful FWS vendor Celebrate – Weddings & Events to make their dreams a reality.
Château de Bagnols was Edna's inspiration and so the planning began…
"In its soon to be eight centuries of existence, no one could say how many marriages, anniversaries, victories or exceptional moments have been celebrated within the walls of the Château de Bagnols, but its charm remains intact and the magic is at work, full of memories, imagined recollections and natural emotions."
I shall now pass you over to Celebrate – Weddings & Events to take us through this romantic Château de Bagnols Vow Renewal…
"Edna, a lovely thirty-something mum of two, contacted us to make her wish come true. This nice American bride had France in mind for a beautiful project. She and her husband Miguel, from Peru, got married 6 years ago. Once during a very intimate civil ceremony in the US with Edna's family, and once during a very traditional ceremony in Peru with Miguel's family. However, none of these events were quite like what Edna had in mind. And above all, they weren't happy with the quality of the pictures remaining from those days."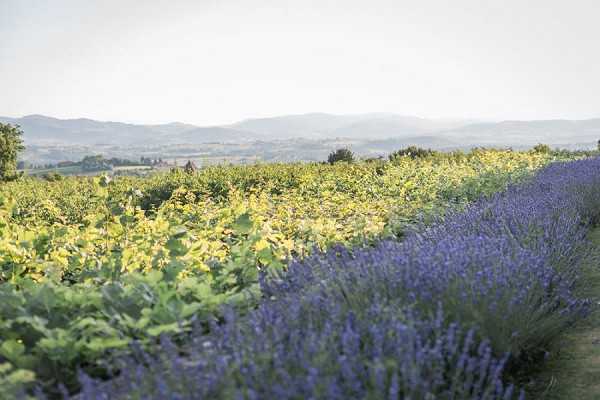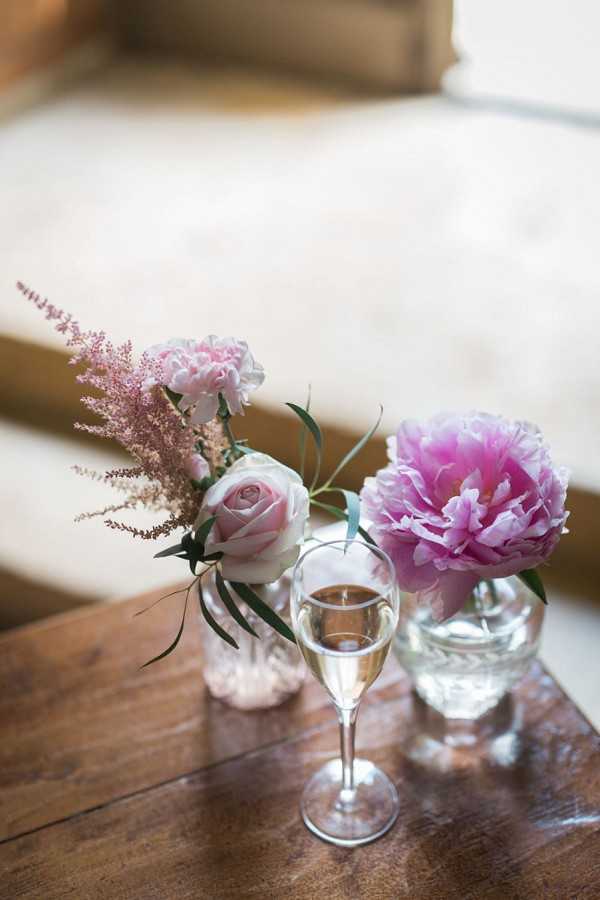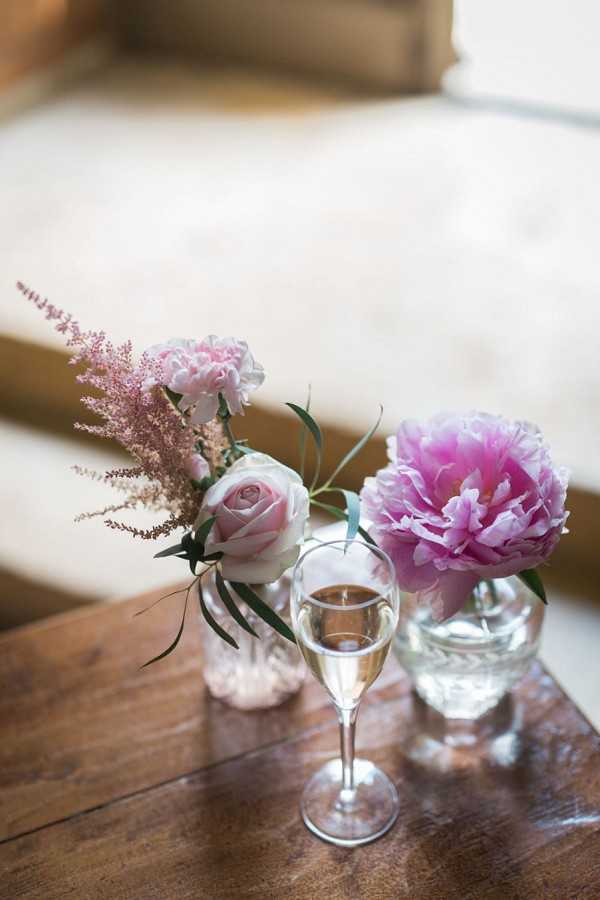 "So Edna contacted us in February to plan for them a beautiful day for their vow renewal. She had fallen in love with a 5* castle she found in a magazine that listed some of the best hotels in Europe, and there she wanted us to plan the day! What Edna and Miguel wanted was a beautiful day just for the two of them and nice pictures to keep from this moment."
"The venue chosen is a 5* castle overlooking the vineyards of Beaujolais, offering a high-standard of services, exquisite gastronomy by renown french chef, a nice scenery with beautiful gardens and fountains, and a sumptuous spa. A medieval castle turned into a palace. We were used to working with this venue but only for larger affairs, so it was a very special kind of planning this time. Everything was tailored for them to their tastes, more on a conciergerie-service way than on the usual event-planning basis."
"For example, we had the patisserie chef to create a dessert especially for them, inspired by Edna's favorite dessert, with her favorite berries. We have also negociated a special room-upgrade for her to have the best getting-ready decor (the rooms of the hotel being all different), along with a beautiful view from their own private garden (which they couldn't have got had they kept their original booking). And finally we also arranged for them to have an intimate dinner in the garden, away from the other hotel guests. As for the theme, we have decided on a romantic vintage feel for this day, with a soft pink and navy color scheme."
"The day started on a negative note. Edna and Miguel had arrived the night before and their airline company had lost their luggage. Fortunately enough she carried her gown (that she could still wear after 6 years of marriage and 2 kids!!) with her in the cabine, but the brand new veil she had treated herself to for this occasion was in one of the lost suitcases. So we started the day without the veil."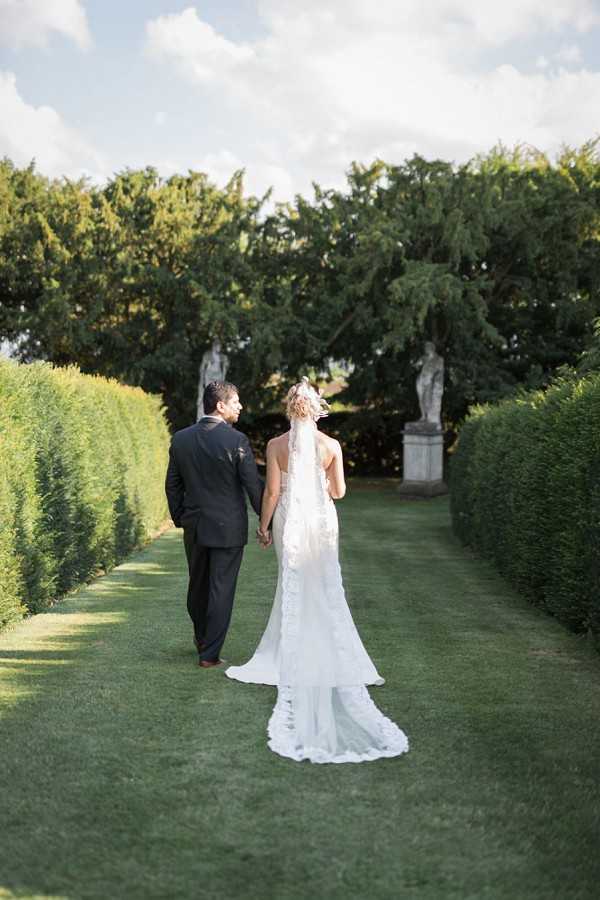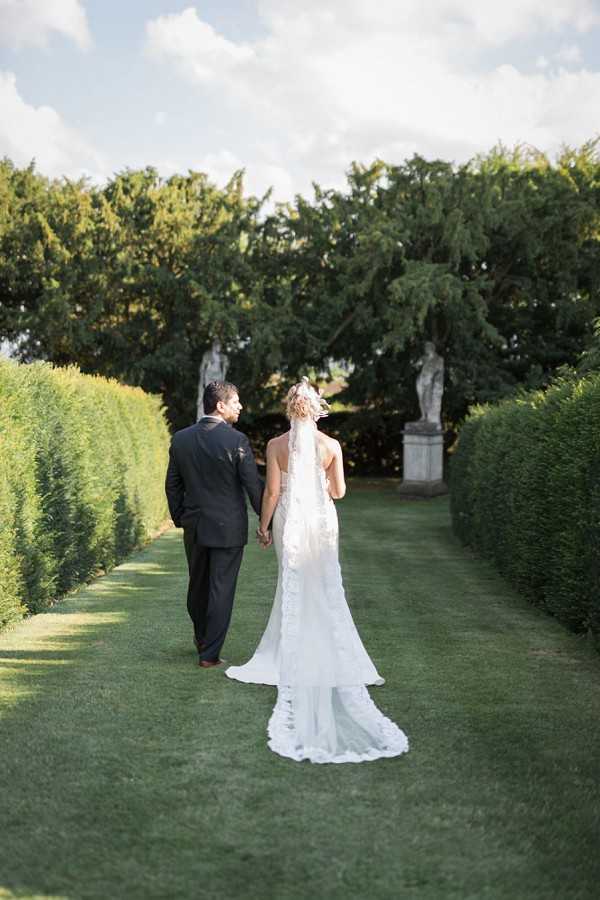 "While Edna was getting ready thanks to the talented hands of her dedicated make-up and hair stylist, Miguel was relaxing at the palace swimming-pool. They both enjoyed glasses of French champagne while getting ready. And we also offered them some macarons as a welcome gift. The veil, along with their suitcases finally arrived on-time just the minute the hair-stylist was about to leave the venue! It felt like a miracle to us all!"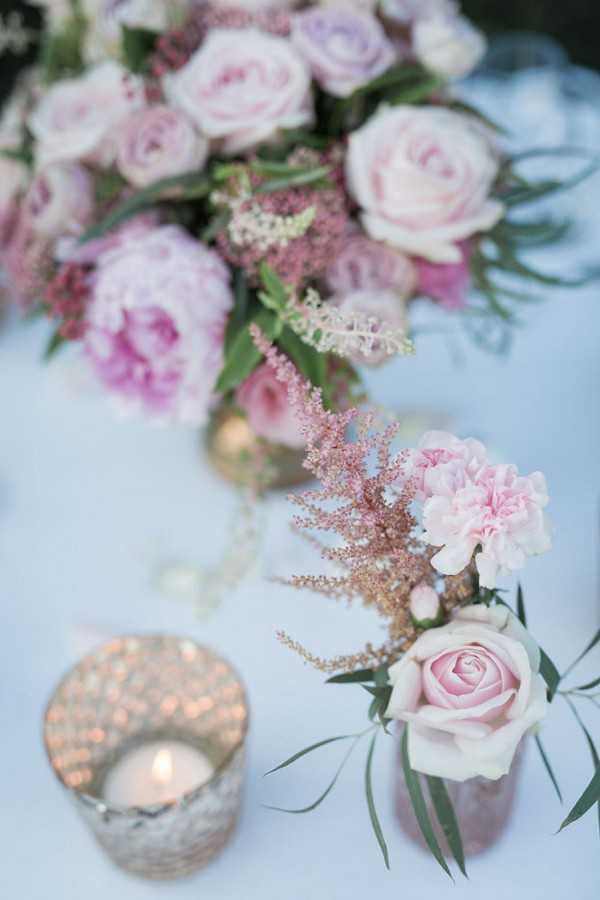 "In the end, everything went perfectly well, as Edna has always dreamed about: fabulous sunny day, scenic venue, beautiful flowers, delicious dessert and her lovely husband to share the day with. They are now back in Florida full of cherished moments together…and beautiful pictures to immortalize this beautiful day!"
So romantic! For even more intimate wedding inspiration click here.
Intimate Château de Bagnols Vow Renewal Snapshot
Wedding Vendors
Photographer: Frédéric Viallon | Venue: Château de Bagnols | Planner: Celebrate – Weddings & Events | Hair and Make Up: Virginie Debourg | Decoration: Fleurs de Fée | Cakes: Château de Bagnols
Save
Save
Save