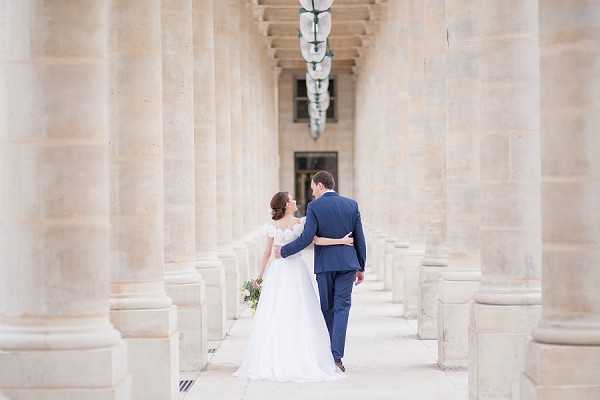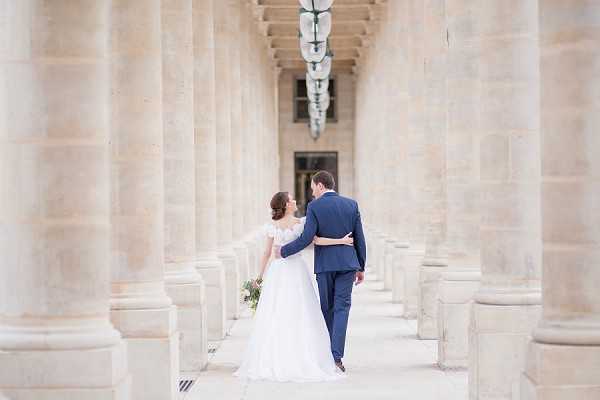 Good morning lovelies and welcome to another wonderful week here at FWS. To kick this gorgeous week off we are heading to Paris again for an international inspired Hôtel d'Evreux wedding, which was planned by Les Têtes Chercheuses.
We're in love with the chic peach theme seen throughout this beautiful Parisian day. From the exquisite floral arch created by Akiko Usami to the show stopper tiered wedding cake by Synie's, this ones not to be missed!
Our favourite detail has to be the hand written notes this gorgeous pair created for their guests. We thought it was such a sweet and personal touch especially as many of their guests had travelled from afar to celebrate with them.
Chiara and Philippe met in Copenhagen and as they say the rest is history. I will now pass you over to Chiara who will be walking us through her Hôtel d'Evreux wedding…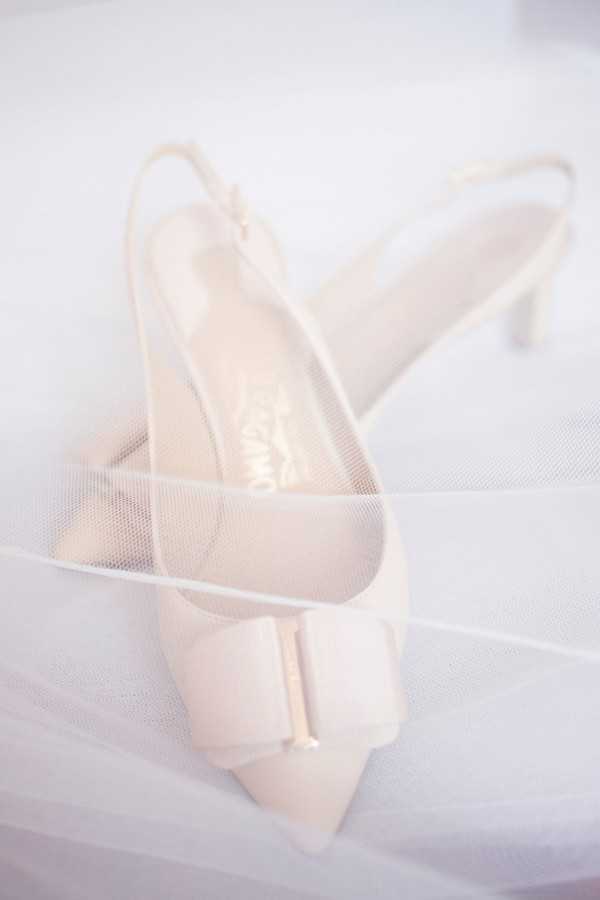 "I am half Japanese, half American and grew up in the US, Japan and the UK;  Philippe is half Dutch, half American and was born and raised in Paris. We attended the same university, but actually met in Copenhagen when we were both there through a university trip. We immediately hit it off when we realised that Philippe had studied Japanese for many years and studied abroad in Kyoto, and I had studied French for many years and was soon going to be studying abroad in Paris. Both of us have lived all over the place since we first met, and we have settled in London, for now."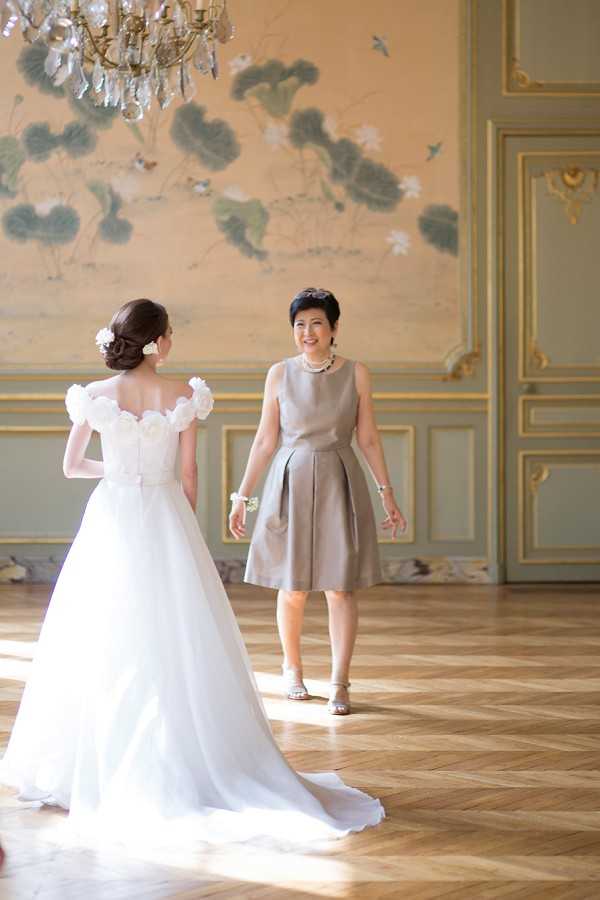 "It was important to us that we incorporate our international backgrounds into our wedding. One of my favourite things we did was name all of the tables after cities that we had a connection to. For example, Tokyo, San Francisco, Los Angeles and Amsterdam for where our parents are from; London, where we now live; Copenhagen, where we met; Palo Alto, where we fell in love, etc. Also, since we were having a Western wedding, we wanted to sneak in some Japanese elements where we could–we hired a Japanese florist, and our wedding cake flavour was Yuzu (Japanese citrus) & Bergamot."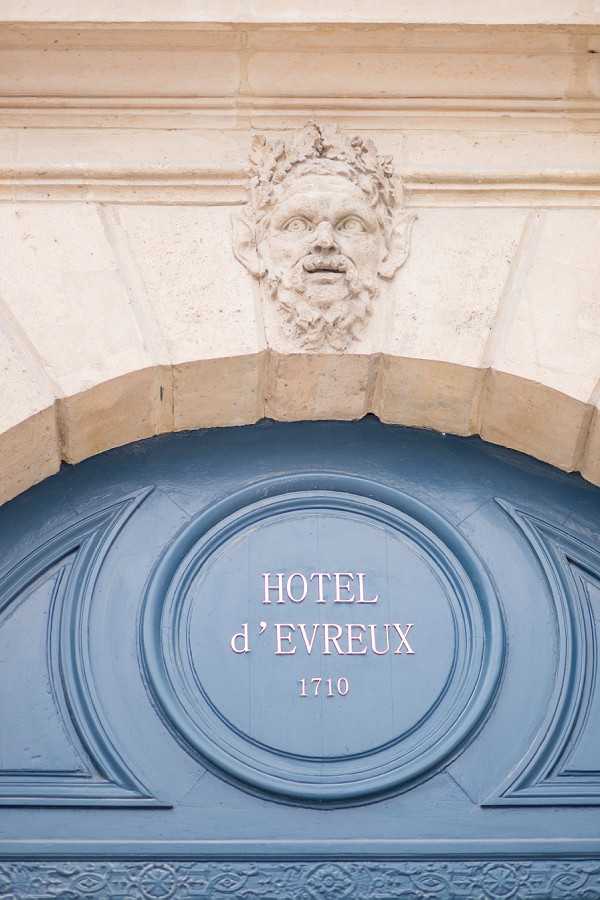 "Because we were doing the ceremony, cocktail and reception all in one place, it was important to us that the venue we chose had three distinct areas for each of these events. Our venue could not have been more perfect. Not only was it stunning and located on one of the most beautiful squares in Paris, Place Vendôme, it had three distinctly unique spaces – an outdoor courtyard for the ceremony, a series of classically decorated salons with a view of the Place for the cocktail, and a large, slightly more modern dining room for the reception. Surprisingly, the venue is not often used for weddings, but more commonly for fashion shows and corporate events."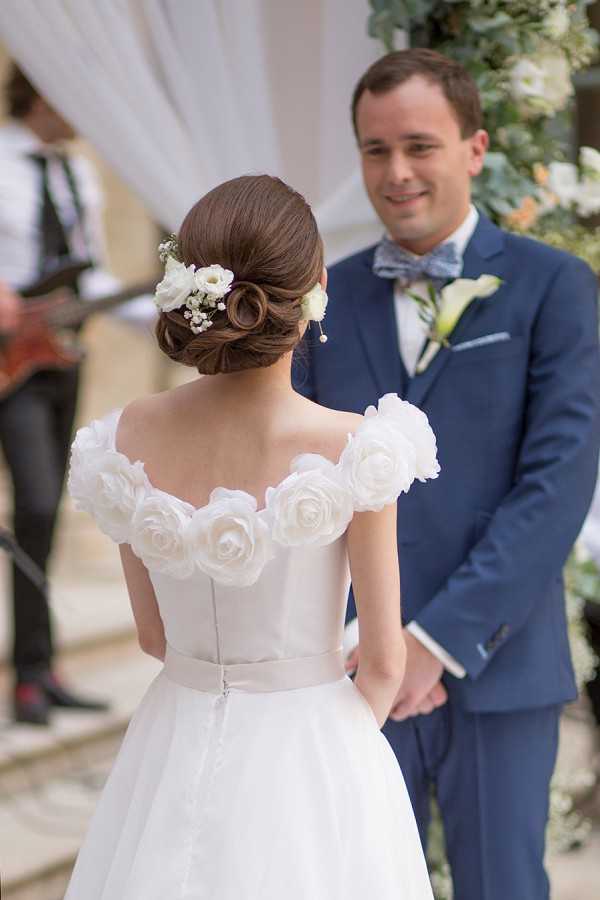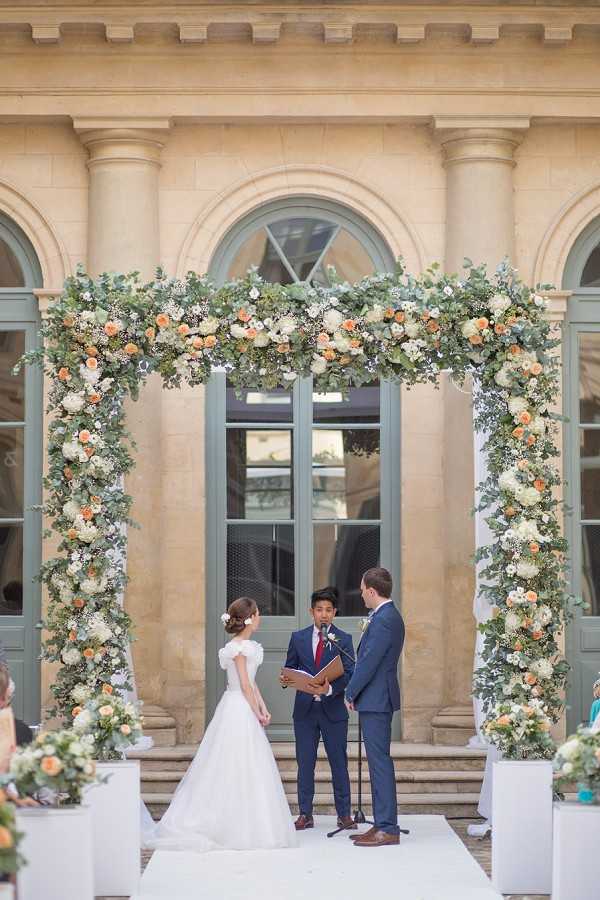 "Neither of us are religious, but we knew we wanted our ceremony to be spiritual and heartfelt, so we asked a close friend to officiate. Not only has Jay known us since the start of our relationship, he is funny, charming and has the kind of personality that can lighten up a room. Since it was his first time officiating a wedding, however, the three of us met with a professional interfaith officiant, who provided invaluable guidance and helped us to focus the ceremony."
"My mother and I co-designed my dress and had a dressmaker in London make it for me, I also found a woman on Etsy to make the white silk flowers for the neckline. I knew I wanted a dramatic skirt and train, but was hesitant about having to dance with such a large skirt. However, since it would be such a shame to have to change into another dress for the dancing, I decided to have the dress made in two pieces, with the dress underneath being knee-length. The flowers all around the neckline were a bit too much for the shorter dress, so my mother sewed them on in a way that we could easily remove all but four when I took the skirt off."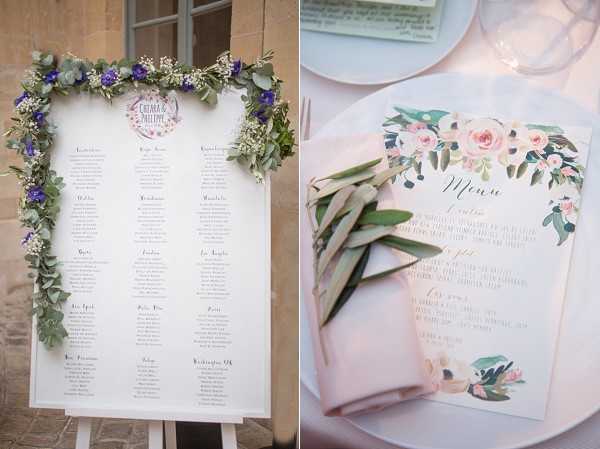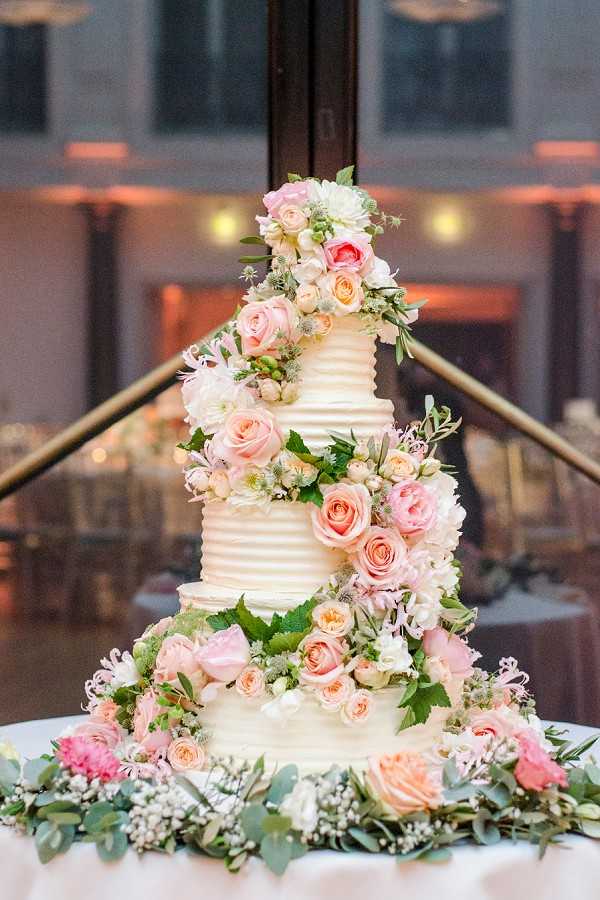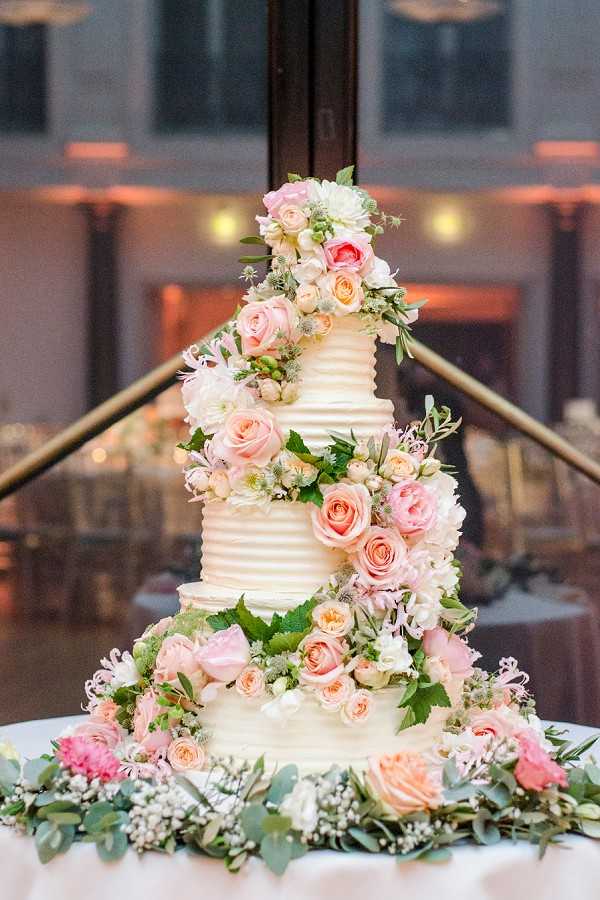 "We knew we wouldn't be able to give all our guests the attention they deserved, so it was important to us that they felt appreciated, especially since many of them travelled incredibly far to be with us. We wrote every guest a personal note, which also served as their place card. Because Philippe and I were not present when everyone was getting seated for the dinner, we are so glad our photographer captured our guests reading their notes!"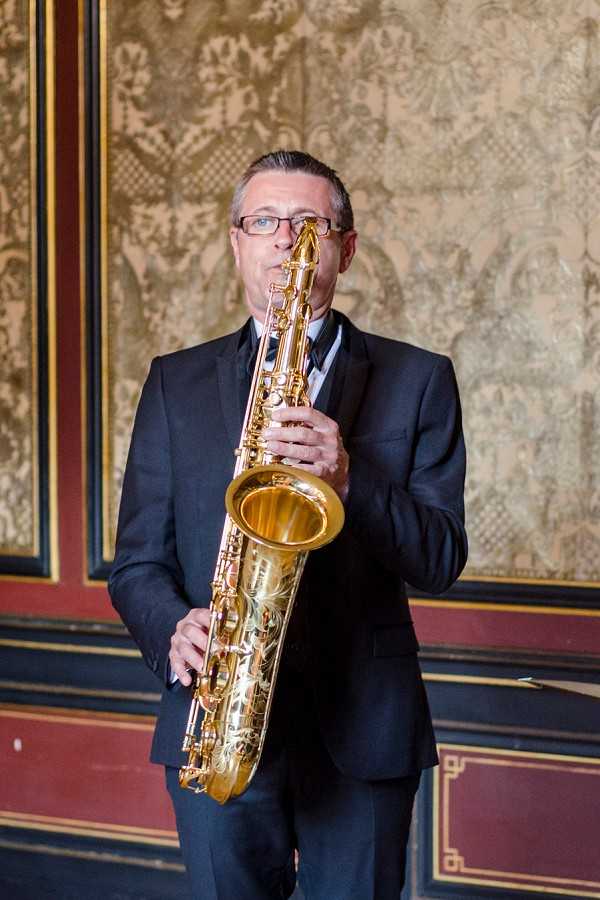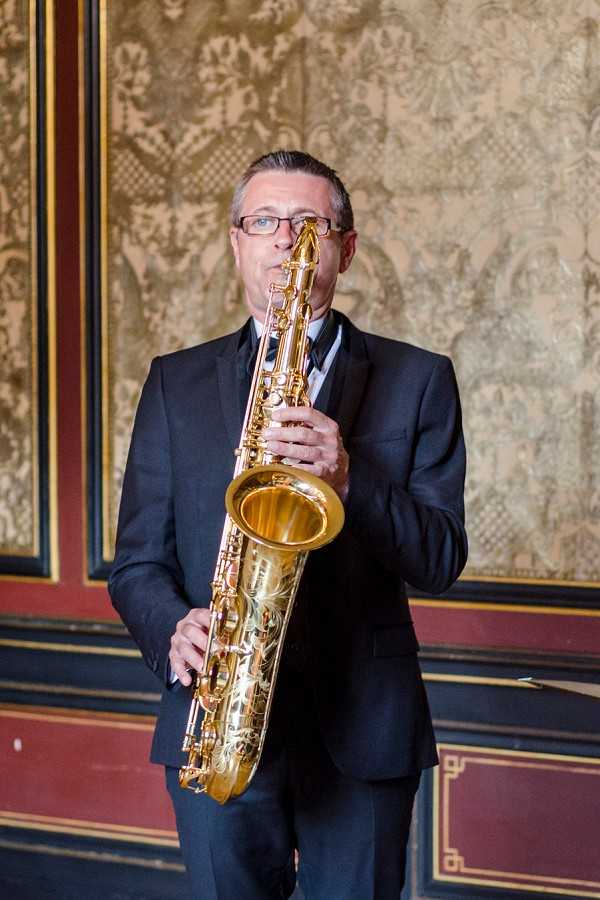 "Something we were very adamant about was not having slow, somber music for the ceremony, we wanted it to be as fun and lively as possible, while also being moving. We hired a live soul band who sang songs by Aretha Franklin, Al Green, Etta James, Stevie Wonder, and Jackie Wilson. Our singers were absolutely phenomenal – the music was one of our favourite parts of our wedding! We had a lovely jazz band during the cocktails, and for the reception, we told the DJ that we wanted Motown only. It was really important to us that guests of all ages could dance enjoyably- and who doesn't love Motown?"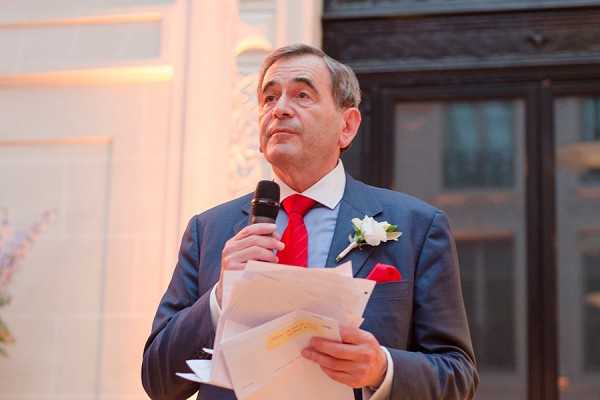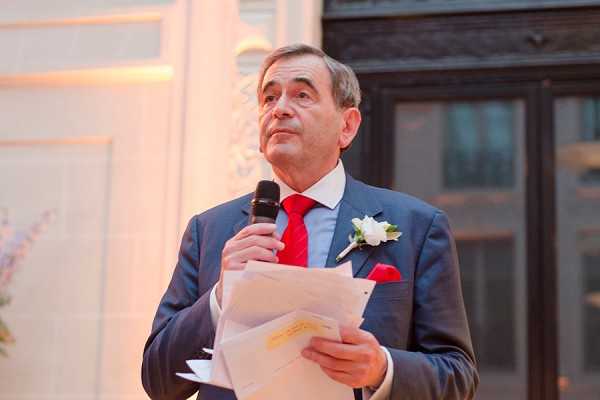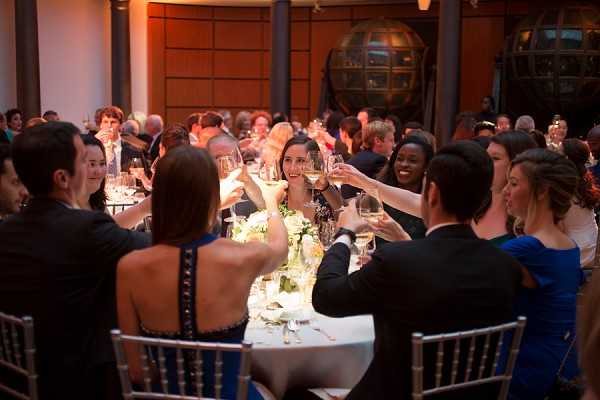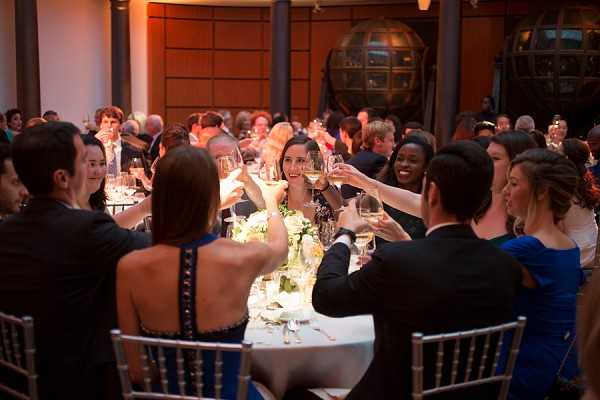 Congratulations Chiara and Philippe from everyone here at French Wedding Style!
International Inspired Hôtel d'Evreux Wedding Snapshot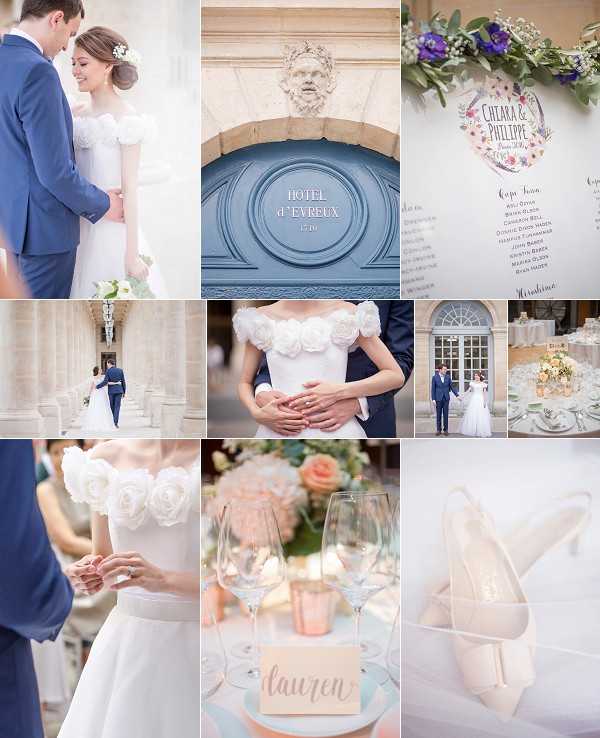 Wedding Vendors
Venue: Hôtel d'Evreux | Lead Photographer: Les Productions de la Fabrik | Videographer: My Loveberry | Planner: Les Têtes Chercheuses | Brides Dress: Elizabeth Todd | Accessories: Caroline Keogh Designs | Hair and Make Up: Phuc Le Trung | Grooms Outfit: Samson Sur Mesure | Accessories: Le Colonel Moutarde | Florist: Akiko Usami | Catering: Potel et Chabot | Cakes: Synie's | Accommodation: Intercontinental Paris Le Grand | Stationery: Julie Bell Stationery | Entertainment: Bell Intone | Entertainment: Jazz Around Midnight
Save
Save