As it is the first day off December and I am feeling supremely festive, I thought I would take this opportunity to put together a little winter wedding inspiration board.
Winter when you are a child is fully of festive anticipation and putting on wellie boots and playing in puddles.  But most of all hoping for snow so that you can stay home from school and play with your friends, create snow angels in the garden, find a snow covered hill and break out the slede or the annual snowman making competition.  Unfortunately as you get older snow becomes more of an inconvenience especially if you live in the UK, where basic operations seem to come to a stand still over an inch of snow!
However for the last couple of years as a home worker, snow has once again become something that I look forward to with the same anticipation as a little girl.  I love watching the snowfall, kids playing in the street and the fact that everything looks prettier with a sprinkling of snow.  Then there is my two black cats who look so comical chasing the snow.
I digress, back to weddings and a photo from Jane and Craig's Parisian Winter Wedding.
So for those brides who are looking to create their own winter wonderland how does that translate to your wedding ensemble?
Here is a selection of my favourite wedding dresses ideal for winter.
Berketex Bride
Lanvin
 Monique Lhuillier
Let's not forget that as wonderful as a winter wedding is, you have to be prepared for the bitter cold that most wedding dresses don't protect you from, so don't forget the wonderful range of bridal coats available.
Left: Amanda Wakeley Right: Justine Horrocks
One of the most fun parts of a winter wedding is creating your own winter wonderland.  When considering the colour pallette for your winter wedding think of a natural soft colours, whites and ivories and soft fawn.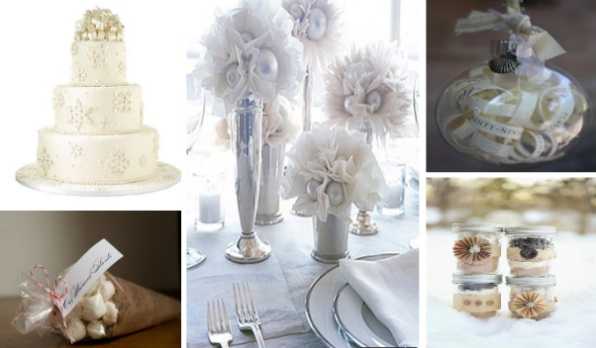 Cake: Project Wedding,  Favours: Bow Ties and Bliss, Table Setting: Martha Stewart Weddings, Bouble Invite: Christy Robbins, Jar Favours: Oh Lovely Day.
I would love to hear from any brides planning their own winter wedding.