Ask someone the top 10 things they associate with France and fabulous wine and champagne will undoubtedly be amongst the list.  I enjoy the whole wine sampling experience from choosing a bottle in a cellar with rows and rows of vintage wine each with their own story to tell, to the sound of the cork popping signalling the start of the evening.
For all those that share a passion for the nectar of the vine, including wine themed accents to your wedding day is not a trend and will not age, but simply wine will become the reminder of your wedding day and take advante from inspiration board wine theme.
French Wedding Style Blog – Image Copyright (c) 2011  

French Wedding Style

Wine themed credit clockwise:
Style Me Pretty        
Dubnoff Photography     
Brian Dorsey Studios
Wedding Photojournalism by Rodney Bailey 
Wedded Bliss Photography
The ideal backdrop for any winery themed wedding is of course one of the plethora of vineyards in France and the US, as well as a few in the UK such as Denbies. However the flexibility of a winery themed wedding can also be held indoors during the winter months.  If you are looking for an intimate wedding celebration The Wine Cellar Room at 21 Club in NY provides an atmosphere steeped in history.  The New York SpeakEasy would also make a perfect setting for a Boardwalk Empire themed wedding.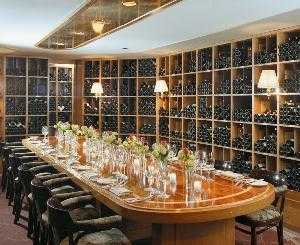 On a warm summer evening in June 1932, during the height of America's Prohibition Era, ten federal agents knock on the door of the most famous speakeasy in New York, '21'.  After hours of searching the premises – closets, rooms, attic, basement – law enforcement agents admit defeat and leave without finding the two thousand cases of contraband hidden downstairs.
Years later, the great mystery as to why the agents never found the liquor was revealed -'21's secret Wine Cellar!
Perhaps the most elaborately disguised vault in New York City, '21's Wine Cellar was built to be invisible. Behind several smoked hams that hung from the basement ceiling and a shelved wall filled with canned goods, stood a perfectly camouflaged 2 1/2 ton door that appeared to be part of the wall.  Opened only by inserting a slender 18″ meat skewer through one of many cracks in the cement wall, the secret door silently slid back to reveal '21's most coveted treasure: two thousand cases of wine.
Amidst the elegant wine bins in the meticulously restored cellar up to 22 wedding guests can enjoy a three course lunch or seven course tasting dinner, all expertly paired with the finest wines.
The Style Swatch for a vineyard wedding includes deep burgundies, olive greens, soft champagnes, dusky browns and crisp whites all combined together  with no colours fighting to be the star of the show.
For the Design Decor seat your guests under a ceiling of vines providing a sophisticated and relaxed atmosphere as featured by Jose Villa Weddings.  Enhance the look with elegant chandeliers and compliment the table setting with simple crystal glasses, which could be a mix and match collection found at antique markets.
I love the use of vineyard packaging and boxes in flower arrangements such as those by Beth HamStetter to give a soft feel to the look and these would also make fantastic gifts for guests.  Empty wine bottles also make delightful budget wedding table numbers and an enchanting way to light stairways and outdoor areas.
The classic white wedding cake by Cake Central is embellished with grapes and leaves and the grape themed cake pops from Bella Regalo provide a sweet treat for a dessert table or as a wedding favour.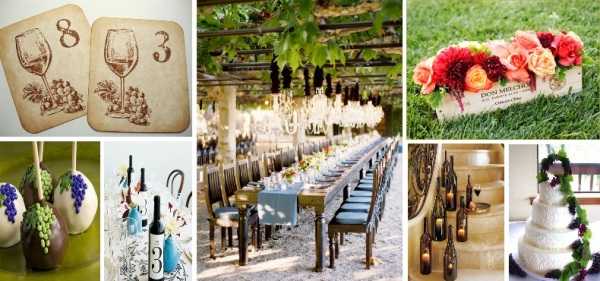 Design Decor
Wine Table Numbers  – Paper Girl Studios
Bottle Candles  – WeddingBee
Flower Box – Beth Helmstetter
Table Centre pieces – Martha Stewart Weddings
Vineyard Reception Setting – Jose Villa Wedding Photographer
Cake – Cake Central
Cake Pops – Bella Regalo
I hope you like  the inspiration board and I would love to hear from you on your weddings styles that you are planning or if you have any styles that you are looking for help with.