Inspiration and creativity can't be contained to a specific person, location or time, so today is the first guest blogger post by a lady who caught my eye for her innovative interpretations of classic wedding themes.  I am delighted to introduce Aimée Fulling from Boutique Inspirations and her interpretation of Parisian Elegance.
Aimée Fulling is a qualified Wedding and Event Management professional and the creator of newly established Boutique Inspirations. Boutique Inspirations is aimed at assisting couples all over the UK and Europe plan their own weddings, with a little help from Aimée.  Couples come to Boutique Inspirations for assistance with finding inspiration and the best suppliers to make their dream wedding a reality.
Aimée : "This service saves my clients hours of precious time web trawling, shop traipsing and call making – an ultra convenient service for our modern day full schedules!"
♦♦♦♦♦♦♦♦♦♦♦
Bienvenue!  I'm very pleased  to introduce my latest inspiration board – Parisian Elegance.  Boutique Inspirations have covered Winter and Wonderland Chic recently but I wanted an escape from the cold British weather so I decided to let my mind wander to my most favourite city, Paris!
I love all things French – the people, the language, the city, the food, the wine (you must LOVE the wine!) and the style.
For me it is very true that Paris has a certain je ne sais quoi – I could visit again and again and I will never tire of the place, I will always be in love with the city.  A wedding in France would either be a chic city affair in Paris or it would be a romantic visit to a stunning chateau!
I can happily imagine marrying in the city and having a fantastic reception on the Seine passing the Eiffel Tower, Arc de Triophme and Notre Dame whilst sipping Champagne and celebrating with family and friends.  Guests would dine in a space which was delicately styled with soft pastel colours and the tables would hold stunning centre-pieces.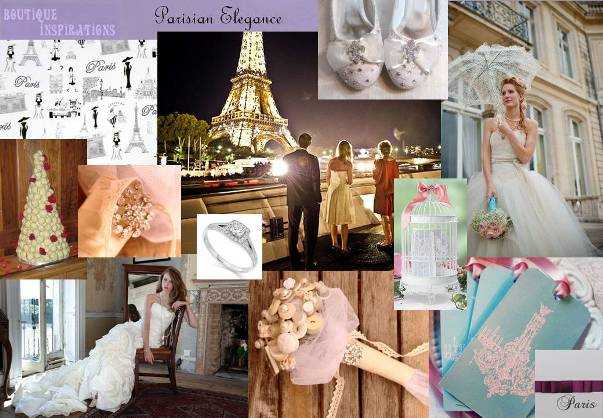 My Chateau vision is a little more formal.  The dress would be rather more intricate for this style of wedding, perhaps with some lace detail.  A fabulous overnight stay at the Chateau would ensure I was fully refreshed for the day ahead. Guests would arrive up a sweeping gravel drive and be greeted with a grand entrance which would ensure some stunning photography.
I hope my inspiration board give you a little taste of what a wedding in Paris could be like – a truly stunning and memorable occasion!!
Aimée
♦♦♦♦♦♦♦♦♦♦♦
Thanks to Aimée for sharing with us her Parisian Elegance wedding inspiration board – I hope you enjoyed and would love your feedback on what makes Parisian Elegance for you.
If you would like to contribute an inspiration board or style ideas, I would love to discuss.
Hand-drawn Invitation Design by Rachel-Elizabeth Designs
Night Wedding in Paris by French Wedding Style
Bespoke Shoes by Glitzy N Glamorous
Bride with Lace Umbrella by Amy Punky Photography as featured on French Wedding Style
Crouquembouche (Profiterole Tower) by French Wedding Style
Bouquet Brooch by Beau Buttons
Diamond Ring by Michael Frank Jewellers
Birdcage by McCaffertys Cards
Sitting Bride by The Wedding Trousseau
Button Bouquet with Wand by Beau Buttons
Marie Antoinette Tags by Anista Designs
"Paris" table name by To Have & To Hold Wedding Stationery