Reading an article the other day and it mentioned the colour "french blue" and I became curious as to what colour "french blue" actually is.  I have sat for hours researching and seeking to find a pure meaning for french blue, including when in doubt Wikipedia who label it as Azure – which is a colour that I never mistook french blue for.
Other resources label it as somewhere between a Tiffany blue and cornflower blue and I think that it is a soft blue, more understated than a bold blue that competes for the limelight.  So today I am taking a look at inspiration board: french blue wedding theme and how to translate this for your wedding.
Style Me Pretty
French Blue can be used as a solid colour, but using french blue delicately throughout your wedding theme can have a dramatic effect.  Claire Pettibone uses subtle french blue within her 2012 Beau Monde collection to accentuate the fabric and pattern of the dress.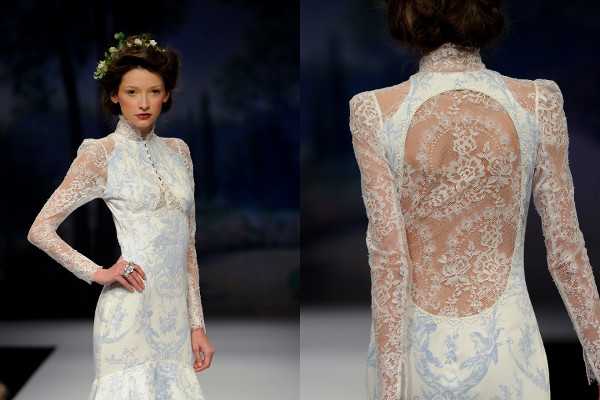 Now onto a urban legend the blue soled Louboutin bridal shoe!  For a short time Mr Louboutin created his famous red shoes creations with a baby blue sole for a brides something blue.  They were available from some flagship stores but have since stopped being made,  although some cobblers were offering a service to dye the bottom of red soled shoes blue.  It may not help you find your french blue wedding shoes, but I just couldn't pass up the opportunity to include a fashion legend.
To add that bit of french blue sparkle to your wedding outfit how about this stunning pale blue headpiece from Corrine Smith Designs from her Luxe Collection.  As well as the Luxe Collection, Corrine also offers a bespoke bridal jewellery design services.
If you are loving the french blue accents into your bridal ensemble and want to carry this throughout the wedding theme, french blue has some wonderful complimentary colours including peach, fuchsia and yellow to name a few.  However I do love the clean and traditional french blue and white theme so this is what I am going to be focusing on today, however I am sure that I will cover the other combinations in the future.
When considering how to incorporate a french blue colour into your wedding theme, also keep in mind patterns and fabrics to accentuate your design.  When I saw this cake as featured on Martha Stewart Weddings I just had to include it in this post as the piping and detail is exquisite and enhances the design.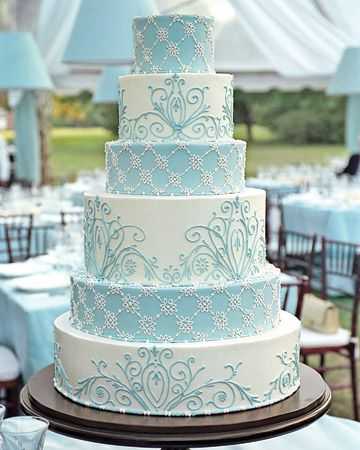 Detail is key to the french blue wedding them, from stunning blue hydrangea, vintage blue china and blue ribbon accents.
Stationery: Dizzi Dezine; Hydrangea Table Design: StoneGable; Fan Favours: Favors Plus; Ruffles Cake: Emmaline Bride;   birdcage and Flower: Blush Rose
For any other gatherers of seemly useless information I did also find out about french blue and its history with the hope diamond!
Whether you are holding your wedding in France or not, I would love to see your french blue wedding photos.
Monique x x