Good morning folks and welcome to another wonderful week here at French Wedding Style! We are kicking off the week with this beautiful Immaculate Chateau wedding in South West France which was planned by And Then We Got Married!
We just love the rustic yet pretty styling of the day and our bride Bonnie's stunning Pronovias Tatiana gown which she paired with a green and white bridal bouquet created by Le Coeur Sauvage.
We'll now pass you over to Sasa Adamovic Photography who will be walking us through this outdoor Immaculate Chateau wedding…
"Bonnie and Simon came from England to have a dream wedding in Southwest of France. They wanted an outstanding experience for themselves and their friends and family. What's better than the Southwest of France? The nature of this part of France is just unreal, stone houses and beautiful chateaux. One of those chateaux is Immaculate Chateau which is also a great venue for this late summer wedding. This wedding you're viewing right now is not just my work, it is also the work of the bride and groom and the team of very talented vendors who made this day even better. The day of the wedding was a great atmosphere, slow and laidback. The ceremony and party were outside, it was very nice full of laughter. I hope that you will feel a spring warmness in these photos."
Here are few words from the bride about the wedding day and how they decided to have their wedding in France:
"My dad is French and lived near Paris. We absolutely love visiting France. I had always dreamed of getting married in a chateau after seeing so many growing up. After looking at lots of venues where we live and feeling uninspired Simon's mum encouraged me to explore my dream of getting married in a chateau. We found the Immaculate Chateau and immediately fell in love."
"I knew that I wanted a classy, chic wedding to match the classy, chic French! The venue was my inspiration really. We wanted the colors that we chose to blend in with the venue and compliment it. We had the bridesmaids match the shutters, we wanted lots of greenery, lavender and white flowers. We were so lucky with the pear orchard at the venue and our wedding day coordinator recommended getting married in between the trees where there was a natural aisle."
"I was quite creative and did my own wedding invites, menus and ceremony booklets. I wanted to use greys and gold to pick up on the French elegance theme but also add greens to tie in with the fact that we were having an outdoor wedding. My friend has an illustration company (Wildflower Illustration Co.) and very kindly gifted us the timeline. Despite the style and colors being elegant I wanted an informal arrangement which sounds hard to achieve, however,  it wasn't too difficult as we had lamb spit and outside casual dining – and the open bar helped! Really a lot of thanks for the day goes to Sarah Thomas. She really helped everything look just as I had imagined it."
"I knew straight away that I wanted Sasa to be our photographer. His passion for photography is so evident from his pictures. I wanted someone who was passionate and creative with their pictures. I also want a mix of editorial style and candid pictures without the compromise. He blended in perfectly on our wedding day and went above and beyond for beautiful shots."
"Our friends are still raving about our wedding day. They were super impressed with the venue, food, style, music and everyone we had helping on the day. Sasa (photographer) was a real hit with our guests! And Alicia (Immaculate Chateau) and Sarah (And Then We Got Married) worked so hard to make everyone happy. One of our prerequisites for the day was for everyone to have the time of their lives and I'm pretty sure we nailed that!"
"I was so overwhelmed with how beautifully the day went. I felt like a movie star on a film set! There was so much joy in the air, I had to keep pinching myself. France has always had a special place in my heart and now it always will. I am so blessed that I got to share such an amazing experience with my husband and closest friends and family."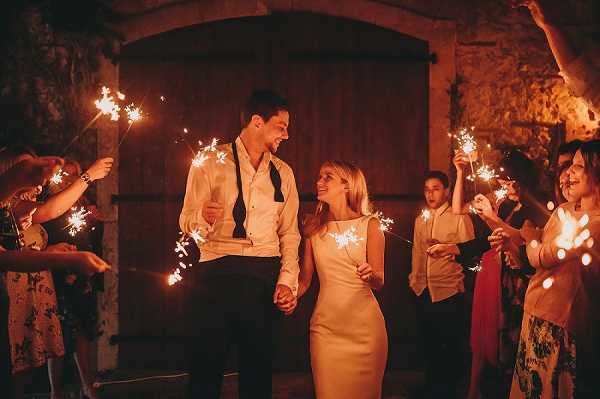 Congratulations Bonnie and Simon from everyone here at French Wedding Style!
For even more chateau wedding inspiration click here.
Immaculate Chateau Wedding In South West France Snapshot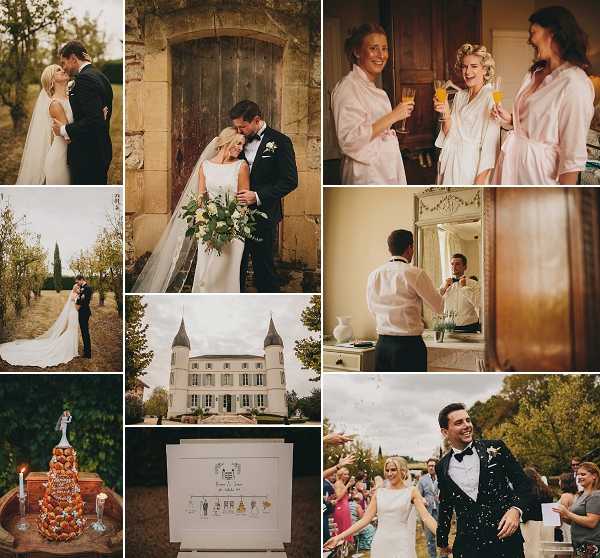 Wedding Vendors
Venue: Immaculate Chateau | Photographer: Sasa Adamovic Photography | Planner: And Then We Got Married | Wedding Dress: Pronovias Tatiana | Stationery: Wildflower Illustration Co. | Florist: Le Coeur Sauvage