If you are one of the people in the parts of the world who have yet to sample Spring, today's real idyllic wedding in the French countryside under balmy skies will warm you up.  Kelly and Sam's wedding was a relaxed affair at a beautiful Dordogne wedding chateau in an idyllic location.
They said their vows in the courtyard of the 14th century chateau, then enjoyed refreshing drinks of iced tea and elderflower cordial served from vintage glass containers whilst the summer jazz band played under the shade of the trees and the caterers passed around their delicious canapés.
Planned by Joanna Burgess from Dream French Wedding Planners, Joanna shares with us Kelly and Sam's planning and their big day: "When Kelly and I met at the spectacular chateau she had chosen for her wedding, it was a particularly hot day in Spring and we sat under one of the large trees on the estate.
I was impressed by how Kelly had flown alone to Toulouse, hired a French car and driven to meet me and I knew at once that she was a bride with a vision! We sat looking at her wedding folder of cuttings, now becoming more rare amid the ipad presentations of so many brides.
Kelly had holidayed in this part of France as a child and both her and her fiancé Sam loved the fabulous food, stunning scenery and the great weather, buildings and history offered by the Dordogne.
Kelly and Sam wanted their wedding day to be really inclusive. They organised other events for their guests during their week in the Dordogne, including a barge boat trip and canoeing on the river. Everyone helped to pitch in with the rustic decorations; they added doilies and hessian to jars and tins to create the table vases to which the florist added a range of flowers in tones of purple and pink. Other friends and family set about arranging the pom poms and metres of hessian bunting.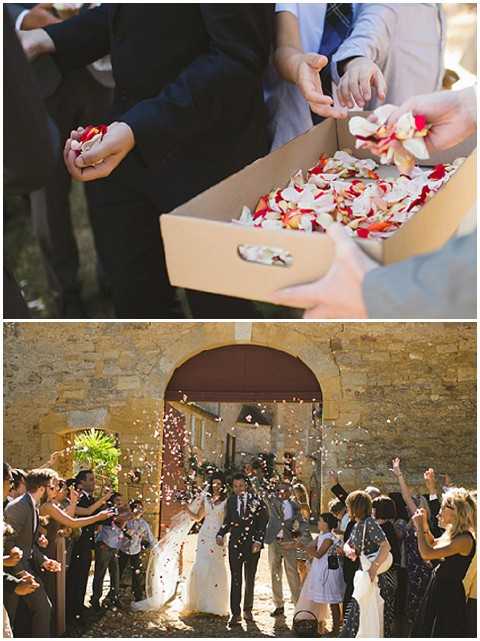 Kelly's brother helped enormously, creating the unique table names from plywood to reflect various motor circuits that both Kelly and Sam work at and he also made a range of beautiful favours, which he hung against the chateau walls.
After the ceremony and champagne reception, the guests were treated to a lamb barbecue with platters of different salads. The cake was designed and made by Sam as a surprise for Kelly and was based around an alpine ski slope; complete with bride and groom on their skis!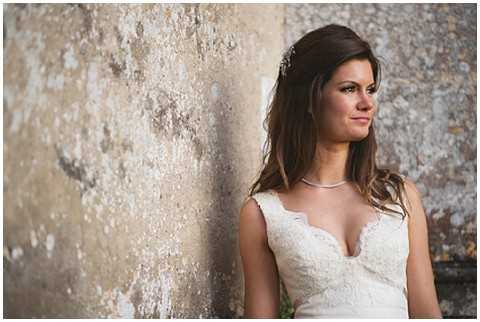 As the sun set on this fabulous wedding in early September, guests danced away in the barn reception room, whilst others sat under the star-lit sky on straw bale seating."
There are so many delightful details in Kelly and Sam's real wedding and I love the groom and groomsmen shot in the field.
Monique xx
Wedding Suppliers:
Photographer: Rik Pennington Photography
Planner: Joanna from A Dream French Wedding
Wedding Dress: JLM Couture
Groom's suit – Spencer Hart
Rentals: Souchon Reception
Rings: Harry Collins Jewellers
Bridesmaids' Apparel & Accessories: French Connection, Joseph, Two Birds and Dynasty