We are delighted to welcome international photographer Florent Vin to French Wedding Style who is sharing with us how to get better photos of your wedding.   Florent is a travel and Fine Art Wedding Photographer based in Provence – South of France.
Florent describes himself as "a sensitive and discreet observer of the world around me. I love traveling and meeting people around me. I see photography as a way to express myself and telling moments of life. I like to capture emotions, portraits and life and understand why a situation is interesting before capturing. My style can be summarized through travel images and moments of life, colors and joyful moments."
How to get better photos of your wedding
Your wedding day will be filled with extraordinary moments – intimate, surprising, and joyous. Captured creatively, those moments shine through as timeless heirlooms, instantly bringing you back to the essence of your day.
As you know if you know my work, I am wedding photographer based in Avignon (South of France). My job is to to realize the best photos of a wedding, but especially to advise my clients, understand their needs, their desires and make them my help (and my experience) on how to organize the big day to get the best photos of this beautiful day.
So I wanted to share my tips to get better pictures of this beautiful day.
Your photographer
It is often repeated, but choosing your wedding photographer is essential. You must, of course, enjoy their work and especially, ESPECIALLY, be at ease with the person who will capture your special day.
For example, one of the first things I like to do when a couple contacts me about wedding photography is to schedule a time to meet in person so that we can talk a bit, get to know each other, and make sure that I'm the right fit for their wedding.
It's important to choose a photographer that fits the style of images you want, works well in your venue, and has a personality that meshes well with yours. Because you spend more time with your photographer on your wedding day than anyone else, so it's really important to feel comfortable with them! When we meet, you can ask me any questions you may have.
So take the time to choose it. Look at the reportages they have made but also their other works, and if from the beginning, you do not recognize yourself in style, etc, go your way. Each photographer has their own approach, this is seen and felt in the pictures. Some are shy, some fun, you will find the gem that suits you (and which you will agree!).
Communicate
Do not expect your wedding photographer to know your guests, who is most important to you, or details that are significant. Tell your photographer about little DIY projects, sentimental items, and special people so nothing and no one is left out of the photographs.
Your wedding is a unique reflection of you. That's why for example, I love getting to know you, and your wedding details, personally. Knowing your wedding day dreams enables me to create authentic images that reflect the real you.
Light Matters
The most important component of photography is light. It can make the difference between a fresh, gorgeous image and dull, dark image. When planning your wedding, consider the light. In my book, the more natural light the better.
Details Matter
The details of your wedding (invitations, dress, shoes, jewelry, florals, etc.) are what make your wedding unique and different. They are also the things you spend hours and hours working on, deciding on, and paying for! So make sure they are easily accessible and ready to be photographed on your wedding day.
Shots Lists
Shots lists may be in magazines to help you get an idea of what not to miss, but hiring a photographer you trust and love their work can make all the difference. Instead of trying to dictate photos that you have seen before, give your photographer the creative license to capture your day as it deserves to be documented.
Your Timeline is one of the most important parts of planning
Having a well thought out timeline will allow you to really enjoy your day and relax (and will also guarantee that you get the most out of your wedding photos)! Without one, or with one that was poorly planned, wedding days can quickly become stressful.
The timeline affects your photos in a few different ways :
First, there's the obvious one, the more time I have, the more photos you'll receive and the more creative they'll be. This applies to every part of the day. From getting and awesome dress shot in the morning that might take more time to set up to the time we spend with you  and your groom later in the day. Secondly, light influences photos! I always recommend that you try plan your ceremony and reception around the sunset time for that day. The result is the beautiful airy shots that you see on my website.
The best thing you can do for yourself on your wedding day is relax.
Know that you have done the prep work, you have put in the time and effort to make this day incredible. Now is the time to enjoy every second this wonderful day.
How should we plan for photography ?
This sample timeline is based on a 7:00 sunset time with 10 hour coverage. However, every timeline is unique! For example, you may be having your ceremony in a beautiful loft with lots of windows, so the best time for that would probably be earlier in the day rather than right before sunset! Or the venue may be surrounded by tall trees, so the sun will set faster. You might also have a very large wedding party which will require more time!

Here is a very general wedding day timeline for reference :
12:00 – Photographer arrive, photograph details
1:30 pm – Bridesmaids change into dresses
1:45 pm – Bride changes into dress
2:30 pm – Dad's first look
2:45 pm – Groom's final preparations
3:15 pm – First look and portraits
4:00 pm – Bridal party photos
4:45 pm – Hide bride away – Photograph ceremony and reception details
5:20 pm – Line up for ceremony
5:30 pm – Ceremony
6:00 pm – Family formals – cocktail hour begins
6:30 pm – Bride + Groom golden hour portraits
7:00 pm – Reception introduction
7:00 pm – Sunset
7:05 pm – Dinner
10:00 pm – End of coverage
How to prepare a photoshoot the day of your wedding?
It is imperative that you book you half an hour to escape and take pretty pictures to two. Do not ignore this beautiful moment, it would be unfortunate and you will surely be disappointed after your wedding.
In addition, it must be confessed, this is also a time "off" where we find ourselves staring into the eyes, a little alone in the world and it also feels good during this marathon day! Many married people say, that special moment is one of their best memories 🙂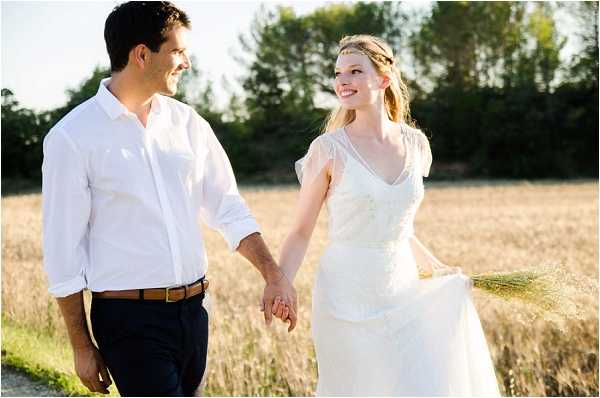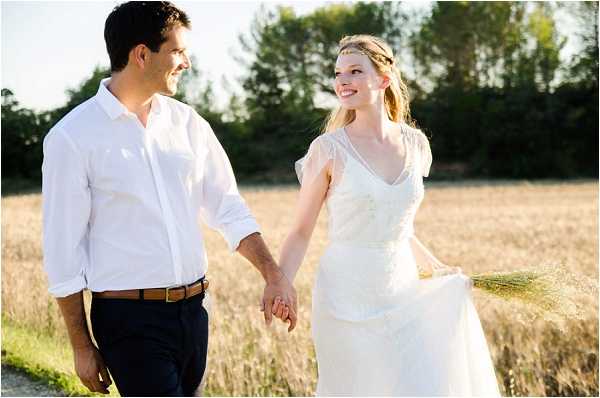 Tips:
– Think about the style of photos you would like. Browse blogs, remember the photos that you like, do not hesitate to seek advice from your photographer about what you like, what you hold.
– Locate one or more nice places to make pretty pictures. Feel free to send your photographer some pictures of places you've thought, it will tell you if the places chosen are appropriate or not.
– Plan some fun accessories (balloons, banners, confetti, etc.) if you want to make the session more fun and make original photos.
– Have fun !
The best moment :
– After the ceremony, you will be more relaxed, and before the meal is better 😉
– The end of the afternoon (5:00 pm – 8:00 pm) remains the preferred time photographers, the brightness is perfect at that time. Again, do not hesitate to seek advice from your photographer, he is the pro;)
Formal Family Portraits
These can be stressful, so to make the process as easy as possible it's best to make a detailed list of the people in each photo. This will keep things moving, as well as making sure that no one is forgotten in the moment. Also, it's good to estimate five minutes per grouping to allow for gathering posing, and the actual photo being taken.
Do not hesitate to talk with your photographer who can advise you and tell you how he proceeds to make the "sitting" more fun and offbeat.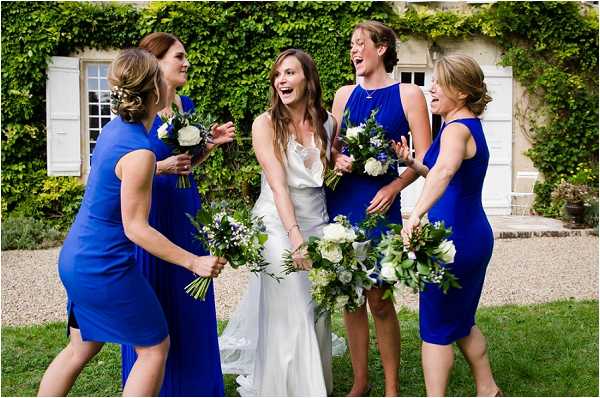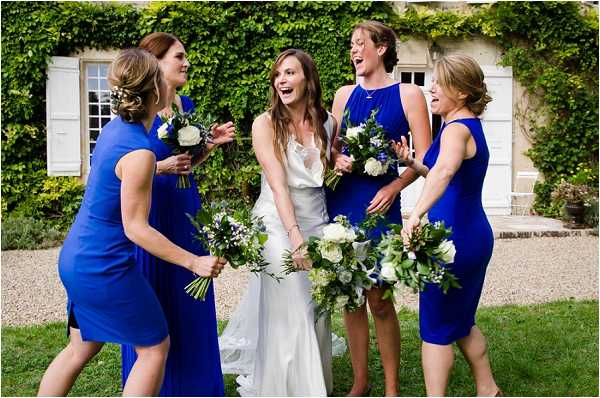 Tips :
– To prevent the session from becoming too long, make a list of several groups (family, in-laws, siblings, cousins, friends, etc.) with whom you want to pose.
– If you have a lot of guests, remember to prioritize those that will perhaps not present at night.
– Delegate (if possible) to someone the task of calling the people who make up the groups (it will avoid wasting time).
– Why not set up a photobooth. Your guests will be delighted to make their own direction with the accessories available to them and you will have group photos of another kind.
And if you are not comfortable with the pictures?
Well it happens and it is even very often do not worry, this is not innate to "pose" before the camera.
Why not organize an engagement session to put you at ease. It will let you know a little better your photographer and also to see what you like or not.
Contact Details
Website: florentvin.com
Facebook: florentvinphoto/
Instagram: florentvinphoto/
Save
Save
Save
Save