We are loving all the engagement shoots at the moment, so we thought we'd bring you a blog post on how to buy an engagement ring this week. It's a question that comes up quite a lot when it comes to picking an engagement ring, you never know where to start. So we've got all the details on what you need to know.
If you've decided to pop 'the' question', firstly – congratulations! It's now time to choose that all-important engagement ring. Whether you're looking for a timeless piece of jewellery ahead of the perfect proposal or you and your newly-engaged fiancée are picking out that dream diamond together, it's a journey you'll want to savour.
So how do you choose the most symbolic piece of jewellery your wife-to-be will ever own? (no pressure!). Our friends at Burrells Jewellers share their tips on adding a touch of sparkle to your engagement…
Take a hint
We don't mean to be diamond-cut blunt about it but pay attention to those hints – however small or insignificant they may seem. What's your bride-to-be's style? What does her day jewellery look like? What kind of jewellery has she made a passing comment over or lingered longingly at outside a jewellers? And it's not just diamonds that are a girl's best friend – her real-life bestie will probably know a lot more about the kind of engagement ring she's after, so do your homework.
And to make life a little easier, and if you can do so without a hint of suspicion, take one of her day-to-day rings to use to gauge the size.
Purchase with purpose
An important thing to consider with how to buy an engagement ring, is what your fiancée does in her every day. What's her profession? Does she use her hands for work? How much wear will the ring have to endure? For example, if she's sporty or working in a clinical job she might require one metal over another, or the stone may need a specific type of setting, such as a channel or a gypsy setting.
Platinum Emerald Cut 1.81ct Engagement Ring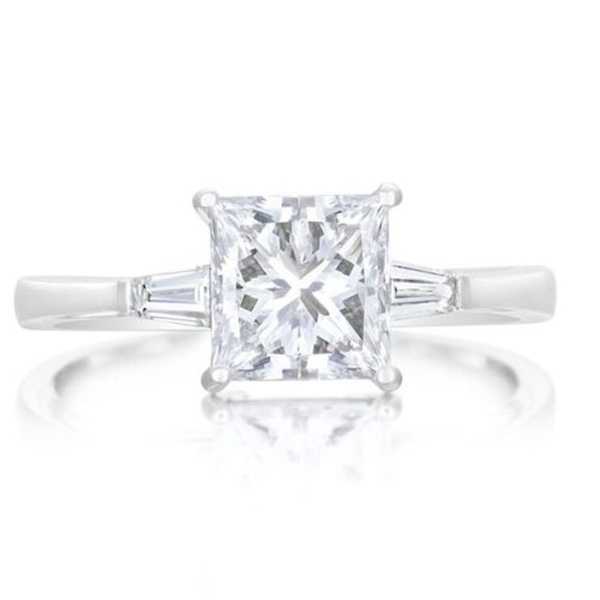 Platinum 1.70ct Princess and Baguette Diamond Ring
Round and Pear Three Stone Set Ring
Time to shop
Once you've got an idea in mind it's time to shop. Your local jeweller is the perfect place to start. A wealth of knowledge, expertise, and a chance to really get your hands on some first-class diamonds. Shopping in person gives you the opportunity to see and feel different types of engagement rings first-hand – don't underestimate the tactile element. And any jewellers worth their weight in gold will be there to guide and support you through this unique and special process. You want it to be right and there's nothing better than expert advice.
The 4 C's 
A jeweller will be able to talk you through the 4 c's – clarity, cut, colour, and carat.
Clarity refers to the tiny imperfections or blemishes a diamond may have.
Cut is the way it's cut to increase its sparkle and light
Colour refers to how white or clear the diamond is
Carat is the unit of measurement. 100 points per carat.
Chat to the jeweller, don't be afraid to do further research online, and make sure you have full trust in the place you purchase from.
A few things to ask before you seal the deal…
Can you change the ring if your bride-to-be doesn't like the one you've chosen?
Do they have a diamond certificate?
Is there a guarantee on the ring?
Will they resize the ring if it doesn't quite fit?
And remember, you're about to ask the most magical question of your life… this experience should be a happy and joyous one; so embrace it and have fun!
Congratulations!
To find out more about how to buy an engagement ring, head on over to Burrells Jewellers, they're on-hand to help you through the process.
This post was brought to you in collaboration with Burrells Jewellers.