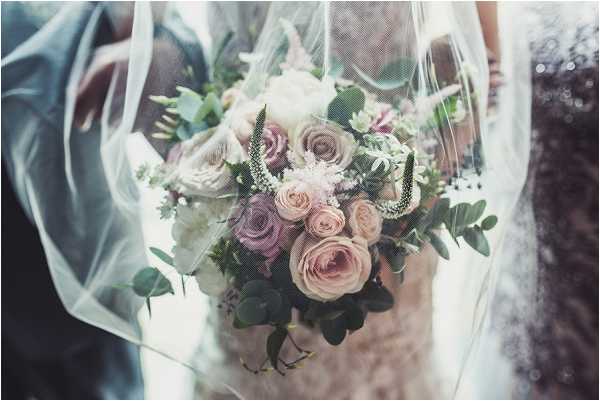 The team at FWS loves flowers, but we would easily make wedding flower mistakes as our knowledge beyond something looking pretty is limited.   Flowers and especially wedding flowers is certainly something we would leave in the hands of experts such as Lisa Gatenby from French Flower Style.
It would be so easy to make wedding flower mistakes and have expectations that do not match the budget, style of wedding and circumstances.  So we've invited Lisa back onto the blog to share with us how best to avoid  wedding flower mistakes.
How to avoid wedding flower mistakes
Pinterest – Be yourself
Image: Claire Penn Photography
Pinterest is a great tool for creating mood boards and for taking inspiration from the 1000's of beautiful images on there . I always think it's a good place to start when planning your wedding flowers,  to get a feel for what styles and colours of flowers that you like and equally as importantly don't like.
There is a downside however, it's so easy to get carried away pinning lots and lots of images and in the end it can be possible to end up with a Pinterest wedding and not something that is personal to you. I always think that flower styles are as personal in taste as art is. So, it is important to bear that in mind when choosing your wedding theme . A good florist can help you to create a style and floral scheme that you love and also fits your style and personality.
Choose carefully
Images: Claire Morris Photography
One of the first …and biggest decisions you will have made when you started your wedding planning is choosing your venue. It is therefore advisable to then bear the venue in mind when choosing your floral designs. It would be such a shame to use a badly clashing floral scheme or colour scheme in a beautiful chateau dining room or a huge tall centerpiece in a room with low ceilings or even worse a large centrepiece which blocks the stunning views from the window. A good florist will help you to create designs that will make the most of the beautiful venue you have hired for your special day.
DIY flowers – Taking on too much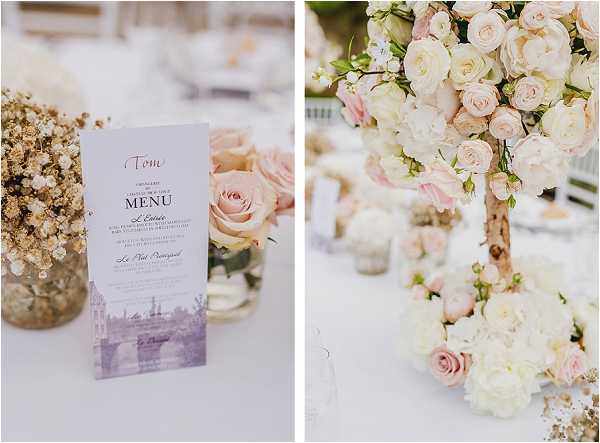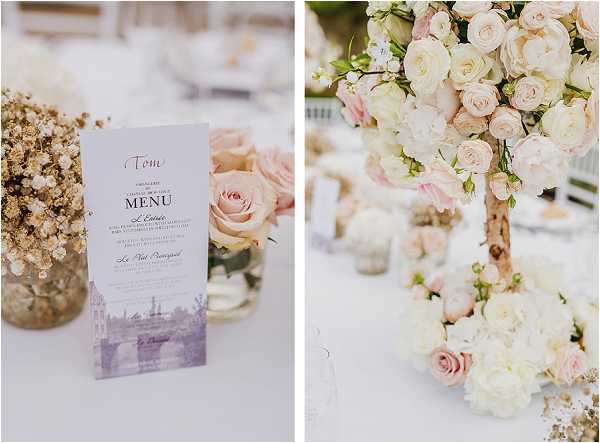 Image: Claire Morris Photography
If you are considering DIY-ing floral designs for your wedding yourself. It is important to be realistic . Lack of time is the biggest problem people have when deciding to create their own table arrangements / bouquets / buttonholes. It's easy to underestimate how long these things take and 50 small jam jars can in reality take a full afternoon of sorting , arranging and organising.
Making the bouquets and buttonholes will take up a lot of time on the morning of the wedding and when added to all the other wedding things you have on your to do list things all start to get a bit stressful. Setting aside a flower budget at the start of your planning is a great way to ensure that you can afford to employ the services of a florist to take away the stress from what should be a relaxing enjoyable few days . A good florist will help you to make the most of your budget.
Communication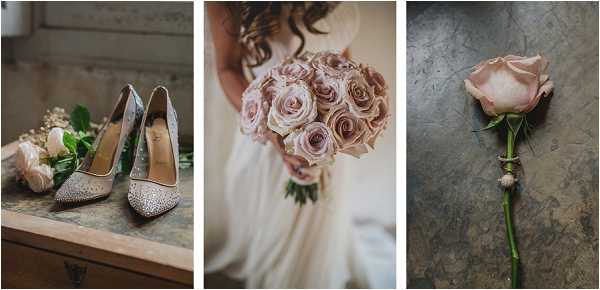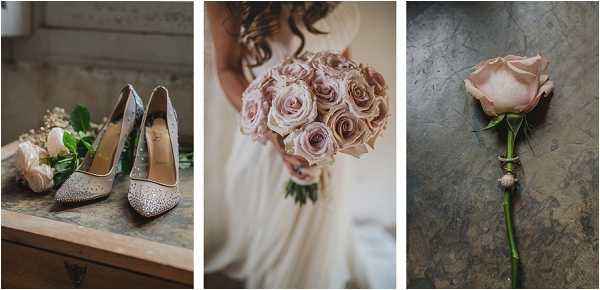 Images: Claire Morris Photography
Good communication with your florist is a must. The first consultation should ideally be done via skype or in person so that you and your florist can ensure that you are on the same page. Be prepared and provide your florist with lots of images to take inspiration from and try to give as much information as possible about your floral likes and dislikes . Good communication with your florist through the months before your wedding will help the process to be more organised and stress free.
Be flexible  – Trust your Florist
Image: Claire Penn Photography
Once you have chosen the right Florist for you ,  you can start the exciting and often organic process of choosing your floral designs. It's always a great idea to be open to ideas and advice and especially important to be flexible and to concentrate on the bigger picture . Sometimes the flowers you have set your heart on may not be available, but a rather beautiful and similar shaped/ coloured alternative may be possible and will create the "look" you wish to achieve .
Trust your florist to use the best blooms available for your floral design,  they will do their utmost to create the floral designs you have been planning and dreaming of.
Seasonal flowers
Flowers are a living and natural thing , they all have their own growing season. Although the way flowers are grown has advanced in recent years , most flowers do still have specific time of the year that they are available. It's not always possible to have the bloom of your dreams for your special day as it may not be  a) available b) good quality c) affordable so it's a great idea to try to be open and to compromise. Seasonal flowers are a great way to make the best of your budget, flowers that are readily available will always be better quality and price to flowers that are out of their natural season.
Colour Combinations- getting it right
Try to avoid mixing a dark colour with white , for instance Cerise, purple and reds mixed with white alone can look harsh and too much of a stark contrast . On the wedding photographs the darker colour tends to jump out leaving the white to blend in with the dress. A mix of shades and tones of a colour looks so much nicer , blend purples in with lilacs, peach or pinks to soften against the white . Or if you wish to go bolder find a contrasting colour such as lime green and purple or not for the faint hearted… orange and purple.
Be comfortable with your Bouquet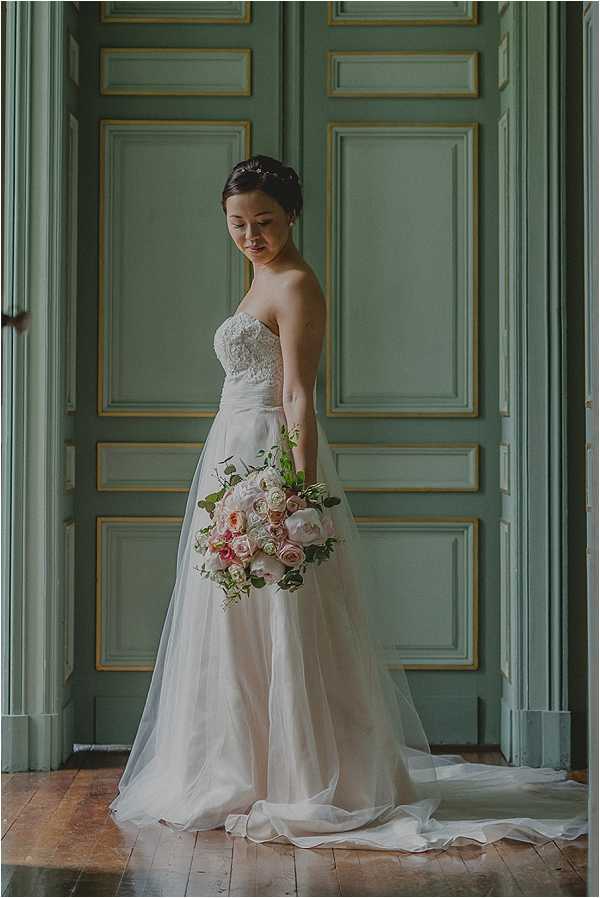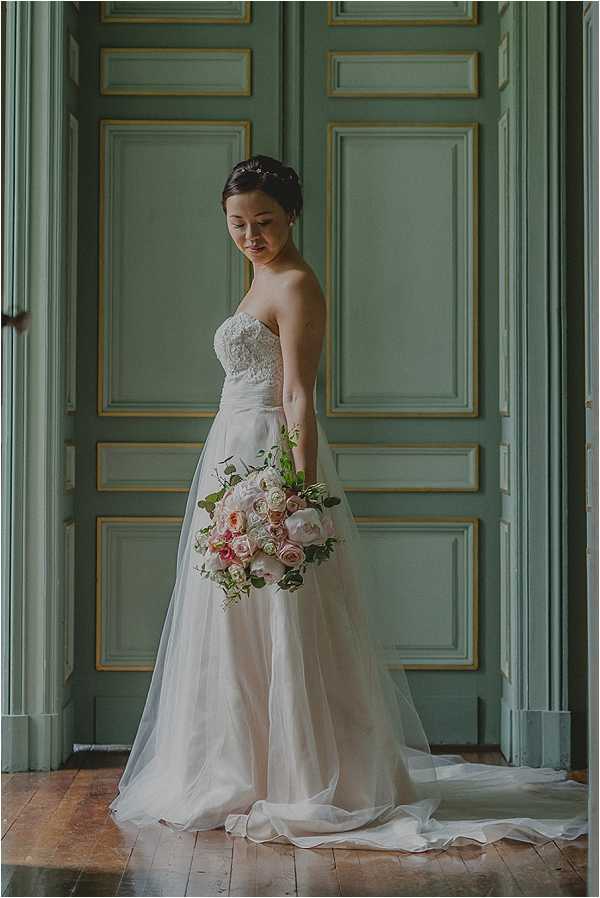 Image: Claire Morris Photography
After spending months planning the bridal bouquet of your dreams , your bouquet is finally delivered and you don't know how to carry it . It always advisable to spend 5 or 10 minutes before leaving for the ceremony practicing with your bouquet , ask advice from your maids and look in the mirror. Try not to hold it too high and most of all ……enjoy it!
Wishing you all the best for a fabulous wedding in France!
Top Image: Claire Penn Photography
Save
Save