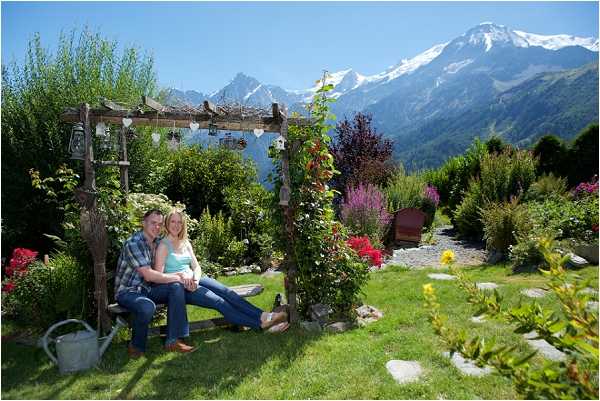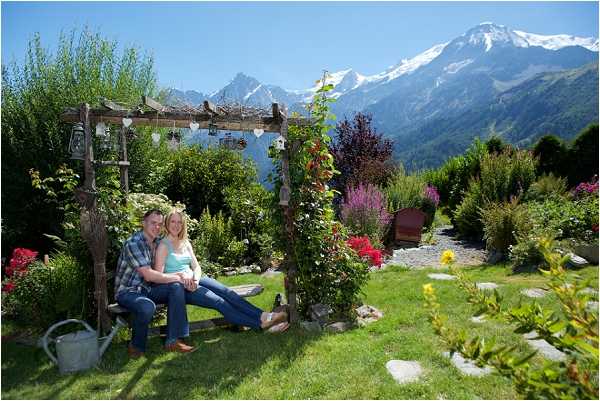 We have a real treat for you today as Belle Bride Hollie C returns to the blog, celebrating her 1st year of marriage!  We do love to catch up with our Belle Brides, after all the wedding is just the first part into the wonderful world of marriage.
So let's welcome Mrs Costigan aka Hollie C back to the blog!
Hollie: "As I sit and write this, Mat and I are enjoying an evening just the two of us in our garden. The sky is still a gorgeous shade of blue, the BBQ is lit with yummy burgers on the go, there's even a few birds still singing, and life is good.
But before you start to worry that I'm painting a picture of an unrealistic dream of wedded bliss, I must stress that not all of our evenings are like this and in fact in the last year – since we stood in that beautiful chapel in Chamonix and said "I do" – these evenings have honestly been few and far between.
Married life is fabulous, we really are genuinely happy but it doesn't come without its challenges and if there's one thing we've both learnt in our first year as Mr and Mrs, that there's nothing more important than making time for each other.
So what have we been up to for the last 12 months?
Well, after the wedding we spent a glorious week in Chamonix. We had a post-wedding photo shoot with the fabulous Adam Johnston  and then spent the rest of the week doing plenty of hiking, exploring and of course relaxing.
Then at Christmas we went on honeymoon to New Zealand – which for Brides to be out there, if you've not been and are looking to make your honeymoon a "biggie" I would highly recommend New Zealand.
We flew out on Christmas Day – which was a novelty in itself and had the most wonderful three weeks travelling around both islands, catching up with friends we have over there and generally exploring as much as we could.
Starting in Auckland we then worked our way south via Rotorua for New Years Eve. Then to Wellington and across to the South Island.
There we headed straight to Kaikoura, which was definitely a highlight of the trip for me, knowing as you do my love of mountains, Kaikoura is known for being right on the beach with a stunning mountain backdrop – truly the best of both!
From there we worked our way down to Mount Cook and then onto Queenstown, which reminded us a lot of Chamonix – such a cool laid back vibe. From Queenstown we went on a fabulous overnight cruise of Doubtful Sound – again another highlight. Before we headed back to Christchurch via Wanaka and Arthurs Pass to fly home.
And I have to say that I don't think it was until we got back from NZ that my post-wedding blues really kicked in – so if you are planning a delayed honey moon – watch out for that one!
So then it was back to "real life."
The first few months of the year were crazy busy for both of us work-wise which unfortunately meant a lot of long-hours and late nights, that has subsequently been followed by a hectic social schedule during the summer so far.
As a result of that, finding good time to spend together just the two of us has actually been quite a challenge and at times has been difficult to accept and manage.
Earlier this year, we were sat up late one night looking at plans for the coming weeks and it suddenly occurred to us, as we looked through our calendars, that the next six or so weekends were already full with plans. We couldn't believe it but yet it was so easily done.
It was at that point that we decided to save the next free weekend we both had and "book" it in for just the two of us. So that's what we did.
We both booked the Monday off work and made the weekend just about us. We made no specific plans other than that one evening we were going to have a night out. Get dressed up, go out for dinner and drinks and not have to worry about setting an alarm for the next day.
It wasn't until that lovely weekend came along that we both realised just how busy we'd been, what little time we'd had together and most importantly we didn't want it to go that long again.
Of course not every weekend can be a long one, and not every 'date night' has to involve dressing up for cocktails, but what our first year as a married couple has taught us is that it's important to find time in our schedules for each other and to find that time regularly – even if it's a random Tuesday night where we curl up after work and watch a good film together.
Take tonight for example, we've had a pretty hectic day but the sun is shining so we're having an impromptu BBQ, nothing fancy, just me and Mat enjoying each others company.
Married life really is wonderful, but you have to make it wonderful, and more often than not, it's as simple as just finding a little time and enjoying the moment."
Thank you so much to Hollie for coming back to the blog.
Top Image by Adam Johnston
Save
Save
Save
Save