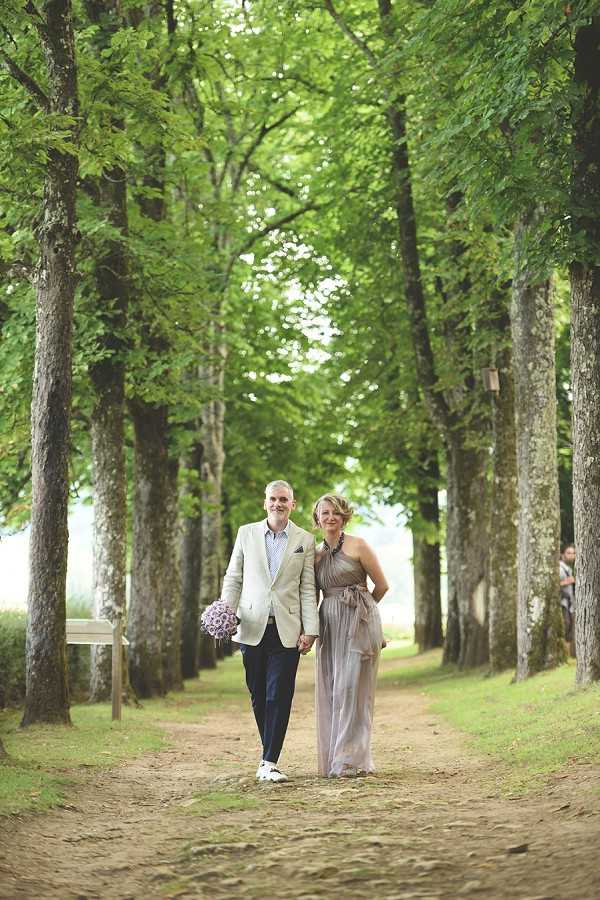 Hello folks, and welcome to another wonderful wedding here at French Wedding Style! Today we have the pleasure of sharing with you this heartfelt Dordogne destination real wedding.
Our gorgeous couple Louise and Matt firstly opted to elope but their intimate affair turned out to be an intimate wedding with their closest family and friends instead and it couldn't have been more magical for our sweet pair who came all the way from Australia to say "I Do".
Louise opted for something a little different for her wedding dress with a gorgeous mauve number designed and made by Australian designer Venita Drennen Designs which was perfectly complimented by a bouquet of soft lilac roses.
We do love an outdoor ceremony here at FWS and when it has been personalised for the couple we can't think of anything more romantic and memorable for your big day. Have you thought about having your ceremony personalised to you both? Perhaps you haven't even ticked a celebrant off your list yet, if not be sure to check out our directory for some wonderful recommendations.
We will now pass you over to FWS vendor and talented photographer Awardweddings who will be walking you through todays Dordogne destination real wedding…
"Louise & Matthew celebrated their union in a beautiful and meaningful celebration in Dordogne, South West France. It was Louise's second wedding and it started with the idea that they would quietly elope. They soon discovered that a lot of their friends and family wanted an excuse to travel to France and had thirty guests coming from France, the UK and Australia. The bridal party was composed of Louise's daughter, one of their closest friends and Matthew's father."
"Louise's dress was designed and made by Australian designer and tailor Venita Drennen Designs. Matthew's jacket was by Calibre, Shirt by Melbourne company James Harper, and shoes by Gucci."
"Matthew and Louise had fallen in love with the beautiful village of Limeuil two years before, when travelling through the region. Planning a wedding from Australia was a challenge and they were helped by having some French friends to help with communication and culture."
"The couple's maid of honor Juliette did a stunning job with the flowers and sourced the flowers including some gorgeous silver roses from L'Atelier Floral."
"Held in the historic and panoramic gardens of Limeuil, the ceremony was so special. It was performed by a couple of friends who have been an inspiration for the couple, and represents how beautiful a good marriage continues to be some thirty years after meeting. Matthew and Louise tidied up the legal paperwork just before leaving Australia and this meant their French ceremony was completely personalised for them and their guests."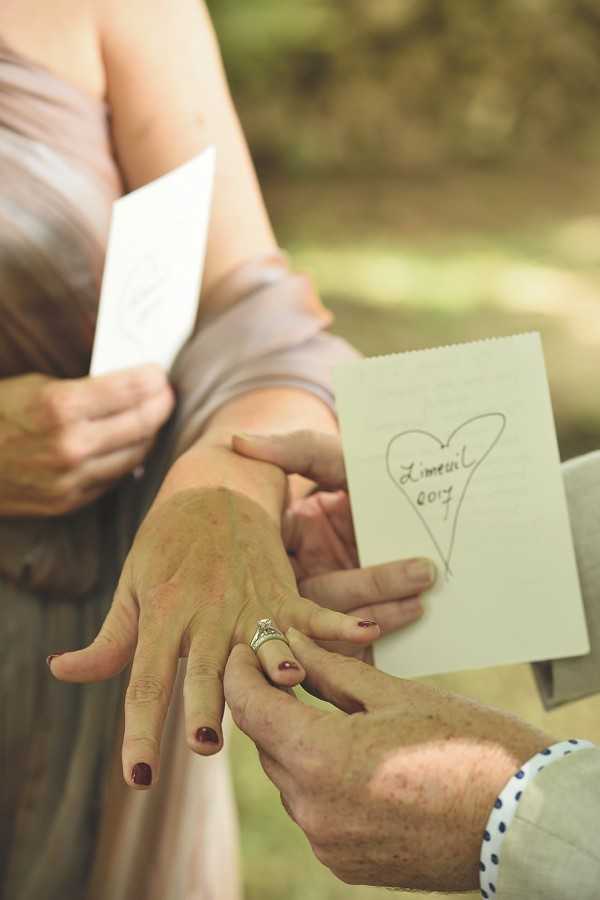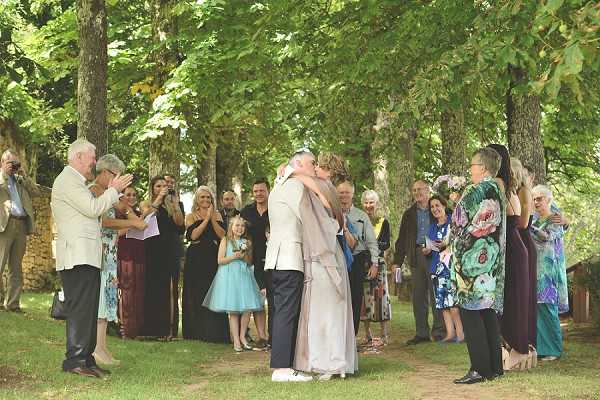 "They had their wedding meal at Au Bon Accueil, which is where they had stayed during their previous travels. The owners were so easy to work with and helped them plan a traditional French menu and transformed the restaurant into a wedding reception."
"Gypsy Jazz Trio a local band, played some great music at the restaurant. It was sourced with the help of Scarlett Entertainment."
"The day was beautifully captured by Mark Ward from Awardweddings, who the bride had the following to say about… It's pretty hard to choose a photographer when the groom is a photographer! But we could not be happier with Mark Ward. He was so easy to work with. Talented and easy-going but his attention to detail was fantastic. He has captured the spirit of our wedding perfectly. It was elegant and relaxed and very French."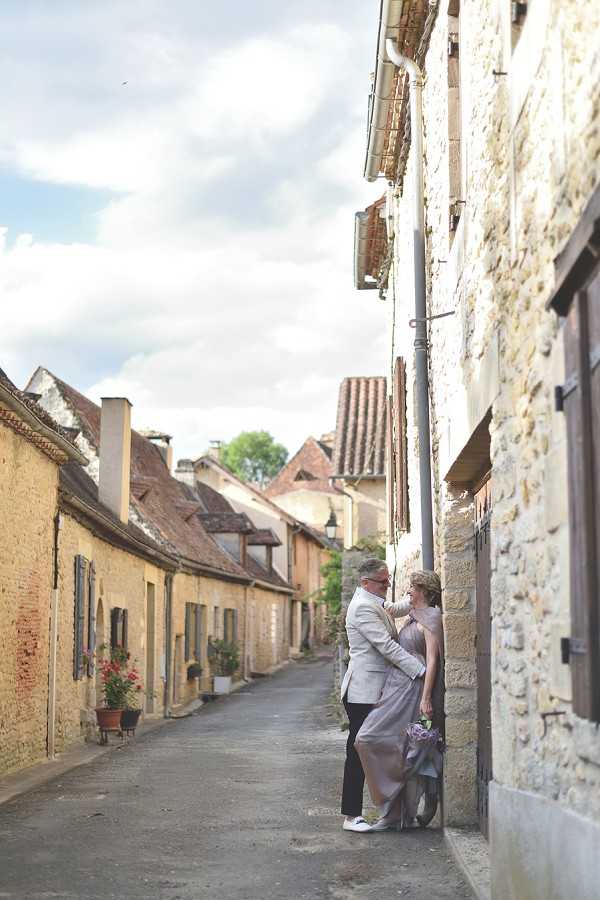 Congratulations Louise and Matt from everyone here at French Wedding Style!
For even more rustic French wedding inspiration check out this rustic French wedding inspired by warm autumn hues.
Heartfelt Dordogne Destination Real Wedding Snapshot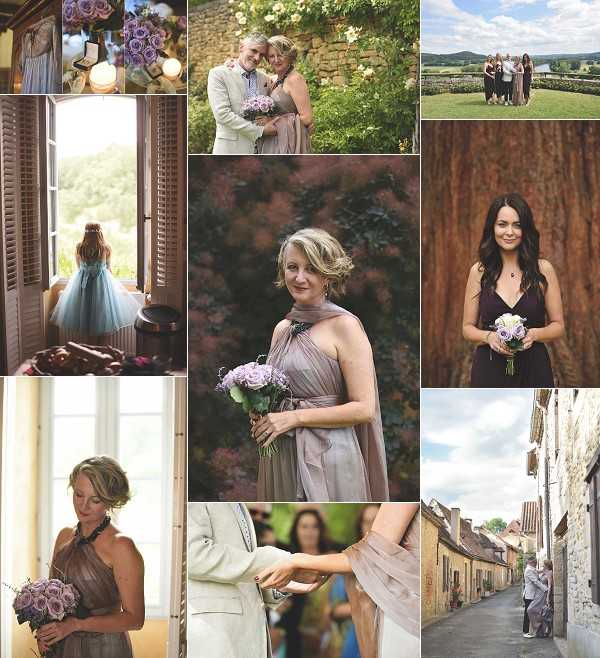 Wedding Vendors
Photographer: Mark Ward – Awardweddings | Ceremony Venue: Les Jardins Panoramiques de Limeuil | Reception venue: Au Bon Accueil | Dress: Venita Drennen Designs | Grooms Jacket: Calibre | Grooms Shirt: James Harper | Grooms Shoes: Gucci | Flowers: Juliette with flowers purchased from L'Atelier Floral | Music: Gypsy Jazz Trio for Scarlett Entertainment