So I am a little early to shout Have a Shabby Christmas, but if you are planning to have a shabby chic Christmas then the more preparation time the better!
I maybe in my thirties and married, but I/we have never actually done a full on family Christmas Day at our house before and this year it is happening.  To say that I am a little manic, have lists coming out of my ears and have still not settled on what to actually cook, would be an understatement.  You see whenever I do dinner parties or organise celebrations they are always a full on performance, with co-ordinated style, activities for adults and children, goodie bags etc and so the expectations on Christmas Day are some what set high.
Shall I also let you in on a little secret – I never actually cook any of the food, hubby does.  Don't get me wrong, I plan the menu in line with everything else and do the prep, but I have never been able to master timings and you would be half way through Turkey before the potatoes would be ready.
In the run up to Christmas Day I will be sharing my first full on shabby Christmas planning, with hints that you can translate to planning your wedding day, but for all those seasoned Christmas Day veterans please feel free to lend me your wisdom.  But in the meantime no run up to Christmas would be complete with a look at some of my favourite shabby chic Christmas decorations and of course shabby chic gifts, any family members ready be sure to take note 😉
Available at Through the Cottage Door
There are so many simply gorgeous decorations available, but I think that good old fashioned paperchains have a sense of the nostalgic about them.
Daisy Park
When time is tight shopping around for Christmas decorations can become a chore but Through the Cottage Door has a range of decorations and Christmas accessories for every budget.  You may recognise Through the Cottage Door for Liz's piece she did on decorating a shabby chic wedding on a budget.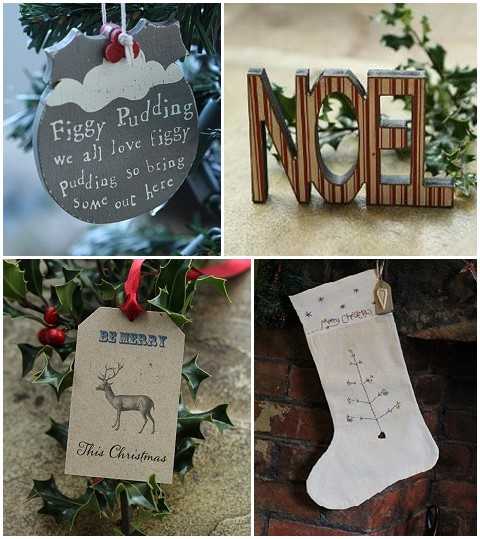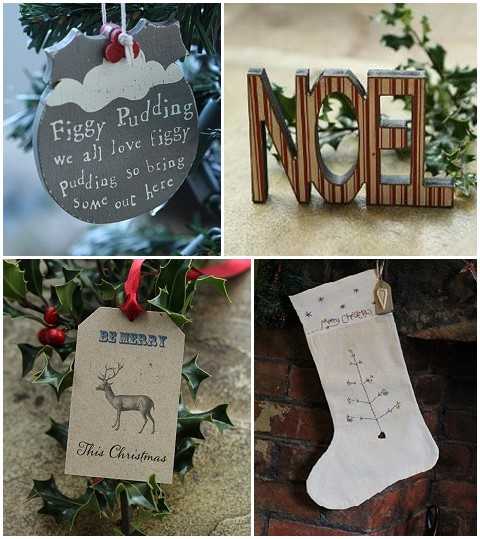 All from Through the Cottage Door
Remember not all presents actually have to be given on Christmas Day and there are some festive decorations and accessories that can double up as gifts.
Then come the potential gift ideas….
You can't beat a Love sign, but these antiqued printers Love blocks are just charming.
Le Trousseau
I can spend hours looking around the BHLDN site, but here are some of my favourite finds for the festive season.  The ultra chic black Roman Night gloves with the cute bow are a complete fabulous gift and the Frosted Dot Coupes are just retro delight!
If you are looking for some home inspired shabby chic gifts the Butlers Tray from Velvet Stores is a perfect addition for any room and the Chalk Board is just a must for any busy kitchen.
And last but not least, whether you have a large country garden or a window sill in your Paris apartment, this personalised herb garden crate is an ultra useful shabby chic present.
Through the Cottage Door
Have fun Shabby Christmas shopping!
Monique xx