Planning a Destination Wedding France?
If you are planning your wedding in France and only read one thing on the Internet this week, it has to be our Guide to Getting Married in France!  Our Guide has been put together by our resident wedding planning expert Fabienne Slater owner of Elian Concept Weddings and Events and member of UK Alliance of Wedding Planners.
First of all, Congratulations on your engagement!  This is a very exciting time. At this point you may or may not know where you would like to get married, but if you have France in the back of your minds, then this is even more exciting. Though it might also be overwhelming. Where do you start?
Initially, don't rush it. Celebrate your newly engaged time. There is no point going into a frenzy planning activity just now, unless for a special reason your wedding date is set in the near future.
Photo credit: Lauren Davidson source: Wedding Party
When you start thinking about your wedding in France, you will find that you are more inclined to contemplate the fancy details (flowers, colours, dress etc.), than logistics and planning, nevertheless you will need to focus primarily on the organisational aspects to make it happen.
The good news is that the planning schedule is similar to planning a wedding in your own country, though a few things should be considered as early as possible. This is essential but it does not need to be complicated and rather than giving yet another detailed timeline (wedding magazines, including online version and books have their version), I would like to focus on what is important to consider and more specific to a destination wedding in France.
Photo source: One Fab Day
When you are ready to start planning
Try to get an idea of which area in France you would like your celebration. It is a big country and you will be spoiled for choice of places, therefore it is recommended to narrow down to at least the region. You may have some special reasons to choose one over the others (where you spent your first holiday together, where you got engaged, the location of a family or friend house, etc) or it may just be your dream. Whatever the reason, this will definitively help to make your venue search easier.

Photo source: Fab


Have an idea of your preferred date (s) or month at least. Again this will help with the venue search. Though keep your mind open and prepare to be flexible if at all possible.
Set a budget. This, in my opinion, should be anticipated as early as possible as a number of key elements of the wedding depend on it, especially for a destination wedding. Don't underestimate the costs because it's abroad. It's not necessary going to be cheaper than in the UK.
Work on a rough idea of the number of guests. Unless you go for an intimate event, this has the biggest impact on costs, and the choice of venues.
Photo credit: Leila Brewster Photography Source: Style me Pretty
Finally, discuss your top priorities together and what is the most important thing for your wedding day. Write them down and remember these priorities whenever you are making decisions on your wedding, keeping in mind what's important for you both in particular if you have to compromise due to budget constraints.
18+ months before your wedding day
Look for venues in your selected location. Some areas, such as Paris, Provence or the French Riviera are very sought after, in particular with French couples, so the earlier you start searching the better. Even for less popular areas, it's best to start as soon as you have made your decisions as there may be fewer choices of venues. It's also worth noting that in less touristic areas, some venues will be closed in the winter months, thus not available for visiting during that period.
Photo: Smallpigart Photography Source: Style me Pretty
Establish a shortlist of Wedding Suppliers
Take time to do your research, don't get carried away with fancy descriptions on websites and gather as much information as you can to establish a shortlist, always keeping in mind your wedding priorities and your budget. If you feel this is a daunting task, now is a good time to seek the help of a wedding planner, preferably bilingual (if you don't speak French) so they can deal with non-English speaking vendors, which will give you more choice as well as clearly understand your requirements.
Photo by Fanni Williams – Source: Bridal Musings
Decide if you intend to stay at the venue or in the area a few days or more before your wedding day.
Decide if you want to have a pre-wedding day event (rehearsal diner or BBQ) and/or a brunch/bbq the next day extending your wedding celebrations to two days or more.
Wedding Venue vetting
Once you have decided on your favourite venues, it is recommend that you visit the places, especially if you are not working with a wedding planner. And whilst on site get plenty of information, take pictures, observe the staff behavior and note how you are dealt with, make sure you see every space you will be hiring/using, and you understand all the costs involved. Don't forget to investigate access and accommodation availability for your guests.
You may skip this step if you have a wedding planner or are confident about the information you have compiled and save a trip to visit only your chosen venue at a later stage and meet with key suppliers at the same time, i.e. caterers.
When to send your Save-The-Date
One you have chosen your venue and set the date, inform your guests promptly, so they can start planning their time-off and traveling arrangements.
Source Save the date
The legalities of getting married in France
Unless one of you is resident in France or you have family connections in the country, it will be difficult to officially get married there. You need a 40 continuous day residency. If it is the case, approach your embassy to check the requirements. If not, you will probably get married in your own country and hold a symbolic ceremony at your French venue. So in the excitement of your French wedding preparation, don't forget to do the necessary paperwork at home
Inspiration for your wedding day
During all that time you can do your research for suppliers, gather flowers, decoration and entertainment ideas and visit wedding fairs (find advice here to make the most of them). Whether it is in an actual folder or online, try to keep it all in one place. For many reasons, my favourite place is Pinterest. I tried plenty of others, but I find it the most user friendly as long as you organize your boards. Even if it's very tempting avoid making impulse decisions at this stage. Take your time to think things through.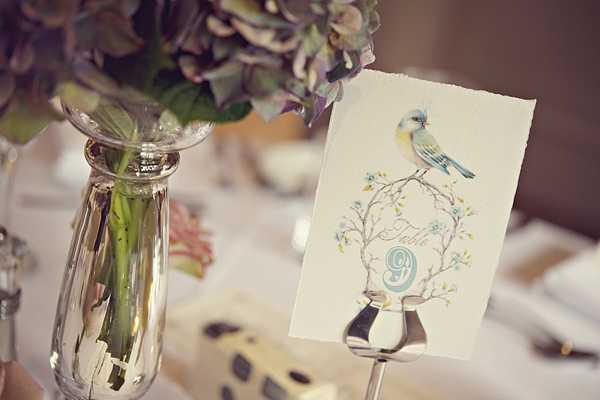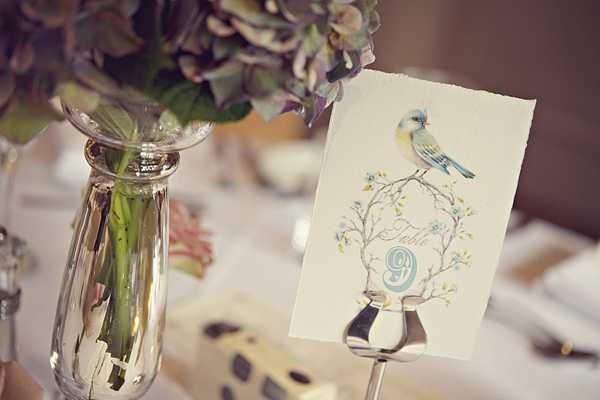 Photographer – Karen McGowran Source: Love my dress
9 months + before your Wedding Day
Select your caterer
Ideally you would want to do a food tasting before deciding which one to hire for your wedding reception. . It may involve a charge (refunded for the caterer you will choose)
Some may not offer this facility until you have hired them and it will be for choosing your wedding menu. Also good to know is that some catering companies don't do tasting during the wedding season, so it's best not to leave it too late.
Photo credit: Anneli Marinovich
Take this opportunity to have a wine tasting, if you want to make your own choice different from the caterer wine menu. It may be possible to bring your own drinks but check with the caterer or venue.
Source: Saveurs Magazine
As for the venue, ask plenty of questions, check their requirements if you have an outdoor reception and a marquee wedding. Be aware of timing, French wedding reception usually starts after 8pm. You may need to stand your ground if you want a 6 o'clock diner.
Though a late serving time might be best for a summer wedding in the more Southern regions due to high daytime temperatures. Check what will be provided (tables, chairs, tableware). Generally, the table setting of the day will be displayed at the menu tasting. Some companies may have more than one option. It is worth knowing this in advance though, as you may want something different that they cannot provide, you will have to source it from a different supplier.
Note that outside the main cities, range and availability will be limited and in the more remote parts of France, you may need to consider the extra costs of bringing furniture and tableware from further afield.
Reserve suppliers that you know are in high demand – If you want a particular photographer, DJ or band and especially if they have to travel from another country to come to your wedding.
6 months + before your Wedding Day

Select the other suppliers:

Celebrant/officiant -the ceremony is a key part of your wedding and it's important that your celebrant gets to know you, if you can't meet in person before the wedding, arrange a Skype meeting.
Florist: Discuss your requirements at the early stage: Preferred colours, style, bouquet, and your theme if you have one. To quote they also need to know the size of the wedding party, the number of chairs (ceremony) and tables (reception). Check what is included (containers, delivery, set up and return) and timings. Do you need the flowers/decors to stay for the next day (brunch/BBQ)?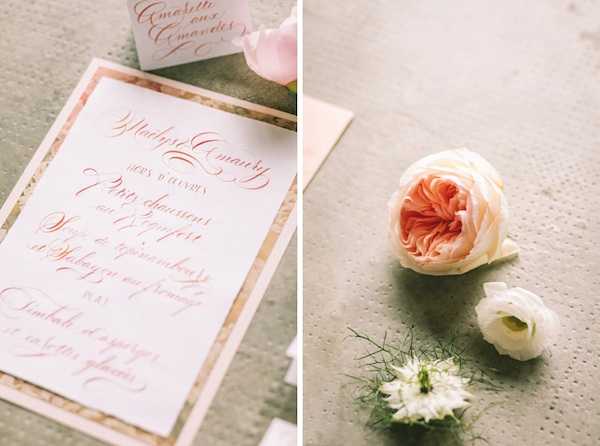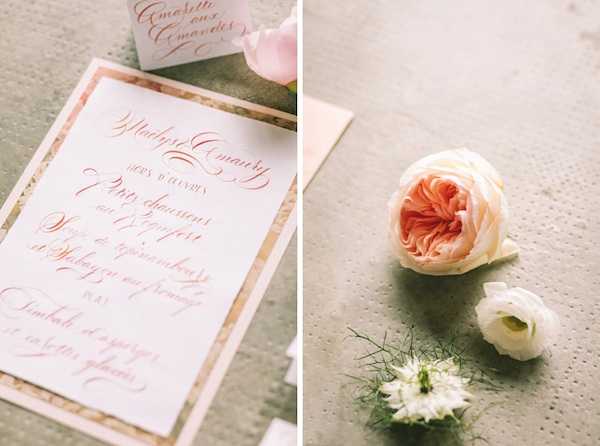 Photo credit: Studio A&Q
Hairdresser and MUA: Ask your venue if they can recommend somebody, especially if you prefer an English-speaking stylist. If you come to the area for your menu tasting, arrange your hair and made up trial as well. If you tend to stress about your looks, it will put your mind at rest.
What Music to play at your wedding
It will be for the ceremony, for the cocktail reception and/or for the evening. It helps to have an idea of the timings and the style of music you would like for each of these events. If you can't meet them before the wedding, ask for videos to see them in action, and for their repertoire. Check that the DJ has a good range of international titles. Discuss the play list and state decisively the titles you absolutely want and the ones you do not want.
For all vendors, ideally ask for a contract/T&C, if not get at least a written confirmation of what you have agreed (fees, what is included in the service, timings) and get contact details for the day. Keep it safely.
Photographer: Sarah Goodwin – Source: 100 layer cake
Provide your guests with a list of local accommodation (hotels, B&B, gites) or refer them to the local Tourism Office. It is important to do this early if you are getting married during the holiday season in a touristic area. The best places will be booked well in advance. Worth remembering when deciding on your wedding date, that during the peak season (usually July & August, sometimes from mid-June to mid-September) most places will require a week stay.
4 months + before your Wedding

Confirm all booking – especially if you have booked some suppliers quite early in the process.

Arrange transportation if this is applicable. Contact local taxi companies (your venue should be able to provide a list). To give you a quote they will want to know roughly the number of guests, the locations and the timings.
Cake: Most caterers will provide the wedding cake and if you want a Croquembouche (the typical French wedding cake), it's a straightforward option. If you prefer a more traditional wedding cake, note that outside the main cities, it may be difficult to source a cake designer.
Photo credit: Studio A&Q – Source: Style me Pretty
3 months+ before your Wedding

Send your invitations. Include all practical information for the guests- it may be handy to set up a website for all practicalities as it is more versatile and allows for last minute additions and changes. Just remember to keep it updated!
Photo Stefano Moro Van Wyk for Vogue
Schedule your last dress fitting to ensure your dress is ready in plenty of time before you leave.
2 weeks before your Wedding

Confirm catering counts – Check catering terms and conditions for last minute changes. Typically they close the count 2-3 days in advance.
Finalise your seating plans.
Confirm transportation details to taxi/transport companies.
Make final check on everything. Write down your wedding itinerary and share with the wedding party. Touch base with suppliers for final timing and details.
source: Etsy
Final payments: Make sure you have made the final payments. For suppliers that require final payment on the day, prepare the sums (cash or cheque) and delegate the handing out to the vendor(s) to a trusted member of your wedding party. The suppliers that require final payments after the event (usually the caterer and the hiring company) will send their invoice; make a note to pay them as soon as possible. It's not pleasant to be chased up while you are enjoying your newly wedded life.
1 week+ before your Wedding

If you arrive in advance of your wedding day, and if you have not had it before, it's time for your hair and make up trial.
You can meet your suppliers to review final details if you have not had a chance before.
Take some time to relax and enjoy the place you are staying at.
The day before the Wedding

Rehearse, delegate and relax
On your wedding day
Let it go and enjoy your day to the full.
Photo credit: Xavier Navarro
This timeline is merely a guide and not intended as a "must do". You can start planning your wedding less than a year in advance. You will have less time between tasks, but this may help with making quick decisions and not changing your mind too often. Deadlines and times may also vary with suppliers.
Quick Guide
More important in my opinion is to start the process with the following steps:
First: Decide the location, estimate the number of guests and the budget before looking for the venue (these are big time saver),
Second: Search your venue and if time allows, visit your favourite ones
Third: Source and book your caterer
Then, look for the other suppliers: celebrant, photographer, florist/decorations, musicians/DJ, hairdresser/MUA etc.
And remember that at any stage of planning your wedding in France, you can decide to get help from a Wedding Planner if the organisation is getting the better of you, we will step in, to take away your stress and ensure full completion of your day in time.
Fabienne is owner of Elian Concept Weddings and Events, who is a bi-lingual wedding planner who is available for weddings throughout France.  For more information visit: www.elianconceptweddings.com
Save
Save