It's Friyay and time for us to help ease you into the weekend with the help of another one of our destination wedding guides, this time we're giving you a peek into what your destination wedding in Poitou-Charentes could be like.
For any of our readers who haven't heard of the Poitou-Charentes region, it is situated in south-western France and has one of the mildest climates in France with the coastal area being the sunniest part of France outside the Mediterranean coast. The regional capital is Poitiers which has a small airport with good links to the UK along with the city of La Rochelle making this region of France easily accessible.
With a favorable climate, good access links by road (4 hours from St Malo ferry terminal) and air, wonderful countryside and some beautiful historic cities, the Poitou-Charentes region of France is definitely a region to consider for your destination wedding in France!
So with that said let's dive in and start our guide with a French countryside weekend wedding…
If you're considering a French countryside weekend wedding in the Poitou-Charentes region of western France then this wedding is a must see. Held at Saint Victor La Grand' Maison with some sweet welcome gift ideas for your guests and an intimate wedding breakfast, this countryside weekend wedding is just the inspiration you need.
Top Tip: If you do visit the Poitou-Charentes region you mustn't leave before you and your guests have visited the world famous Puy Du Fou! Puy du Fou is a historical theme park which is the second most popular theme park in France after Disneyland Paris. It's like nothing you've ever seen before and its perfect for the whole family.
To make sure you don't miss a moment why not check out our directory of Poitou-Charentes wedding videographers who will preserve your memories for a lifetime!
Time now for a gorgeous relaxed chateau wedding…
This sweet relaxed Chateau De Clerbise wedding contains gorgeous lilac blooms, personalised ceremony programs and pretty details all wrapped together in a beautiful chateau, in a stunning location.
Our bride and groom Caitlin and Nick wanted a relaxed day with excellent food and wine, good music and plenty of fun and it certainly looks like they got everything they wanted from their special day. The addition of hessian, lace and chalkboard touches added to their relaxed feel.
If music and entertainment is as important to you as it was to Caitlin and Nick then stop by our list of Poitou-Charentes entertainment vendors where you will find varied vendors who will be more than happy to assist you with you big day.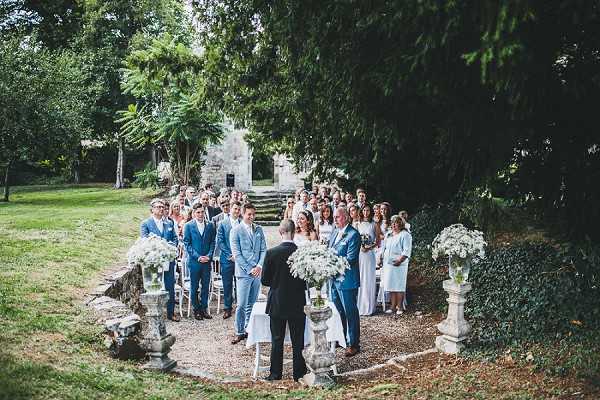 We're now heading close to Cognac for a rustic countryside wedding…
Elizabeth and Ben wanted a totally chilled, relaxed and rustic wedding in the French countryside and that's exactly what they achieved at their beautiful venue Logis Du Paradis near Cognac.
As our couple had a more relaxed, rustic vision they decided to come away from the usual fabulous and grand Chateaux and instead found the wonderful Logis Du Paradis that offered them the space for their 100+ guests as well as providing self-catering and B&B accommodation with a pool. Their wedding really was a lovely example of how to produce a DIY wedding in France.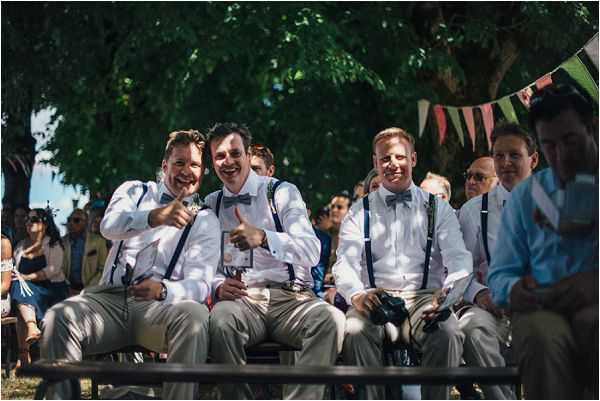 We're now going to whisk you off to the Dordogne/Charente border for a romantic wedding at Château Charmant…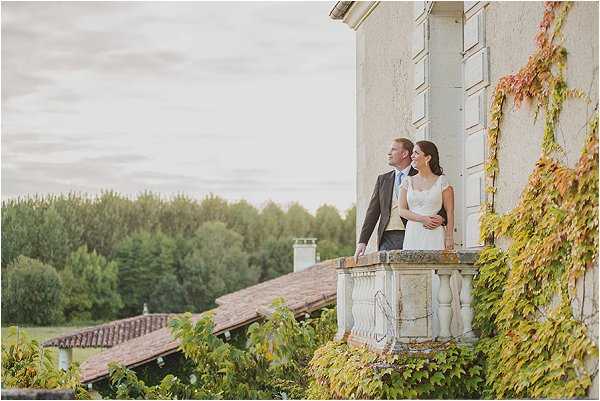 Lucinda & Zach's romantic wedding at Château Charmant started with a cloudy sky and a steady drizzle which soon turned into parting clouds, perfect September temperatures and the most romantic of pastel sunsets.
Every aspect of their wedding looks to have been perfectly planned from a relaxed morning of games of French pétanque for Zach and his groomsmen to smiles and laughs as champagne flowed in a tower bedroom splashed with pastel bouquets and opal blue dresses for Lucinda and her girls. We are sure you will agree from the photos that having great suppliers on board can make all the difference and without a doubt take a large amount of pressure away from yourselves. If you want to involve the skills and expertise of some fabulous wedding suppliers for your destination wedding in France then why not stop by our directory here.
Sticking to the Dordogne/Charente border we're heading to the pretty village of Marthon to celebrate with a couple all the way from Australia…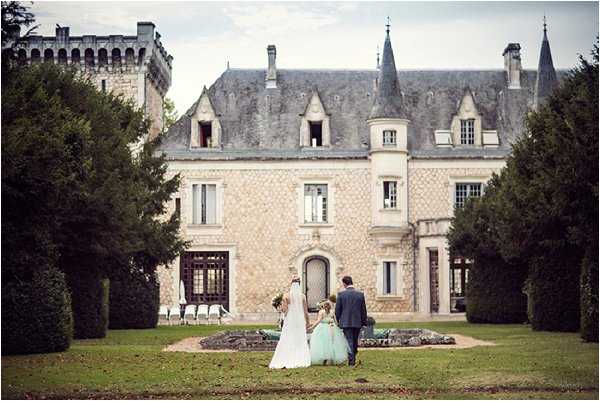 This intimate Chateau de la Couronne wedding of Jess and Kenneth from Australia is a lesson in how not to get stressed with wedding planning, taking it in their stride as they planned their big day from Australia, with all arrangements complete 3 months before the big day, due to traveling for 3 months before their wedding day in France!
Jess' final piece of advice to couples looking to get married overseas is to not get too stressed over the little details, at the end of the day getting married overseas is special enough in itself and if you focus on a few key elements that are special to you it's bound to be a unique and magical wedding. We couldn't agree more, focusing on what's truly important to you both and making sure those things are crossed off makes for a much more relaxed planning process! If photography is one of those important factors for you feel free to check out our comprihensive list of Poitou-Charentes wedding photographers and get one more must have crossed off your list.
Our final stop is this sweet rustic countryside wedding near La Rochelle that is full of swoon worthy details!…
We recently wrote about the beautiful city of La Rochelle as part of our wanderlust series here at FWS. La Rochelle is situated on the southwest coast of France in the Poitou Charentes region which falls into the famous micro-climate, which is said to boast similar weather to that of the Côte d'Azur!
We love everything about this pretty rustic countryside wedding near La Rochelle, you can feel the love that has gone into every detail and what a stunning wedding venue which no doubt will inspire you to want to create your very own destination wedding. To give you a helping hand with all the details, get stuck into our Poitou Charentes directory where you'll find a wonderful florist and hair and make-up artists to help bring your thoughts to reality.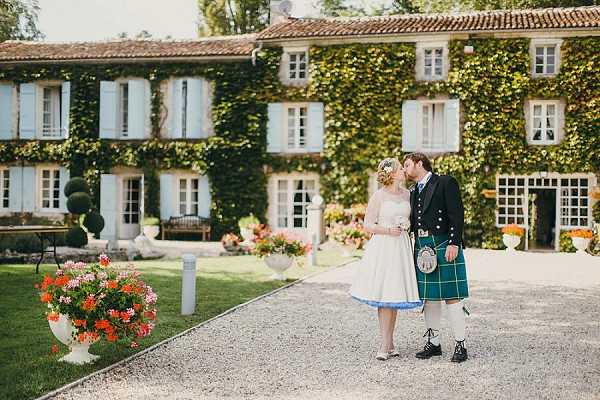 We hope you have enjoyed our guide to your destination wedding in Poitou-Charentes. Don't forget that if you need any help in planning your destination wedding then we have a comprehensive list of Poitou-Charentes wedding vendors that can help make your planning stages a whole lot easier and we look forward to featuring your destination wedding on the blog in the near future!