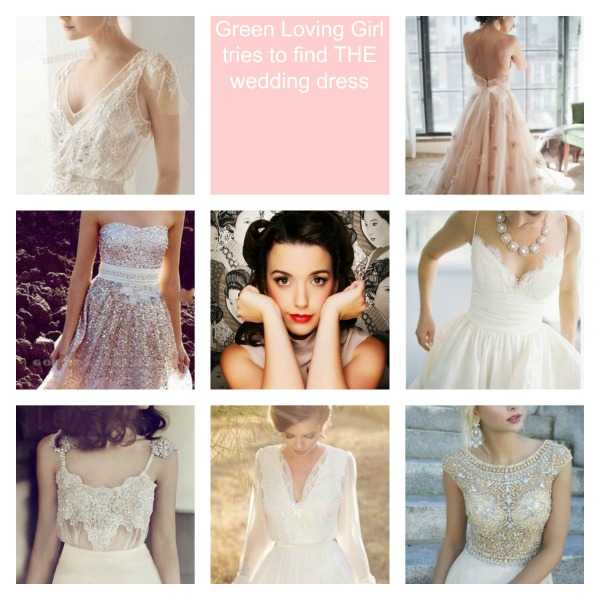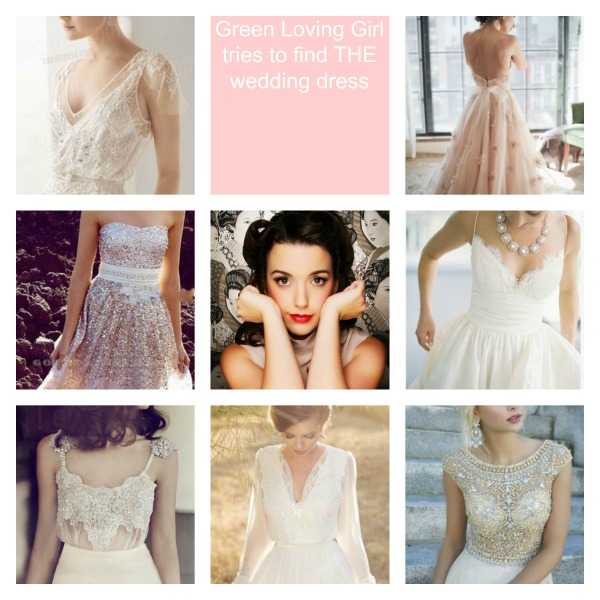 Our real bride Fiona, today tackles the tricky moments of finding THE wedding dress.  From browsing the wonders of Pinterest for inspiration, to wedding fairs, wedding magazines and of course wedding blogs, there is so many addresses available in today's marketplace, that it can be a difficult decision to narrow down.
For many it is the only time that you are going to purchase a dress of that value and for such a big occasion, it can be an overwhelming decision making process.  I have spoke many times about my love/ hate relationship with my own wedding dress, partially due to a time 7 years ago when the bridal dress industry was very different.
However if you are in the process of trying to find your wedding dress, then today's post by Green Loving Girl is a must!
Fiona:
"Bonjour, bonjour!
I hope you are all well and have enjoyed a fun month of wedding planning, and/or a wonderful month full of beautiful things since the last post.
Last month, I was able to go and try and on my dress as the one I bought had arrived in shop, ready to be collected and altered as need be. However my journey into finding a dress has not been an easy one, and I still occasionally worry about it.
It seems that the dress is the most important thing about the wedding, higher than anything else, and so that's why it is ok to spend so much money on one dress, you will wear one day. This is what all the magazines say when you first get engaged and start planning your wedding.
This has always made me wondered… I always knew that I could never let myself spend £1,500 on a dress (let alone more!), which would then go in a box to never be seen/worn again. I still consider myself to be a romantic and I agree that it is important to feel amazing on your wedding day. But I was also brought up very conscious of all the hard work my family has gone through in order to be in the rather privileged situation they are now, and so I feel guilty when spending more money than I feel should be spent on things.
I have to admit as well, I have never been one of those girls who dreams about her wedding dress since they were a little girl. I always knew I would have children, but I was never sure whether marriage would be for me. But then I was about ten and at the time, spending your lifetime with the same person seemed like an awfully long time!
Obviously that aspect of me has changed and I cannot wait to get married to my lovely husband-to-be (but funnily enough we did end up having children first!).
I consider myself a fairly girly girl. Not over the top or anything, but I do like sparkly jewellery, wearing heels when I go out and make-up that makes my eyes look like Bambi's! That said, as soon as I get home I get into my PJ's, I am quite happy going out with no make-up, and love going out wearing wellies and raincoats to jump in puddles with the kids. Therefore it can be difficult to narrow down my "style", let alone the best style of wedding dress for me…
Soon after Barry and I became engaged, my sister suggested we go try on some wedding dresses in Bath, and this made me feel extremely nervous. And then this made me feel silly. I had dreamed of Barry proposing to me for the last four years or so, but now it felt weird going to try on some dresses? It was mainly when Barry reminded me that of course I was allowed, since the point of being engaged was to plan a wedding, and therefore find a dress… And so off we went!
My main criteria were:
(1) I want to look magnificent on the day (I just love this word!),
(2) I do not want to look like a little girl dressing up, and
(3) I needed to be able to kick off my shoes and run after the kids throughout the day…
(4) And obviously it would need to be suited for a wedding in the South of France, in August!
Helpful, non?
If you look at my Pinterest board , you will see that I love a whole range of dresses! I looked at green ones, patterned ones, short ones, long ones, ballet inspired ones, ones with sleeves, ones without, backless ones…Dresses made of lace, chiffon, with glitter, with no detail whatsoever… It is clear to say that I had no specific idea on what I wanted!
The first shop we went to was completely overwhelming! The dresses were beautiful, but it felt like the dresses were taking over me, rather than the dresses flattering me and making me stand out… I nevertheless made sure I tried on every (!) style, so that I could hopefully get more of an idea of what I would like, but left the shop more confused than when I arrived.
Our next appointment was with Jessica Charleston . At first I was a little worried as there didn't seem to be many dresses in the shop. But then we got chatting, and Jessica really wanted to get a feel of the wedding and find out more about Barry and me.
She was really easy to talk to, and I started to feel excited about trying on her dresses. I think I tried on three. One of those, was probably the closest to what I had ever imagined myself wearing on my wedding day. It was absolutely beautiful, but didn't feel quite right. Out of the two others, one felt amazing, was lightweight, made of gorgeous silk fabric and made me cry. I loved it. Unfortunately, when it came to the price, it was way above my budget. I emailed Jessica after our appointment and was honest about this, as I did not want to leave on a bad note. She was really lovely and understanding about it.
Advice: do not try on dresses you cannot afford!
I had not set a specific budget, and thought I would simply try on any dress I liked to narrow down my search, but I would recommend doing so within a specific price range according to your budget to avoid heartbreak. This is why as much as I love the Jenny Packam dresses, I did not set to try one on in case the same happened again!
Shortly after, Barry and I attended a wedding fair. It turned out being great having Barry there, as he is very good at sharing his opinions on things, especially when it comes to fashion. There was also a catwalk show with various designs, and I found it really helpful getting an insight on what Barry liked or disliked.
It was actually at this show that I discovered a designerI had not yet heard of, and which I was keen to try on. Back in Bristol, I therefore looked up shops that held this designer and found a local shop that stocked their dresses. In the end, I found three very different dresses that I really liked.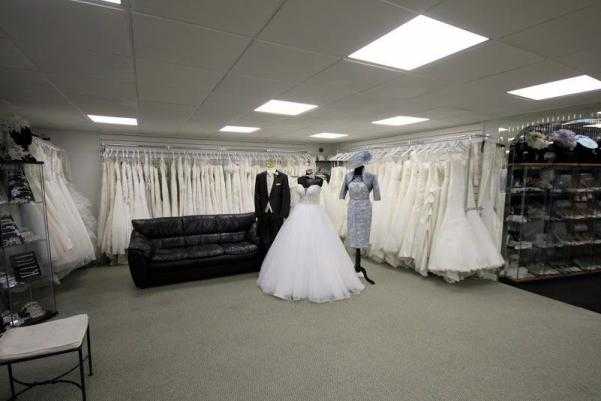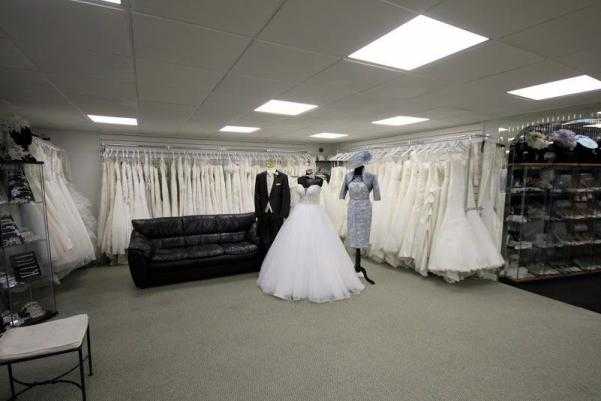 A first! All I will say for now is that my dress was one of them, and also, it only cost me £284! I couldn't believe it, but this made it even better! I am in the process of seeing with Jessica whether she can propose any alterations to make the dress more "me", which I am really excited about!
So I had found my dress, and looked forward to the rest of the wedding planning.
But then came the second issue… Despite having found and bought my dress, I naturally continued to pour over Pinterest… and then doubt started to settle in. Had I bought the right dress? Did it really look that nice on me? Had I made a completely random selection? Had I ruined my wedding day!!
Ok, so a little dramatic… but I was worried. And so when I got to try on my dress in the shop after it had arrived, I was really nervous. It didn't help that at the time I had bought it, I was still in full post-baby weight mode, and so ordered a slightly bigger size. Trying it on several months later, it is now way too big, but at least I don't have the pressure of losing weight to fit into my dress.
Anyway, I was in the changing room, and really worried. But once the lovely shop assistance showed what it should like when altered, some fabulous shoes put on, and accessories to make it all come together and look bridal… well I managed to make my bridesmaid cry, which was the secret test!
Ultimately, I had to really remind myself that I don't look like any (!) of the models in wedding magazines. I am 5ft2, with a rather modest/non-existant bust, a bootilicious backside, and, well, I have had two pretty giant babies so my stomach isn't exactly flat either.
Additionally, I reminded myself of the reasons why I had bought the dress in the first place: the colour looks great on me (especially with a tan which I should hopefully have by then), the fit is a pretty amazing, classic look which is stunning, I can walk in it (not the be underestimated as many dresses I tried on were impossible to walk in!) but most of all, it fits perfectly with the type of wedding day Barry and I are looking for in the South of France.
And when I have it on, I truly feel like myself, just a more grown up, beautiful me. I cannot wait to have the hair and make-up done to go with it (Vicki Farr has offered to help me and I am really excited to see what she comes up with!), and pick the right accessories to go with it (I am ALL about the accessories!), and I know I will feel magnificent, and incredibly happy, on the day.
But most of all, I cannot wait for Barry to see me, and then for us to get married that same day. And ultimately, that is what this is all about, isn't it…
See, I can be a little romantic after all 😉
Fiona"
Don't forget you can follow each of the Belle Brides as they plan their upcoming weddings Hollie C and FIona you can find all the Belle Brides past and present here.