Chic, glam and sophisticated – everything that you want when you elope to Paris and Tiffany and Brian achieved all this and more!  Wanting to avoid the "big Thing" Tiffany and Brian decided on an elopement to Paris but still wanted all the beautiful elements of a wedding.  The couple choose to splurge on certain key ingredients such as a gorgeous hotel, fancy car, Vera Wang gown and a delicious dinner in an exquisite French restaurant.
In order for their family and friends to participate in their wedding day, they wanted beautiful photos for their own wedding day website and chose to use One and Only Paris Photography and Rendez Vous in Paris for their planning needs.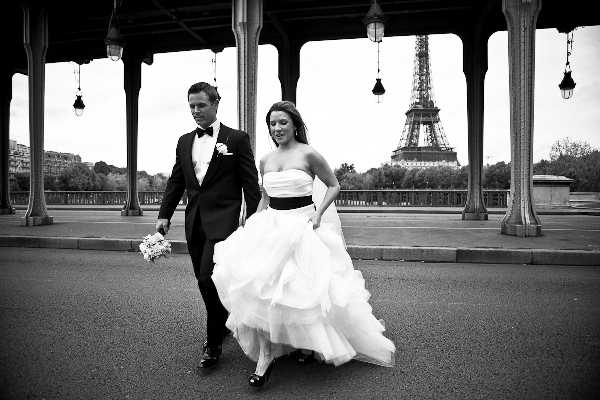 I love the style of the bride and groom, reminds me of 1950's movie star glamour and the shots in black and white are exquisite.  Not to mention the ceremony venue Chapelle Expiatoire which is beautiful full of architectural design and the high domed roof has a real sense of occasion.
If you have eloped, how did family react to the news of your upcoming elopement?
Monique x x
Credits
Photography: One and Only Paris Photography
Planner: Rendez Vous in Paris
Hotel: Four Seasons George V
Ceremony: Chapelle Expiatoire
Gown: Vera Wang
Restaurant: Laperouse