It is the year that our own real bride Cassie gets married! It seems only weeks ago I was introducing Belle Bride Cassie, but with the year of her wedding upon her she has the wedding in her sights and it is time to get wedding ready!
The list of Cassie's  accomplishments in one month is seriously impressive, so lets get up to date with the bride on a mission Cassie!
Cassie: "January feels like the month where it has all started to come together, which is a real relief! I'd been feeling pretty panicked by the whole thing over Christmas, as when I realised I was now in the year of our wedding, I guess I felt the need to get off my bum and get stuff done! So, that's exactly what I did! Here's the lowdown of what has been dealt with this month…
 1. The invites!
Our main invites have now gone out, and have been received by most of our guests, with lots of good reactions! In the end, we went for a map design on one side. We love the feeling of adventure that a map delivers and for us, that's what our wedding is all about. Adventure, spontaneity, taking a risk and having an experience. On the reverse, I made us a fun vintage style French movie poster, which I edited to have us both as the stars. It's fun, quirky and I think reflects us perfectly. I hope it will make our guests laugh.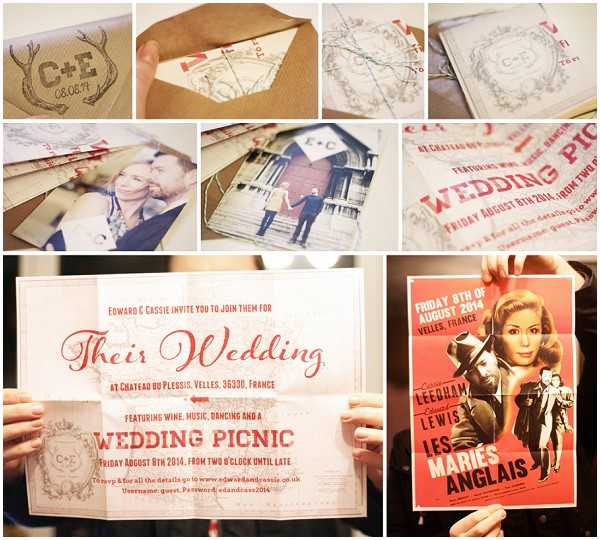 I also designed a stamp and had it made up by The English Stamp Company and we used it to stamp the back of the envelopes for a really personal touch. We will be able to use the stamp for lots of other things as the wedding approaches.
I made a decision about half way through designing a huge booklet of information that we needed a wedding website. So we found a good WordPress template and filled it with our information. It includes everything our guests may need: travel information, accommodation, details of the day itself and an RSVP form. It's a great way to get all the information to our guests, and we can include links to everything else easily.
2. The food
My fabulous step-sister-in-law to be just happens to be a wonderful cook, chef and caterer. We are so very lucky that she has agreed to help us put together the delicious picnic that will be our wedding breakfast. We have decided on most of the elements, which will include baguettes (bien sûr!), salads to share out, savoury tartlets and cheeses! We will also be laying on a dessert table of tarts and sweet things from the local patisserie. Marilyn also managed to find some wooden wine boxes to use as hampers, which should look gorgeous. The guests can even turn it over and use it as a little table!
For the evening, we had planned something like a BBQ or hog roast. I had assumed I would be able to find something online, but after a long week of what felt like non-stop googling for a caterer in the area, I had got nowhere.
I decided to ask the owner of the venue, and I was delighted to discover that the chateau's groundskeeper was a bit of a chef and could do either a BBQ or hog roast for us. Bonus!
 3. The flowers
Up to now, I had been thinking that we could go to the market in the week before the wedding, find some flowers and make some bouquets. But recently, I've realised that maybe we were being a bit ambitious and that we wanted to make sure we had time to relax and enjoy ourselves in France, not just spend all out time making things!
The perfect solution presented itself when I found Emily Firmin at Pearl and Petal, who makes stunning silk bouquets. That means we can have some beautiful flowers ready, to take with us, and it's one less thing to worry about when we get there. I've briefed her with the sort of thing we're after and she will be making my bouquet, the bridesmaids' bouquets and some buttonholes for the boys. I'm so excited to see what she comes up with! (This is an image of one of her creations)
4. The bridesmaids
After a few false starts (and a few returns) I finally ordered these beautiful dresses from Modcloth in America. I love Modcloth – their customer services are absolutely outstanding and their clothes are amazing! I think this dress is so pretty, the colour looks just perfect and I love the quirky detailing in the skirt that makes them that bit more fun and interesting. They arrived today and I love them, but I'm yet to get any of the bridesmaids to try them on, so I'm crossing my fingers that they fit nicely and suit the girls, but I'm sure they will.
I'm yet to decide on shoes, but I've got a few options from New Look that I think could work. Thrifty and stylish! The colour pallette has been decided on and it's corals, pinks and a little hint of turquoise.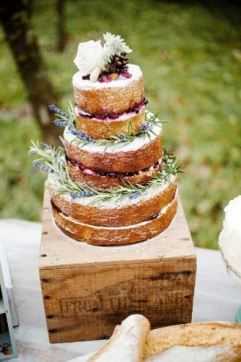 5. The cake
My wonderful mother-in-law-to-be, Lynn, just happens to be a baker extraordinaire. Seriously, she has made some of the most amazing cakes I've ever seen or tasted and her mince pies are the stuff of legend. So, it's no surprise that she will be making our wedding cake for us.
We had both seen the latest trend for "naked cakes" but were worried that without icing, it would be very difficult for her to make something in advance that could be transported to France. Luckily, we were wrong and Lynn said she loved the ideas we had. We love the look of naked cakes, with all that cream and fruit! Ironically, I don't eat grains or sugar, so I won't be partaking of the cake. I'm hoping to make a tiny tier of yummy coconut cake just for me!
6. The ceremony
Ed and I were struggling to decide where to have our ceremony. The wedding venue has so many beautiful spots – a pathway of apple trees, its own chapel, the stunning courtyard. We were going round in circles, until my amazing chief bridesmaid, Kate, came over for the evening to help me get my spreadsheets sorted. She reminded me that we had always dreamed of a woodland wedding, and that the chateau has its own woodland.
How had we missed this?! So now, we know that we will be having our ceremony in the gorgeous forest surrounding the chateau. It will be so magical to lead the guests into the trees, which will be decorated with lights and a homemade "altar" of fabric and ribbon like the one below. We think it will be a stunning way to say "I do".
7. The legal bit!
After what feels like a million attempts and a whole bunch of voicemail messages, we finally got to speak to Warwick registry office and booked our legal ceremony! We are getting legally married on the Friday before we leave for France, but we will be having a very simple service with just two witnesses. We want to save the main ceremony for France, so that it still feels special.
We're getting so excited now, because everything is gathering pace and getting really exciting. We just can't wait to spend this magical time with friends and family en France."
I feel tired just ready that list, but can't wait to catch up again next month to find out what Cassie has been up to! To catch up with Cassie's wedding planning journey so far click here.