It's romance overload here at FWS HQ! Today in the blog we feature this wedding at Chateau Challain France. The lovely couple James and Christine have looked effortlessly stunning and glamorous in their perfect shots from wedding photographer Anne Bequette.
The Chateau Challain is one of FWS favorite wedding venues. In this special wedding, we have the team from the Chateau tell us all…
At Chateau Challain all weddings, like all couples, are truly unique. Every couples' experiences reflect their individuality and bring out their natural expression of a love. This summer we had the delightful experience to host a marvelous summer wedding for the very special James and Christine.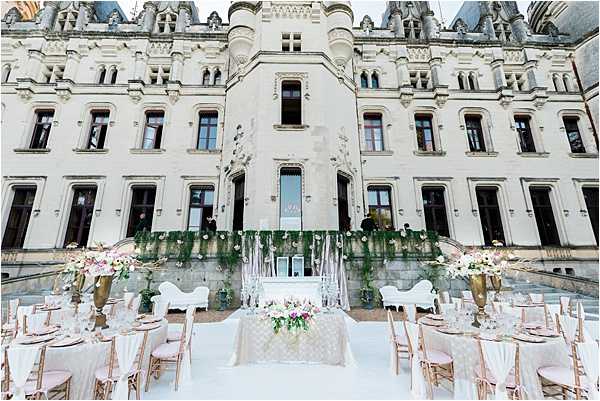 Christine originally hails from Haiti where she grew up with her father the French Diplomat. James and Christine met in Florida, they fell madly on love, and the rest as they say is history…
They decided to take full advantages of all the Chateau has to offer, and choose our platinum package specially tailored to their own style. The wedding was designed and planned by our very own in house planner, the rather wonderful Cynthia Nicholson. During the planning stages Cynthia even flew down to Miami on several occasions to ensure everything went smoothly.
The couple flew all way in from the United States, along with their family and friends. The 58 guests were spoiled to our timeless luxurious accommodation, decorated and furnished to the highest standards.
On the night of their arrival they dined beneath the canopy of trees in our barbecue area, having the traditional Chateau Challain Hog Roast for the rehearsal dinner.
On the wedding day the couple prepared in style. The wedding itself was a Greek Orthodox ceremony that took place in our beautifully manicured Gardens, surrounded by their loved ones. The stunning florals were produced by our very talented in-house team, and perfectly suited the wonderful decor. The wedding dinner itself took place in front of the Chateau, where the guests were treated to the finest French Cuisine provided by a Michelin Starred Chef. The memories of that fantastic day were captured by the very talented Anne Bequette.
The unforgettable night was finished off with a spectacular firework display.'
What a way to end an epic wedding! Congratulations to James and Christine from everyone at FWS!
Galia Lahav dream wedding at Chateau Challain France Snapshot
Vendor Details:
Photographer: Anne Bequette | Planner: Cynthia Nicholson | Ceremony Venue: Chateau Challain | Dress: Galia Lahav | Cakes: Delicious Gateaux