I love starting the week with a wedding and today I get to share the fuschia and black wedding of Belle Bride Claire.  So for one last time Claire has the blog:
Bonjour tout le monde,
Firstly, thank you for following me and our Belle Bride wedding journey via the French Wedding Style Blog, it has been a long and exciting journey and it has been nice sharing it with you all.  I have loved answering your questions.
So.. can you believe that 7 weeks have passed already since our glamorous Provençal wedding.
Our wedding…. was certainly the best day of our lives, filled full of glamour, fuchsia, laughs, smiles dancing and champagne. We are thrilled as our guests are actually saying "it was the best wedding they've ever been too", to hear that makes it even more special.
Our wedding started one week before with some guests arriving on the Monday and finished on the Wednesday after the wedding.  Some of our family decided to take the opportunity and turn it into their late summer holiday.
We wanted to create and provide our guests with a "family" atmosphere.  One where they would feel welcomed with open arms, relaxed and could enjoy the South of France culture. But it was also really important to provide and nice fresh cup of tea, cold beer and a nice sandwich for those just arriving.  I believed we achieved this.  The gites were all linked to the same courtyard which meant we were all able to mingle well but also keep the privacy of people having their own space.  One night we had a buffet where everyone got together and we had the opportunity to invite and introduce the french family and friends to the English family and friends.  Then other nights people would eat in their gite and then later meet for drinks in the courtyard.  All this provided a perfect start to our wedding celebrations.
French Wedding Style Blog – Photography © –

Love Story
It was nice as on the eve of our wedding we were able to set up our venue, which took some of the stress out of the preparations.  Although, it didn't leave much as the catering company organised everything, the band organised themselves.
The day of our wedding started well, I wasn't stressed nor nervous.  I felt excited and couldn't wait to start getting ready.  The day was hot around 29c, it was lovely and our courtyard was bursting with life.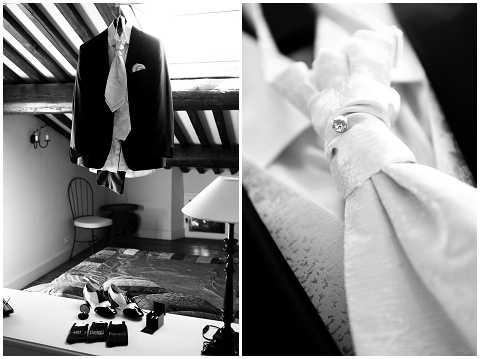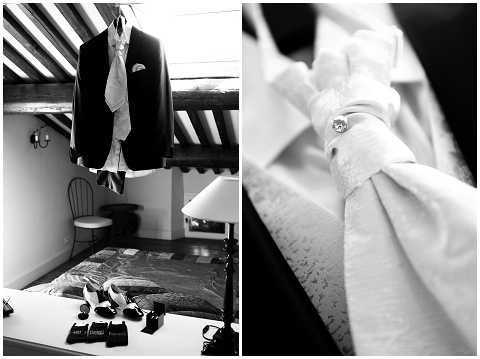 In France it is tradition to get married in the Marie, this meant I would meet my future husband there.  The journey to the Marie felt so long… I think the excitement and anticipation to see everyone was so close that I could feel the time counting down slowly.  As we approached the venue, My father-in-law who was driving our wedding car Citroen traction starting beeping the horn, everyone turned and to welcome me out of the car.  My Grandad was there to help and prepare us to walk into the Marie together, but before that…..
The moment was unforgettable, people smiling, taking pictures and in between all this was my husband.  He was standing proud, just looking at me with his dark brown eyes sparkling from the tears just appearing. I promised myself I would not cry, but as he approached me, looking happy and in love and told me how beautiful I looked, it melted my heart and we both started to cry… But that soon ended when people started to scream, "no your make-up".  As I was wiping my eyes, a family member then brought over our gorgeous Giulia.  Yes, she was dressed in her little bridesmaid dress all in white with sparkley bits; of course she stole the show.  She was so exited to see me and jumped up my dress to give me a kiss.
We walked up the steps and entered the Marie in order.  We were then married by the Maire who we know in a traditional, practical ceremony before being able to give each other our rings and kiss (the best part).  It felt amazing, to marry the man I love so much in front of all our beautiful family and friends.
Afterwards, we enjoyed walking down the steps as husband and wife, confetti was dripping off our outfits and people were quick to congratulate us.
It was then that the big surprise was to happen.  We heard some roaring of a car engine and to my husbands surprise his parents had fixed their corvette of 15 years especially for our wedding especially for my husband (a car addict) to drive.  We had already been given the traction to use and now the corvette, it was too much for my husband and he was again taken over by the emotion.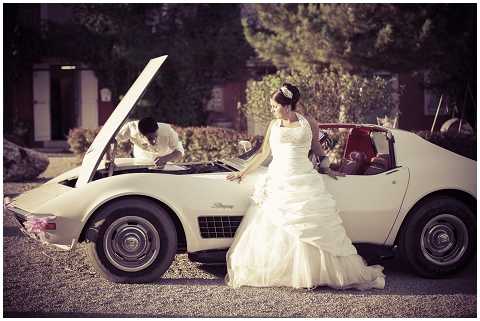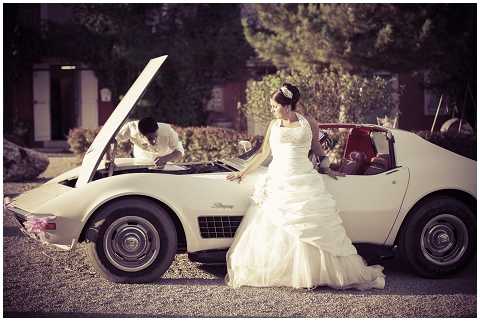 We had some professional photos taken behind the Marie in the beautiful cobbled streets before driving the corvette to our wedding venue to have yet more photos taken together.
A note on the decoration and details of the wedding – We wanted our wedding to be personal to us and display our bubbly, fun characteristics, so we thought long and hard about what we wanted and took the time to search, design and create our original ideas.
I think we succeeded as we received nice comments from our guests.  Our table display names were of a couple dancing and written inside was the name of a dance that we dance (we are Latin dancers) the main table name board was then done like a dance floor and the same images were laid out as if they were dancing around the floor, inside each had the names of each guests and where they would be seated for their meal.
We had two tables push together against the wall which displayed our personal touches. Our guest book, was stoned in rhinestones with our logo and we redesigned the inside again to reflect us, it was complete with a fuchsia Swarovski pen for the guests to write with.  We had a huge disco ball that we cut the top off and spray painted chrome inside and used that as our post box for cards.  This looked amazing.
We also had white top hat champagne buckets filled with mini champagne favours filled with fuchsia and grey dragées.  The fuchsia was printed with our logo and the grey with our name and date of the wedding.  This added to the glam look we were going for.  It looked fab, we had two of these displayed.
Opening the cocktail was exciting as it started the evening celebrations.  In a nut shell our celebrations consisted of good food. champagne, dancing, talking, laughing, champagne, food, champagne, dessert, dancing, champagne dancing and finished at 5am.
Champagne formed a big part of our wedding along with plenty of rosé and red wine.  It was of course necessary, being that we live in the south and got married at a vineyard. The venue was perfect, we couldn't have asked for anything better, it fulfilled our every need and once it was decorated it wowed us.  In fact a funny story.  I found out at that the catering company had a problem with the black table cloths we had originally chosen, so they advised my husband that they would use the charcoal ones they had.  But the thing is it actually looked better, a lot better.  We had heard of several horror stories like that from people, but for us it worked out ok.  To be honest there were a few things that didn't go exactly as we had planned but you know what, that is the half the fun, nothing was serious and I think it is often the way you handle it that effects your wedding.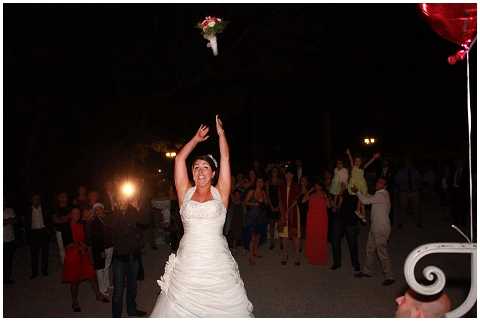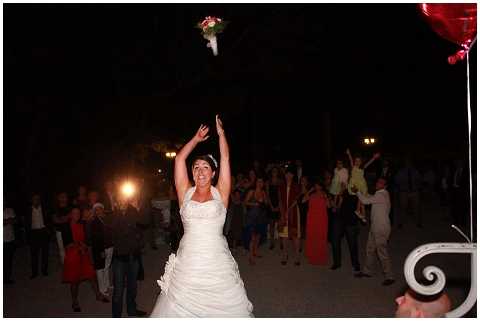 Our band was what we can only describe as AMAZING.  I have never experience a band like them at any wedding.  They really did make our evening special.  They simple lifted it to another level, singing in English and knocking the socks of the guests.  They played no stop for 4 hours.  Singing favourites in many genres. Disco, rock, ballet, club, Frank Sinatra etc etc.  We really all were able to party and have fun.
We treated our guests to a little latin dance demonstration.  As you all know we dance latin and for our first dance it was sure that we had to perform and little demo.  It was a surprise to everyone and before the band introduced us into the venue as husband and wife.  We first had to run and change into our latin costumes.  We then made our entrance and performed a melody of latin styles to Michael Jackson.  It was really exciting to see people's reactions, they were really happy and enjoyed it.
Our speeches were emotional/personal and bilingual.  The effort that our family and friends had put into them was lovely and we felt truly blessed.
I wanted to mention that it was our cousin Jean-Christian (JC) who is a graphic designer, who designed our invitations, we had an idea, we wanted it to again be personal and something that really represented us and our likes and dislikes and how we came together and JC brought everything together together for us and created our wonderful invitation.
It is hard to sum up the best day of our lives, perhaps some of the pictures will.
Is there anything we would do better, perhaps but the day went the way it did and everyone said it was the best wedding they have ever been too and with that said, it doesn't matter what we think.
Some advice I would give future bride and grooms
Don't panic, everything happens for a reason and sometimes you don't know what that is at the beginning.
Ensure you have some professional photos taken with family and close friends (we were so scared of it taking up so much time we didn't have lined up professional photos)
Smile and enjoy every moment
Drink enough water (especially if the day is warm)
Eat
Thank you for following our wedding journey and I hope I have provided you with some inspirational for your future wedding.
Gros bisous
The new Mrs Savarino
xxxx
To keep following Claire's expat adventure visit www.oohlalaenglishmadame.com
Wedding Suppliers:
Reception Venue: Abbaye Saint Hilaire
Wedding Catering: Gaudefroy
Photographer: Love Story
Music: Exclusif Live Music
Florist: Couleur Coquelicot – Fleuriste (Florist)
13 bd Jean Jaurès
83470 SAINT MAXIMIN LA SAINTE BAUME
Tel: 04.94.69.31.53
Cake: Déco Délices
Save