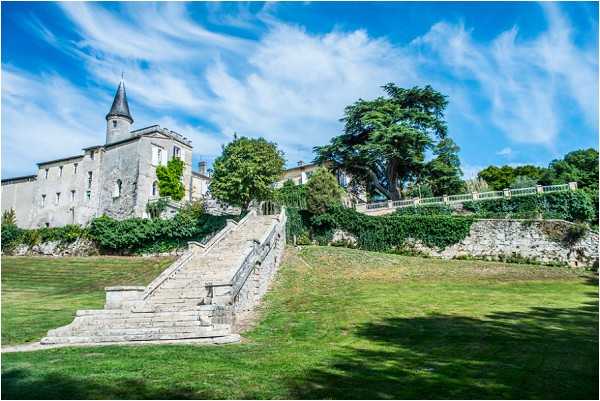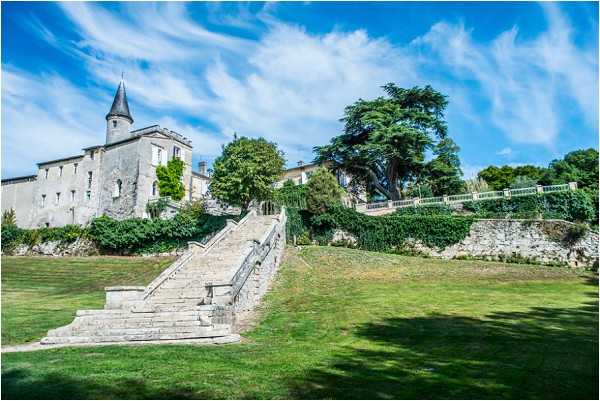 It's our first wedding venue spotlight of 2017 and today we are showcasing a beautiful French wedding venue, the gorgeous Chateau Lagorce near Bordeaux.  Not only are we featuring the Chateau be sure to check out the end of the post with an amazing offer for weddings in 2017.
Chateau Lagorce is a family owned and run fairy tale French chateau located near Bordeaux in the Dordogne area of France. Chateau Lagorce is located 25 minutes south east of Bordeaux, in a small village called Haux. As the airport is on the opposite side of Bordeaux they are a conservative 35 minutes from Merignac , and 1h 30 minutes from Bergerac Airport.
One of the most important chateau in the Entre Deux Mers region, Chateau Lagorce is steeped in history and impressive features include the ice house in the woods, the monumental steps built for Napoleon's visit for the inauguration of the Lord Mayor of Haux.
That chateau also boosts its own personal wedding planner Anna Holmes, who can create a bespoke wedding package for you, whether for the intimate day or a spectacular large weekend.
At Chateau Lagorce in addition to the stunning surroundings there is also a picture perfect lake, which during the wedding day can be used to take magical photos or take a romantic stroll around it after the wedding ceremony.
For the actual wedding planning itself, the Chateau and their onsite wedding planner Anna, have been busy planning weddings since 2004 and have overseen over 200 weddings at the Chateau.   The team at Lagorce are used to organising a wide variety of wedding celebrations, and are keen to create the perfect bespoke wedding for you.
Don't forget to check out the amazing offer below!
Offer:
Every new booking for 2017, Chateau Lagorce is offering free:
fresh petals to be thrown at the end of the ceremony ,
champagne fountain at the start of the canapes/ cocktail hour by  the couple
lanterns leading down to the 2nd terrace party area
terrace of the Orangery with the fairy lights on it
The offer is represented in the photos.
To secure the book quote FWS-Chateau Lagorce when you enquire!
If you think that Chateau Lagorce may be your dream wedding venue,  then visit their website to find out more information.

Contact Details:
Website:  www.frenchweddingchateau.com
Instagram:  chateaulagorce_frenchwedding
Save
Save
Save
Save
Save