THE COMPETITION IS NOW CLOSED – The winner is Louisa Stickel
Today I have the first ever competition to launch on French Wedding Style, the chance to win a copy of Parisian Postcards book by Dr. Loui Franke.  The book is an enchanting literary tour through Paris through the eyes of Loui, full of facts and information combined with insider knowledge of the city that she has adopted.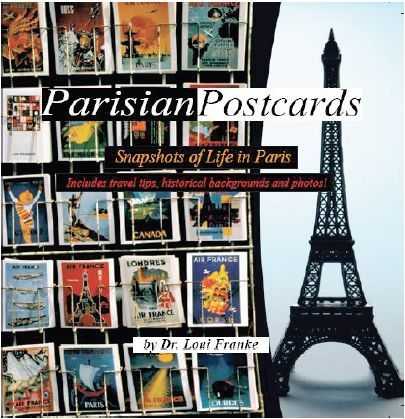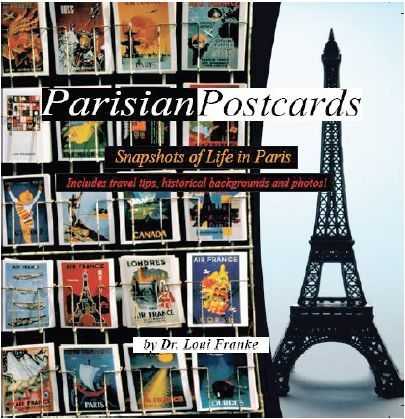 Parisian Postcards was written by Loui Franke  who divides her time with her husband Stanley Coira,  between south Florida and Paris, France.  They are each retired from the world of medicine with Dr Coira receiving his degree in medicine from the Faculé de Médicine Cochin in Paris, France. Dr Franke received her degree from the University of Maryland.
Loui and Stanley did what many only dream of, which is to set up a residence in another country.  For several years, Dr. Franke wrote a blog of their experiences while living abroad.
The concept for her book, Parisian Postcards, was thus born and now offers the reader a collection of short stories on living in Paris, places to visit, historical background, travel tips and photos. Dr Franke is always on the lookout for locations to write about that are interesting and usually over-looked.   She calls them "snapshots" of their life in France.
So want to win the faboulous Parisian Postcards book competition?
1) Go to the Parisian Postcards facebook page and 'Like' it
2) Leave me a comment in the comment box below that you have done so and tell me what does Paris means to you.
3) The offer will run for 30 days (until the 24th February) and I will choose the winner from random on that day.  I will then contact the winner to find the addres to send the book to you.
4) Your details submitted in entering this competition may be maintained for communication purposes, but will not be passed onto any 3rd parties.
If you are not lucky enough to win a copy of Parisian Postcards in the competition it is available to purchase from Amazon.
Good Lucky and happy reading.
Madame Mariage x x
For more information:
http://parisianpostcards.net
[email protected]
Twitter @parispostcards