A little bit later in the month than normal due to the 1st birthday blog celebrations, but it is that time when I open up the blog to you the readers for your wedding question and answer about getting married in France.  Sorry I can't answer them all, but here are this months.
Q. I am getting married in France close to Nantes next year and I am starting to panic about hair and make up solutions! I am London based so not sure if I will have the luxury of any hair trials given the distance and I am not sure some of the local salons have captured what I am after. Emilie Gregory via email
Don't panic Emilie there are some wonderful English speaking Hair and make up artists who serve both Paris and the countryside.  France based and American born Hair and MUA Lexi DeRock is an expert at working with destination brides to create the look that not only compliments their dress and wedding style, but will also help them to achieve beautiful photographs.
Read Lexi's post on finding your hair and make up artist for a destination wedding, which goes through her own advice on how to choose the right person for you and how to communicate exactly what it is you are looking for.  It is full of tips and questions to ask your shortlisted artists and a must read for any bride looking for a destination hair and make up artist.  Find out more about Lexi and her services www.lexiderock.com
Q.  I am also looking for red routemaster buses for hire for wedding transportation in France and I would love to have a touch of London on the day. Emilie Gregory via email
Depending on what you want The London Bus Company France can provide transportation for up to 8 passengers on the main roads of France, but are not allowed to do PSV (public service vehicle) work.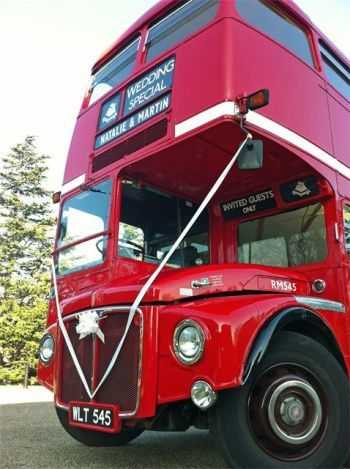 If you are looking for an alternative bridal party transportation then this is a wonderful way of adding a touch of London to your day and will make for great backdrop to photos.
Q. I like the idea of incorporate traditional dragees into the wedding favour for my DIY wedding in France, but I am lacking inspiration apart from a couple in a bag. Sam via email from UK
Dragees are part of an ancient french tradition for newlyweds to give each guest five dragees.  The tradition still exits today but in France they are viewed as a delicacies and are available in a wide variety of colours and flavours.  One long established Dragée creator is Medicis and some of their flavours include:
Fresh almonds with vanilla sugar coating
Roasted almonds with chocolate and sugar coating
Roasted almonds, hazelnut paste and milk chocolate coated
Roasted almonds with nougat cream and chocolate
Caramalised almonds with milk chocolate
Milk chocolate caramel crispy nougatine
Dragees also don't have to be boring, just like the latest craze with sweets, cake pops and mini desserts, think of imaginative ways to display your dragees such as this centrepiece from Happy Dragées.
Write to Me!
If you have a destination wedding France or french style wedding query for my experts, email it to [email protected] and don't forget like Emilie you can send in more than one!
Monique xx