Happy Monday folks and welcome to another wonderful week here at French Wedding style! We are kicking off the week with this stylish French Countryside Chateau Soulac Wedding which has been meticulously planned by wedding planner and FWS vendor Marry Me In France.
The team at Marry Me in France (MMIF) partner with each individual venue that they use and after 12 seasons MMIF are amongst the most experienced in their field, with an exceptional reputation for quality of service. Beth Stretton began planning weddings in 2005 when she married her fiance Huw in France and realised there was nobody available to help with the arrangements. Having previously organized a large conference for international delegates at Cambridge University, Beth decided to utilise these skills and set up what has become one of the world's most respected wedding planning agencies. To read more about MMIF click here.
We just love our Jimmy Choo brides stunning Galia Lahav wedding gown which Katie teamed with a Browns Bride veil, doesn't she just look radiant?
We'll stop the suspense now and pass you over to talented wedding photographer Amy Faith Photography who will be walking us through this countryside Chateau Soulac wedding…
"When Katie & Craig asked me to shoot their wedding at the breathtaking Chateau Soulac, nestled deep within the countryside where the best wine in the world is made, Bordeaux, I was over the moon. Not only am I in love with France, but I already knew that this couple was going to be pretty special too…"
"In 2014, 2015 and 2016 I had shot a wedding per year for 6 people from their group of friends, each newly married couple recommending me to the next engaged couple. It felt absolutely brilliant to know that everyone loved their photographs SO much that they wanted their friends to receive the same happiness. And when I found out that some of the previously married couples would also be attending Katie & Craig's wedding, I knew I would have to document us all together as a career defining moment."
"The day was, as I wish every wedding day to be, perfectly imperfect. A few things happened that could easily have dampened the mood, however, Katie & Craig took everything in their stride. It had been raining during the morning and the threat of more rain almost drove the outdoor wedding inside, but a last-minute decision to stay outside paid off. Only a light drizzle, but not enough to wipe the smiles from the guests faces (however I'm sure we can't blame the happy tears on the rain either). Katie also had the most exquisite pair of Jimmy Choo heels to wear, but she ended up kicking them off mid bridal portraits in exchange for her trust New Look party heels. Soon after she was stomping around the vineyards, dress hem dirty, heels caked with mud, but still having a great time. This is the kind of attitude I hope to see from all of my brides because having fun & making memories are always more important!"
"Later that evening, I think the sunset we got was probably one of the most amazing sunsets I have ever seen; something the guests ALMOST missed as they were tucked away in the converted barn on the wrong side of the estate! Craig had to sprint over to gather them all together so everyone had a chance to spend time in the glorious pink rays as the sun set over the Dordogne. An impromptu bouquet toss soon gave me an image I think shall be one of my favourites that I've ever taken for the rest of my life!"
"The evening ended with a raucous party, the dance floor was never empty and I assume the dancing went on until the wee small hours, seeing as most people were nursing a hangover when I attended the farewell BBQ the following afternoon. Just the way it should be!"
Congratulations Katie and Craig from everyone here at French Wedding Style.
Are you considering a chateau wedding too? If so you need to check out this beautiful French Chateau Wedding Venue of FWS Supplier Chateau Lagorce.
French Countryside Chateau Soulac Wedding Snapshot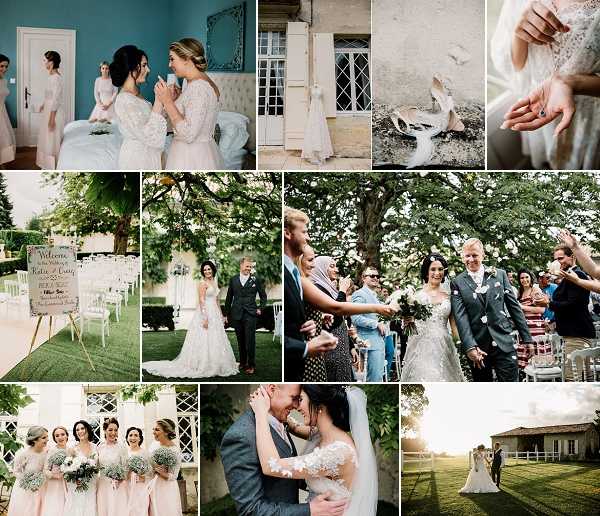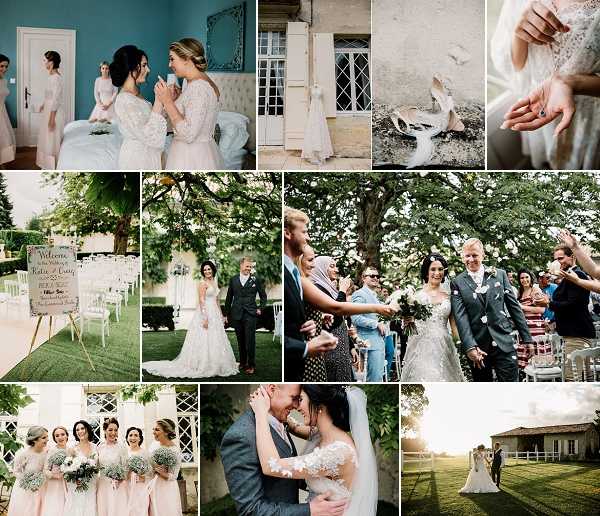 Wedding Vendors
Venue: Chateau Soulac | Photographer: Amy Faith Photography | Planner: Marry Me In France | Dress: Galia Lahav | Veil: Browns Bride | Shoes: Jimmy Choo | Grooms Outfit: King & Allen Tailors | Shoes: Joseph Cheaney | Bridesmaids Dress: Coast | Make Up: Jane Emerson French Perfection | Catering & Cakes: Laurent Iribarne | Entertainment: Tomorrow Band